Transformation of the Day: Taiye lost 112 pounds by focusing on fitness and nutrition. After being diagnosed with stage 3 chronic kidney disease and knowing that she was at risk for stroke due to high blood pressure, she hired a personal trainer and took steps to reclaim her health.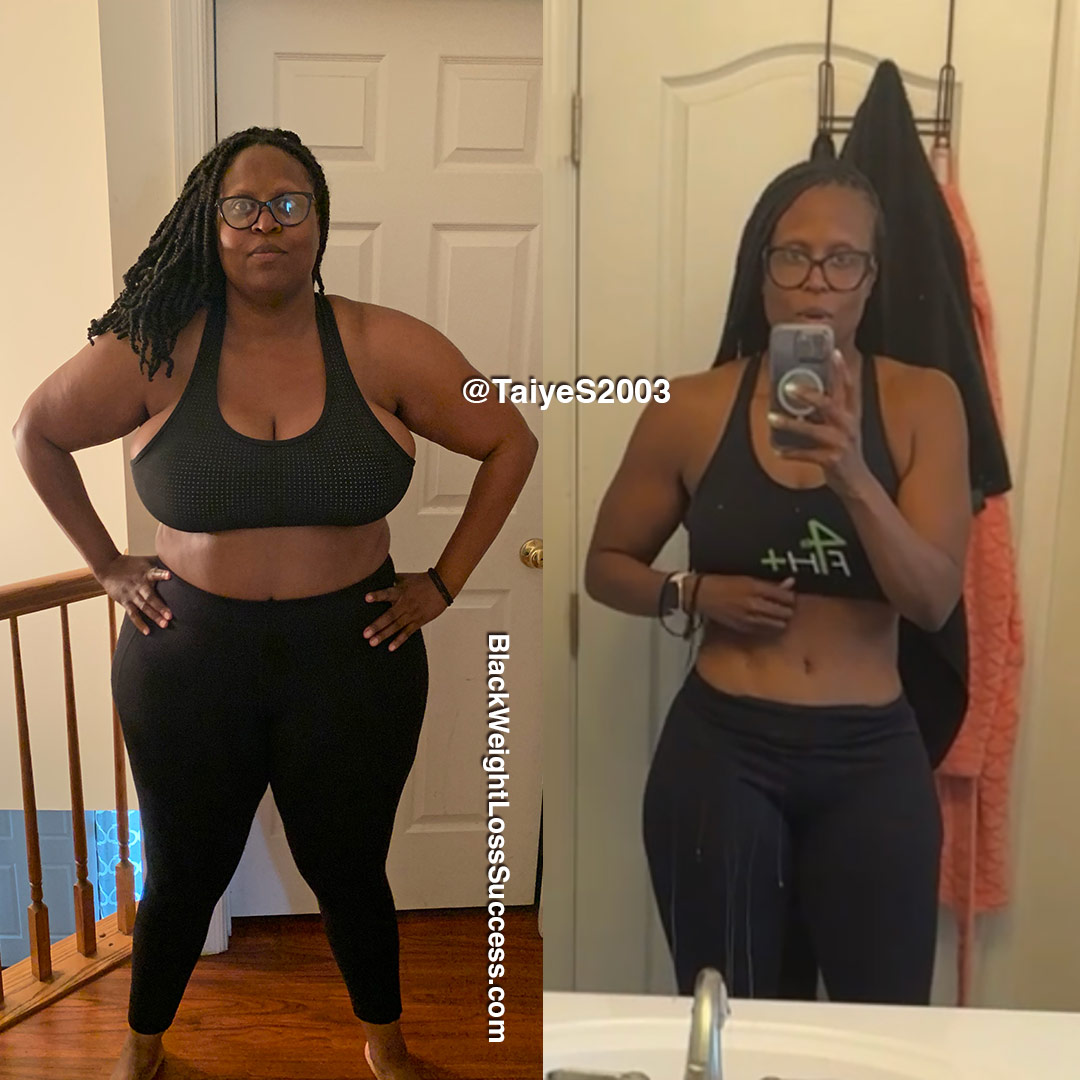 Social Media:
TikTok: Taiye
Instagram: @TaiyeS2003
What was your motivation?
My health was my biggest motivation. I was only 36 and diagnosed with stage 3 (almost 4) chronic kidney disease. Also, my blood pressure was out of control. The likelihood of me having a stroke and starting dialysis was really high. I was way to young for that. 
What inspired you to keep going, even during the tough times?
I decided to take my life back, and I knew I couldn't do it on my own. I need guidance and help. I hired my personal trainer, Shaun from Fit4healthplus, who provided me with a plan I followed that included nutritional guidance. 
How did you change your eating habits?
When I started working with him, he put me on a 30-day meal plan to detox my body with healthy food choices. The plan allowed me to create the meals I wanted. At the same time, it was teaching me how to make healthy food choices. After 30 days, I created good eating habits for myself. I continued a high-protein diet that included more good fats and vegetables. Shaun also helped me alter things based on my weight loss progress. 
Sweets were my biggest problem. I will be honest: I haven't given them up completely. I used to consume chips and candy daily. When I started my weight loss journey, I decided to cut my sweet intake to one time a week. That allowed me to fulfill my urge but not overdo it. I also stopped eating out five times a week and cooked more instead (plus, that helped my pockets! LOL.) Cooking more helped me control what I was consuming. Meal prepping helped me tremendously because planning ahead took a lot off my plate. Now, my diet is high protein to help with muscle growth. 
Tell us about your workout routine. 
The plan my trainer started me out on was weight training with a combination of conditioning and cardio three times a week. My homework consisted of cardio and abs two times a week—so I worked out five days a week. That regimen really helped me develop consistency and good habits when it came to physical activity. 
Now, I work out anywhere from 4-6 times a week, and I am still with my trainer. My workouts consist of more weight, strength, and conditioning training. My focus is muscle growth. 
What was your starting weight? 286 pounds
What is your current weight? 174 pounds
What is your height? 5'8″
What did your journey begin?
I started my weight loss journey in 2019.
Is weight loss surgery part of your journey?
No, all-natural weight loss. 
What is the biggest lesson you've learned so far?
Success requires discipline. It requires the discipline to eat healthy, discipline to work out regularly, discipline to be consistent, discipline to stay focused, and, most importantly, discipline to never give up on yourself. 
My trainer always quotes: "Discipline BEATS Motivation." Motivation goes, but discipline stays!!! 
What advice would you give to women who want to lose weight?
Weight loss journeys are all mental. You have to prepare yourself for change mentally. This change will require you to change your environment, your thought process, and your daily routine. It won't be easy, but I can be done!! Always invest in yourself, and remember that this is for YOU!!