October 31, 2023  
9

Comments

This roasted acorn squash is a breeze. We can all use a recipe that makes our lives easier.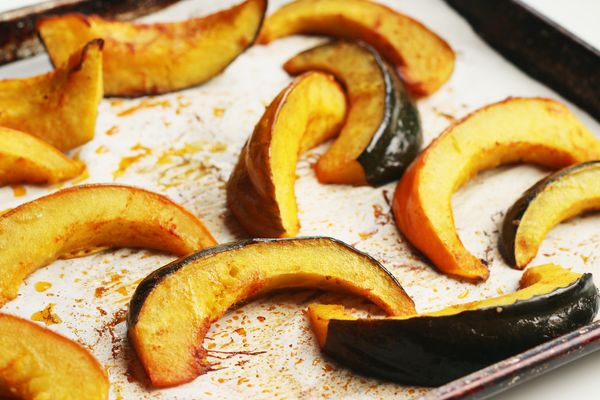 I love acorn squash because of its color and shape. Doesn't it look like it just landed from a spaceship?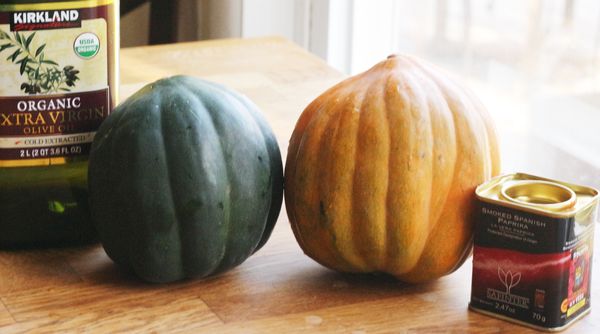 I bought two – one orange and one green – to make this recipe. I found that the orange one had slightly more tender skin but tasted exactly the same as the green one.
There is great variation in the flavor from squash to squash. Sometimes you roast it, take it out of the oven, and it is absolutely sweet and yummy. Sometimes it tastes like absolutely nothing. I can't predict which type I will get from the outside.
You can make other recipes like my healthy stuffed acorn squash and my baked yellow squash if you don't want to worry about your acorn squash variability.
Or you can do what I do! I make a simple roasted acorn squash and then I use it for all sorts of meals and snacks.
You need a big kitchen knife to cut it in half – you may have to take the stem off first. But, once you get it sliced – it is very easy to deal with – no peeling!!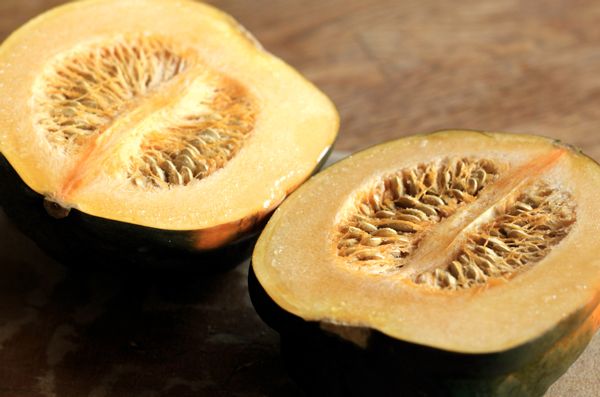 I scoop out all of the seeds and gunk. Then, I slice it into smaller pieces because it cooks faster.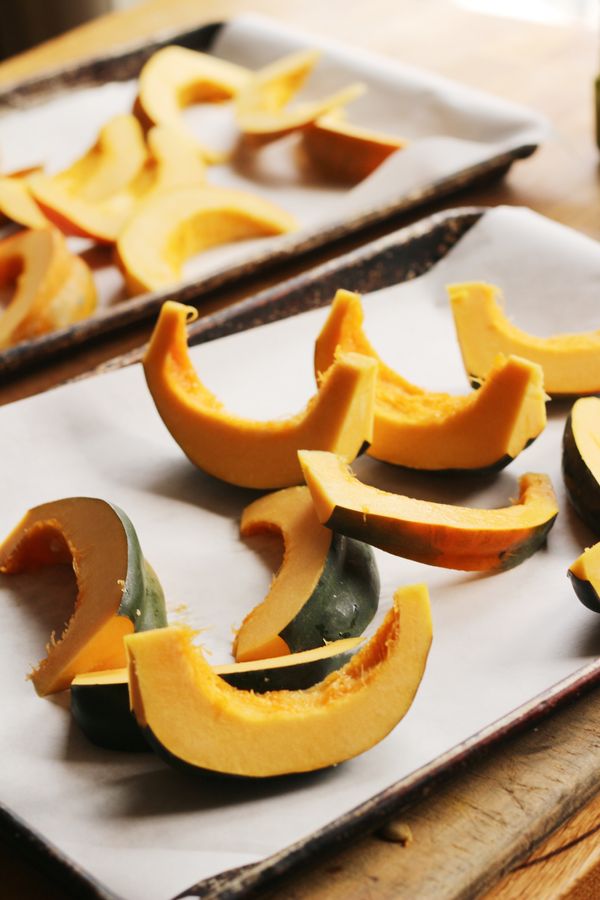 I add olive oil, salt, pepper and smoked paprika but you could just add salt and pepper.
Once it is finished – you taste it. Is it delicious? Serve it by itself. Does it taste like cardboard? No worries!
Here are a few things I do with roasted acorn squash:
Put spaghetti sauce on it.
Add it to a salad and add salad dressing.
Smash it up and put it in a quesadilla with cheese.
Use it instead of rice for leftovers.
What do you do with roasted acorn squash? Please share.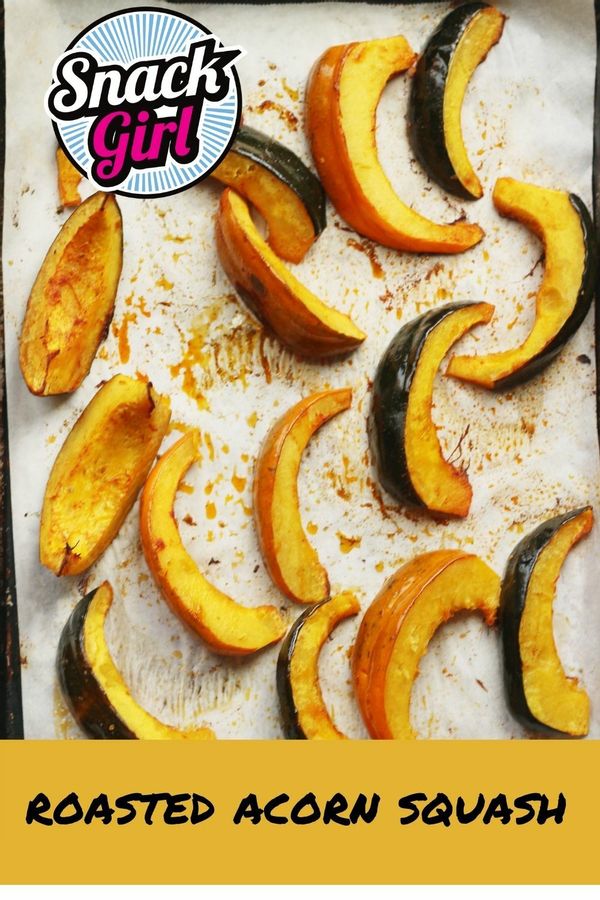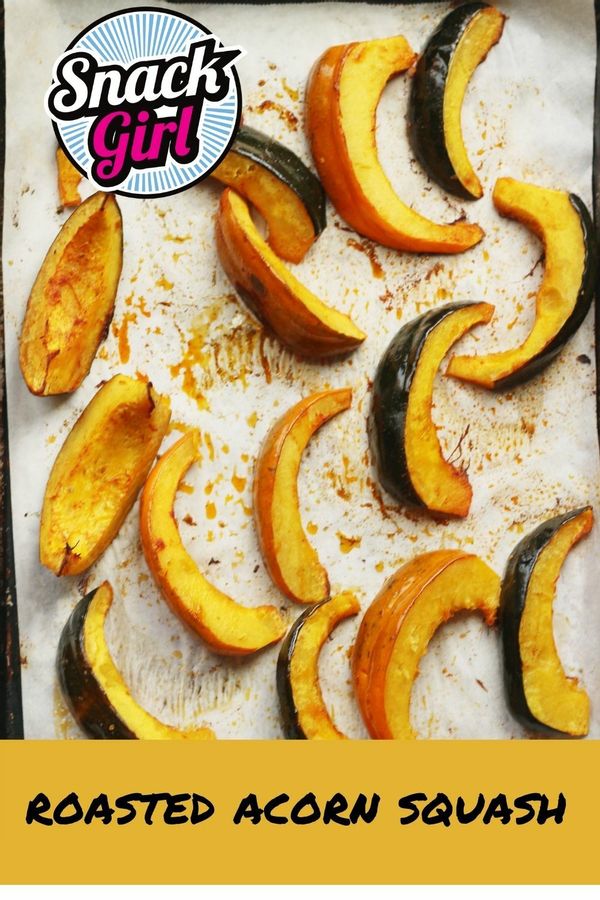 Roasted Acorn Recipe

Makes 8 servings
Prep time: 10 min
Cook time: 30-40 min

Print  Pin
Ingredients
2 acorn squash
2 tablespoons olive oil
1/2 teaspoon smoked paprika
salt and pepper to taste
Instructions
Heat oven to 400. Line two rimmed baking sheets with parchment paper for easy clean-up. Wash acorn squash and slice in half. Remove the seeds and strings with a large spoon. Slice into 8 pieces and spread out on baking sheets. Add olive oil, smoked paprika, and salt and pepper to both sheets. Roast until fork tender – about 30-40 minutes. Serve hot, warm, room-temperature or cold.
Nutrition Facts
One serving: 73 calories, 3.6 g fat, 0.5 g saturated fat, 11.2 g carbohydrates, 0 g sugar, 0.9 g protein, 1.6 g fiber, 100 mg sodium, 1 Green, 1 Blue, 1 Purple WW SmartPts
Points values are calculated by Snack Girl and are provided for information only. See all Snack Girl Recipes
Other posts you might like:
---