VERIFIED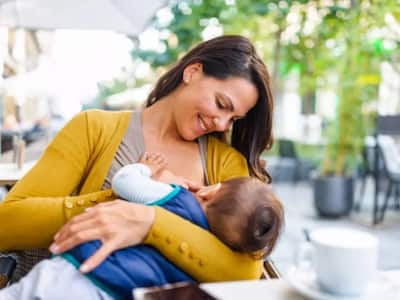 Dear lactating moms, please add these 10 superfoods to your diet to help your child get all the required nutrients.
Breastfeeding is a crucial phase in a mother's life, and the nutritional choices made during this period have a significant impact on both the mother and the newborn. It's essential to understand the advantages of eating nutrient-rich foods while breastfeeding, as well as the common challenges faced by new mothers.
In this article, Dr. Spenta Sumondy, Consultant Obstetrician and Gynaecologist, Bhatia Hospital Mumbai, will tell us more about what diet a lactating mother should follow in order to boost their breastmilk.
The Best Foods for Breastfeeding Mothers
Add these foods to your diet to boost your breastmilk:
Optimal Health for Mother and Child
Maintaining proper maternal nutrition during breastfeeding is essential to ensure the optimal health of both the mother and the child. The nutritional requirements during lactation are even greater than those during pregnancy, emphasizing the importance of a balanced diet.
Breast Milk Composition
Maternal nutrition directly influences the composition of breast milk. While some nutrients are mobilized from the mother's reserves to protect the milk's composition, it's crucial to provide adequate nutrients through the diet to support both the quantity and quality of breast milk.
Energy and Nutrient Needs
Exclusive breastfeeding demands significantly higher energy and nutrient needs compared to partial breastfeeding. On average, an exclusively breastfeeding woman requires approximately 595 kcal/day during the first two months postpartum to meet the energy costs of milk production.
Omega-3 Fatty Acids
Fish and seafood are rich sources of long-chain polyunsaturated fatty acids (LCPUFAs), particularly omega-3 fatty acids. These nutrients play a vital role in the growth and development of the infant, especially in terms of neurological development, visual function, and cognitive function. Vegetarian breastfeeding mothers should be encouraged to add flaxseed oil (cold pressed) into their diets, as it has been shown to significantly improve red blood cell levels of ALA, Eicosapentaenoic acid (EPA), and DHA
Vitamin A and Beta Carotene
Foods rich in vitamin A and beta carotene, such as oranges and dark, leafy vegetables, ensure an adequate supply of these essential nutrients through breast milk. Vitamin A is critical for cell and tissue growth and differentiation, and its deficiency can lead to severe health issues in both the mother and the child.
Zinc for Mammary Gland Function
Zinc is another crucial nutrient during lactation. It supports the normal growth and development of the mammary glands, which are responsible for milk synthesis and secretion. Adequate zinc intake through foods like wheat germ, wheat bran, sesame seeds, and cheese is essential for both the mother and the newborn.
While nutrient-rich foods are essential for breastfeeding mothers, several common challenges can hinder their ability to maintain a balanced diet:
Closely Spaced Consecutive Births
When pregnancies and lactation periods overlap due to closely spaced consecutive births, the nutritional demands on the mother's body can be particularly challenging to meet. Mothers in such situations may struggle to provide the necessary nutrients for both the newborn and themselves.
Socioeconomic and Cultural Factors
Socioeconomic and cultural practices can significantly influence a mother's dietary choices during lactation. Some cultural practices may limit food choices or restrict certain foods, potentially leading to nutrient deficiencies.
Poverty
Mothers living in conditions of poverty may face limited access to nutritious foods essential for pregnancy and lactation. Inadequate resources can make it difficult for these mothers to provide the best possible nutrition for themselves and their infants.
The benefits of incorporating nutrient-rich foods into the diet while breastfeeding are unquestionable. These foods not only promote the well-being and growth of the infant but also contribute to the mother's overall health. Nevertheless, it is crucial to recognize the obstacles that certain new mothers encounter when striving to fulfill these nutritional needs and strive to discover remedies to guarantee an optimal beginning in life for every child.