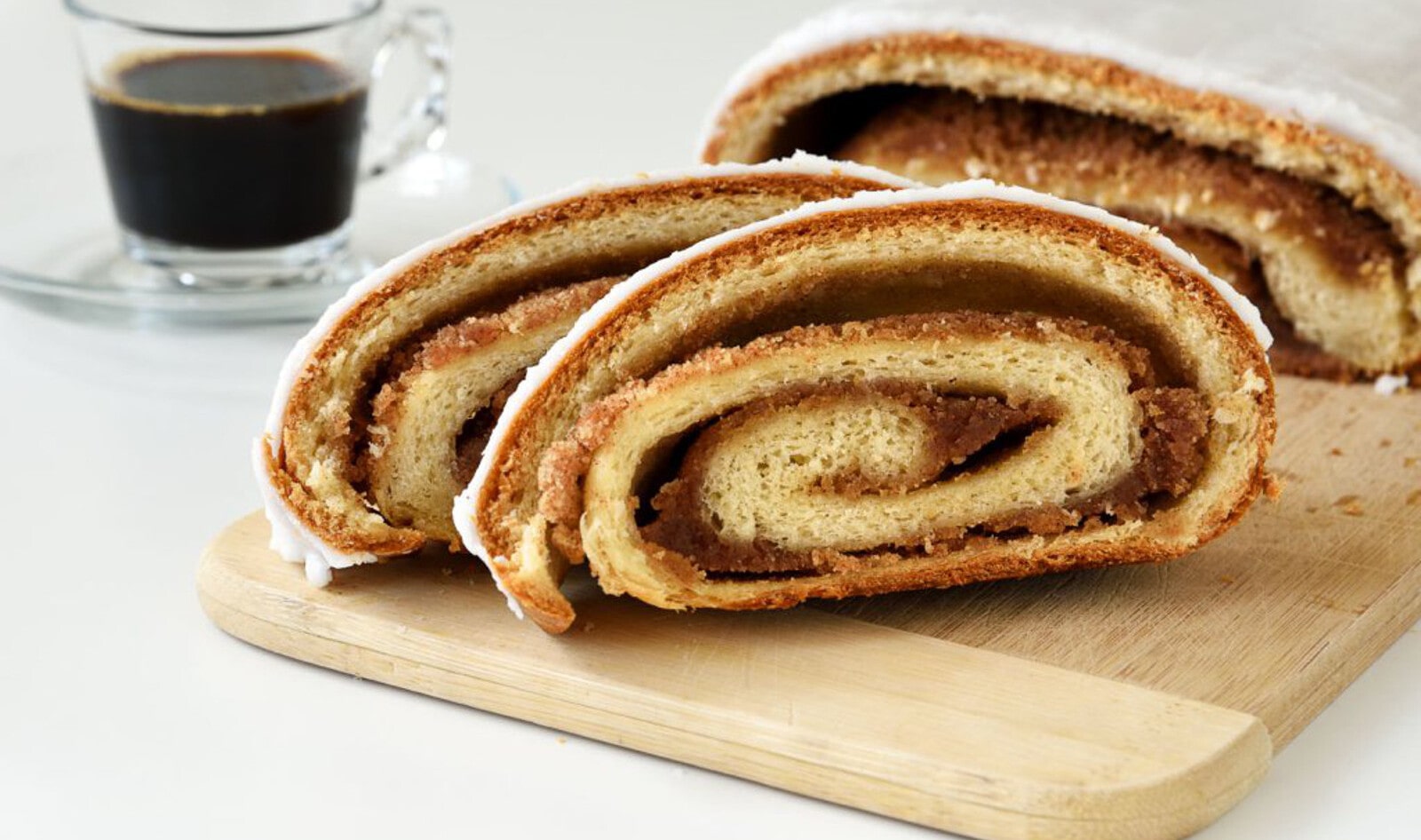 This flaky, buttery strudel from the One Green Planet's Fall: Plant-Based Recipes to Celebrate Harvest Season cookbook is a plant-based take on the traditional Swiss pastry. 
What you need:
3⅓ cups flour
½ cup sugar, divided
½ teaspoon salt
1 packet fast-acting yeast
1 cup plus 2 tablespoons unsweetened soy milk, divided
⅔ cup plus 1 tablespoon vegan butter, divided 
1¼ cups ground almonds
½ teaspoon pumpkin spice
½ tablespoon cinnamon
¼ teaspoon almond extract
For the icing: 
½ cup powdered sugar 
1 teaspoon lemon juice
What you do:
In a small saucepan over medium heat, warm 1 cup of milk and ⅓ cup of butter until just melted.
In a small bowl, mix warm soy milk and yeast. Let stand for 10 minutes.
In a large bowl, mix flour, sugar, and salt. Add yeast mixture and stir. Take dough out of bowl and knead for about 10 minutes until dough is soft and smooth.
In a lightly oiled bowl, place dough and cover with plastic wrap until doubles in size.
In a medium bowl, mix ⅓ cup butter, almonds, cinnamon, pumpkin spice, sugar, remaining soy milk, and almond extract until well combined.
Roll out dough into a rectangle about 14 x 18 inches. Evenly spread almond mixture over dough, leaving a margin of about 1 inch.
Start at left-hand corner of edge closest to you, working from left to right, tug lip of dough up and over filling, keeping tight. Roll up dough, tightening log as you go. Moisten bare edge with water and pinch to seal seam. Place dough seam side down on a parchment paper-lined baking sheet and brush top with 1 tablespoon of melted butter.
Preheat oven to 355 degrees and bake for about 45 minutes. Cool entirely on a wire rack before icing.
In a small bowl, mix powdered sugar and lemon juice. Drizzle over strudel and serve.
For more recipes like this, check out:
Here at VegNews, we live and breathe the vegan lifestyle, and only recommend products we feel make our lives amazing. Occasionally, articles may include shopping links where we might earn a small commission. In no way does this effect the editorial integrity of VegNews.