The unsecured book of IDFC First Bank consisting of loans without collateral has showcased exceptional resilience in the face of financial stress when compared to the secured book, according to V Vaidyanathan, the bank's Managing Director and Chief Executive Officer.
"The so-called unsecured book, which has supported the cash flow, is performing better with fewer delinquencies than the secured book, both in terms of gross non-performing assets (NPAs) and net NPAs," he told CNBC-TV18 in an exclusive chat.
Deputy Governor Swaminathan recently stated that unsecured credit has been growing at a rate of 23% over the last couple of years, far surpassing other lending categories, which have been growing at a more modest 12-14%.
This pressing issue has raised red flags within the nation's economic landscape, prompting a thorough examination of the potential risks associated with this rapid expansion.
However, Vaidyanathan explained that unsecured loans can be given in two forms. The first is where lending occurs without an evaluation of the borrower's cash flow, similar to credit card loans. The second type includes the normal term loans, which are unsecured and provided to customers such as individuals or businesses. In this case, the bank meticulously assesses the borrower's cash flow and secures the repayment through automatic debits from the borrower's bank account.
"We ensure that we track the amount the person is receiving and establish a debit instruction to the bank account. This is a crucial point for understanding why our unsecured credit is performing well; it's secured by cash flow with the right to debit from the bank account," Vaidyanathan explained.
On October 28, the private sector lender reported a 35% year-on-year (YoY) increase in second-quarter net profit at
₹
751.3 crore.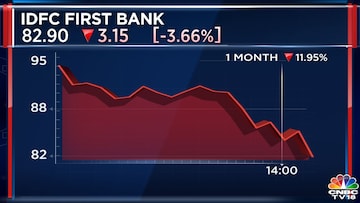 One of the key highlights of the results was the increase in the bank's net interest income (NII). IDFC First Bank reported NII of ₹3,950.2 crore, up 31.6% from ₹3,002.2 crore in the corresponding period of the previous fiscal.
For more details, watch the accompanying video
(Edited by : Shweta Mungre)