Bring the 5-star steakhouse experience to your dinner table with this round steak recipe. Seared in a sizzling hot skillet with garlic and herb butter, it's a budget-friendly steak with restaurant-quality flavors!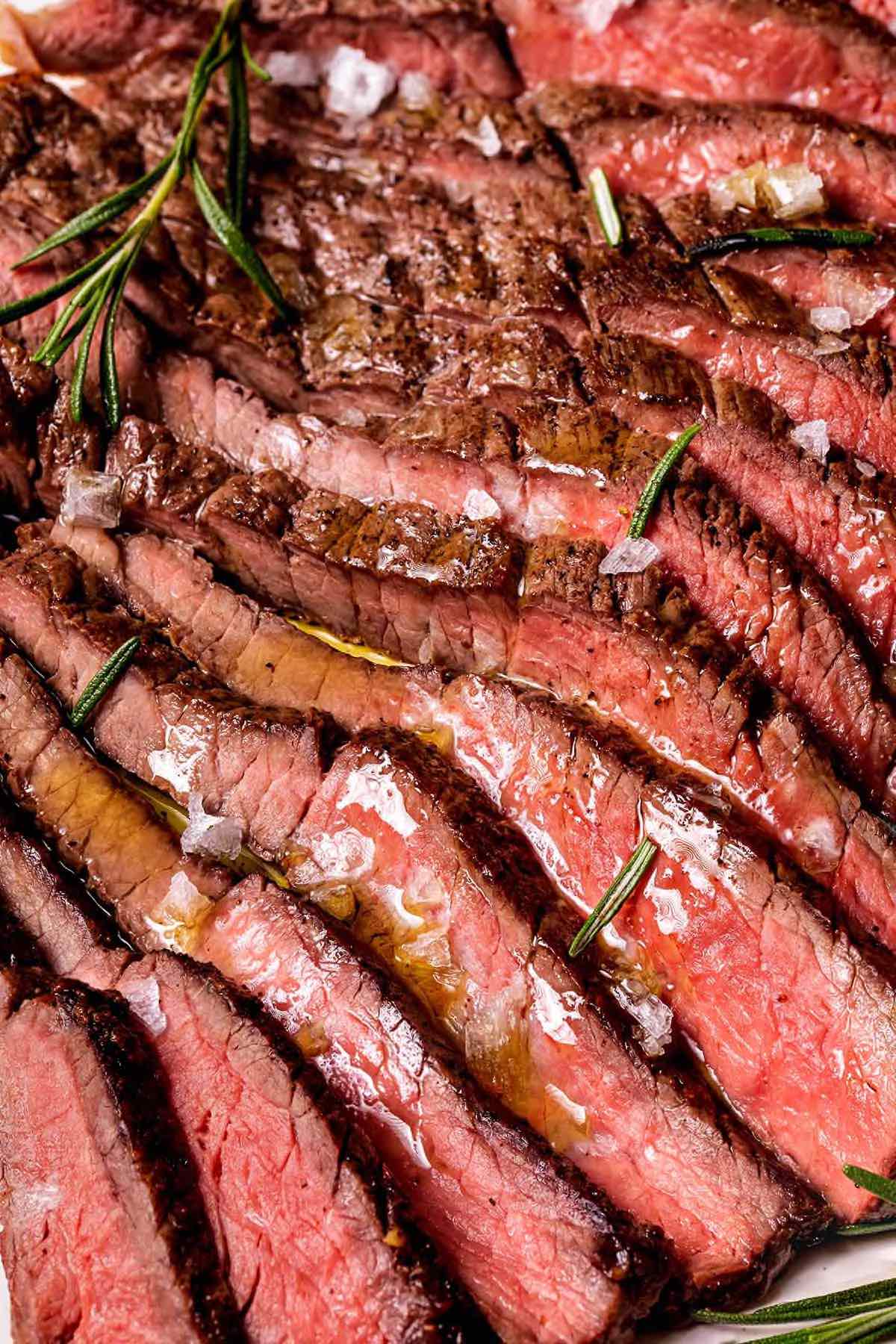 You'll rarely see a week go by where me and my family are NOT eating beef for dinner. From fancy filet mignon to ribeye roast, or a simple round steak, it's our favorite protein!
In this quick and easy recipe for round steak, the meat is first seared in a sizzling hot skillet, then basted with garlic, fresh herbs, and butter. This steakhouse-inspired method yields golden-crusted steak with tender and juicy meat in the middle every time!
What is round steak?
Round steak is cut from the cow's hind legs. The cut is typically divided into the eye (of) round, bottom round, and top round steak subcuts. It's one of the tougher cuts of meat and isn't as naturally tender as a beef tenderloin; however, with the right combo of ingredients, you get the most perfectly cooked steak ever.
Me and my family will sear or grill round steak when we're craving a juicy beef dinner. These are just a few of the reasons why we can't get enough:
Budget-friendly beef. I love steak but that doesn't mean I want to break the bank eating it every week. This particular steak allows me and my family to indulge in our favorite protein without having to go over budget. 
Soaks up flavor like a sponge. Round steak is a pro at absorbing the savory flavors from the garlic, rosemary, and butter, making every bite outstanding!
Quick and easy. The steak only takes about 5 minutes to sear on each side, giving you a gorgeous steak dinner in no time.
Ingredients needed
The steak's natural flavors shine through using a simple blend of seasonings. These are the ingredients you need:
Round steak. Look for a steak with a 1-inch thickness, a deep red color, and minimal visible fat marbling. I prefer getting my steak at a butcher VS grocery stores so I can pick exactly what I want.
Salt and pepper. I like to season the steak with kosher salt or sea salt and coarsely ground black pepper before searing.
Olive oil. To prevent the steak from sticking to the skillet.
Butter. I like basting the steak with butter towards the end of cooking. This way, it soaks in the aromas of the garlic and rosemary while permeating the meat with an extra layer of richness you can't get from olive oil alone.
Garlic cloves. For a gentle boost of aromatic, savory flavor. I used 2 garlic cloves, but you can always add more for extra garlicky goodness. 
Fresh rosemary. One of my favorite herbs to give a steak dinner more depth and complexity. Thyme and oregano also work here. And remember to remove the fresh herb sprigs before serving!
Find the printable recipe with measurements below.
How to cook round steak
Making round steak at home takes almost no time at all! Here's how it's done:
Step 1 – Prepare for searing. Place the steak between two pieces of parchment paper and pound it with a meat mallet until tenderized. Season both sides with salt and pepper.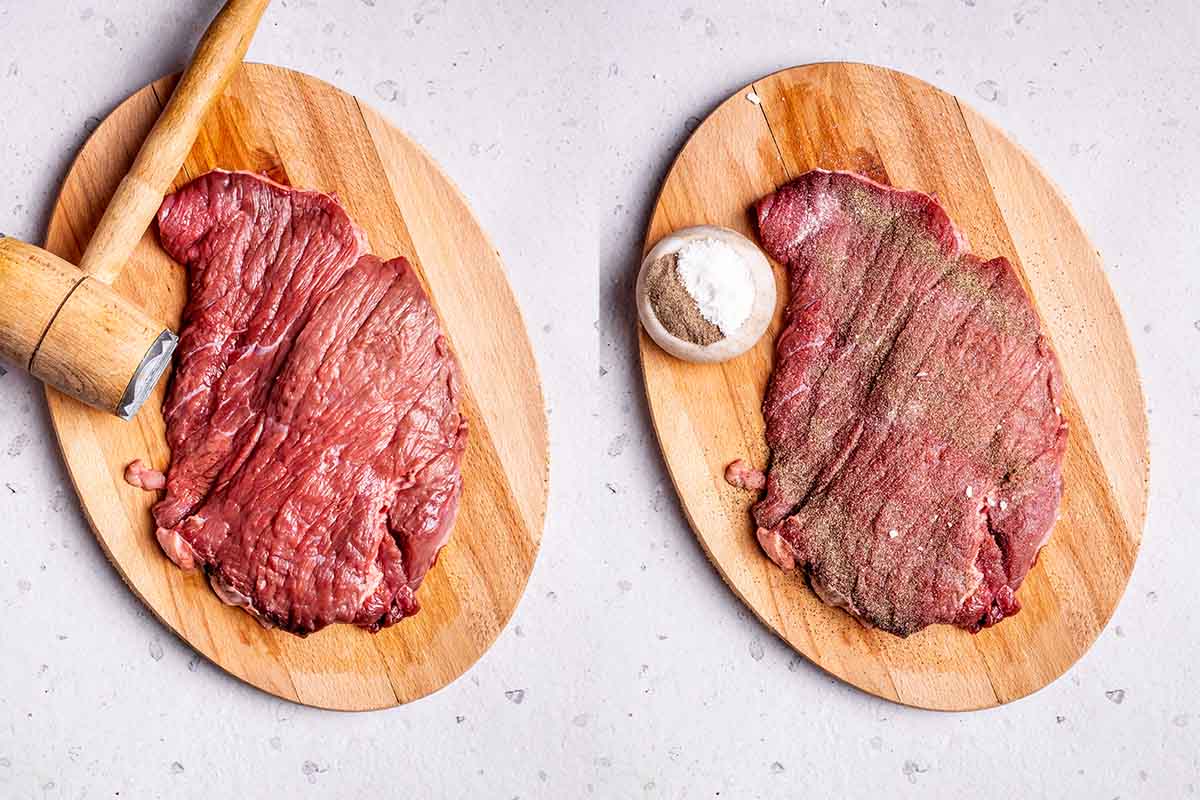 Step 2 – Sear. Sear the steak in an oiled cast iron skillet over medium-high heat until both sides have a golden crust.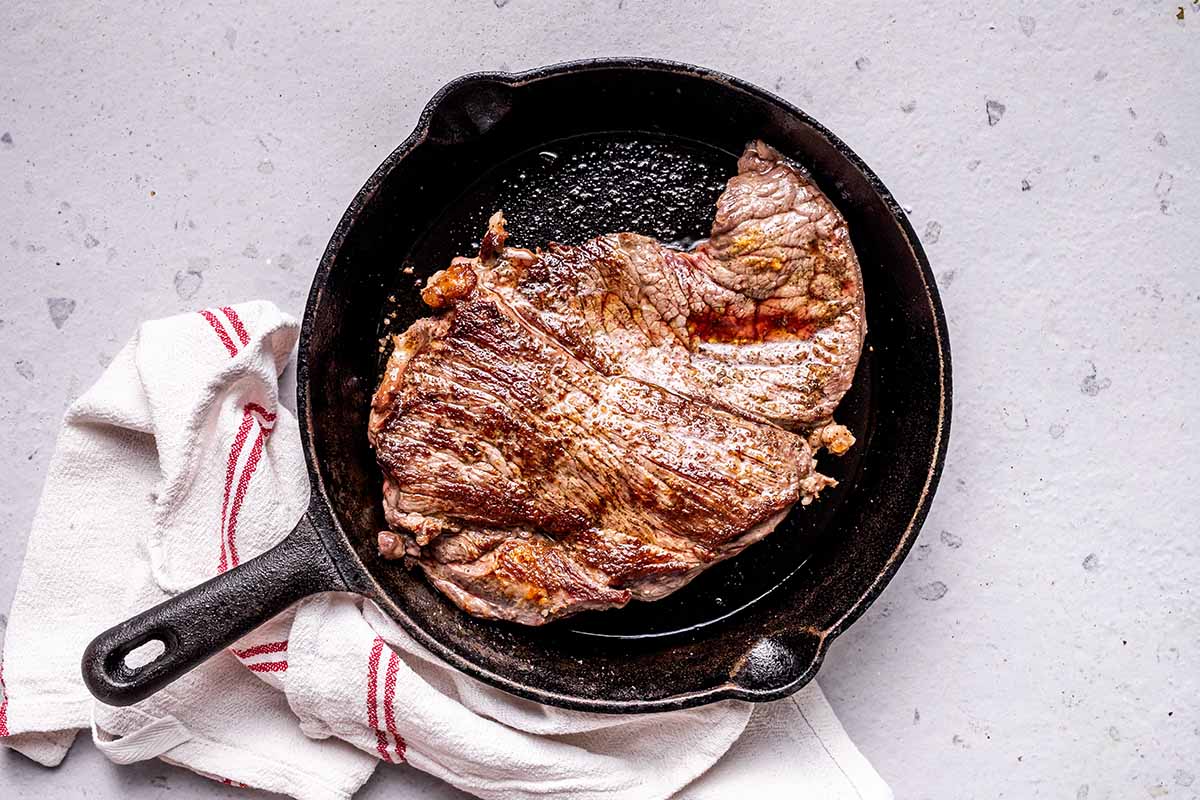 Step 3 – Baste with butter. Add the butter, garlic, and rosemary to the pan. Once melted, spoon the melted herb butter over the meat.
Step 4 – Rest, slice, and serve. Transfer the medium-rare steak to a cutting board and let it rest before slicing. Garnish with flaky salt, then enjoy!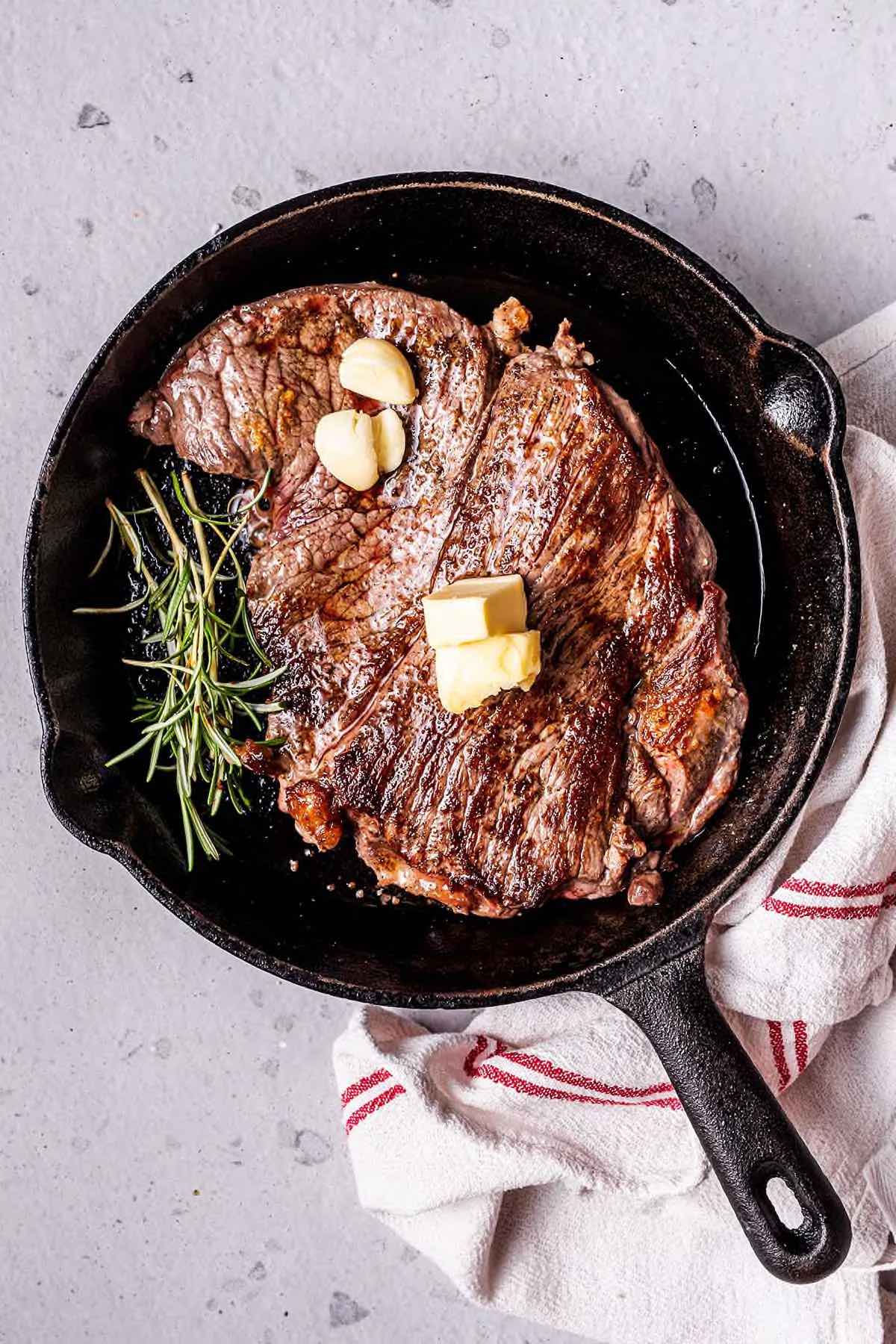 Recipe tips and variations
Bring the steak to room temperature. I highly recommend letting the steak sit at room temperature for about 30 minutes before cooking. This cooks the steak more evenly and prevents over-cooking the edges.
Always preheat your skillet. I know I've preheated the skillet properly when the steak sizzles as soon as it hits the heat.
Cook to medium rare. In our household, we like our steaks cooked to medium rare because that's when they're most tender. To ensure you reach the right temperature, insert a meat thermometer into the steak as it cooks. You'll know it's done when the internal temperature is between 130ºF to 135ºF.
Let the steak rest. My #1 rule when searing round steak is to let it rest AFTER cooking! By setting it aside for about 15 minutes, you give those amazing meaty juices and flavors time to settle back into the meat.
Switch up the seasonings. I like to experiment with the flavors by seasoning the steak with garlic powder, Montreal steak seasoning, or Cajun seasoning before searing.
Marinate the steak. Round steak was made for marinating. Consider soaking it in my 3-ingredient steak marinade or fajita marinade before cooking!
Serve with a great sauce. This restaurant-quality meal only gets better when it's topped with chimichurri or garlic yogurt sauce. 
Storage instructions
To store: To store the leftover cooked steak, let it cool to room temperature before placing it in an airtight container. Refrigerate for 3 to 4 days.
To freeze: Once the steak is cool, wrap it tightly in plastic or aluminum foil and place it in an airtight container or resealable bag. Freeze for 2 to 3 months.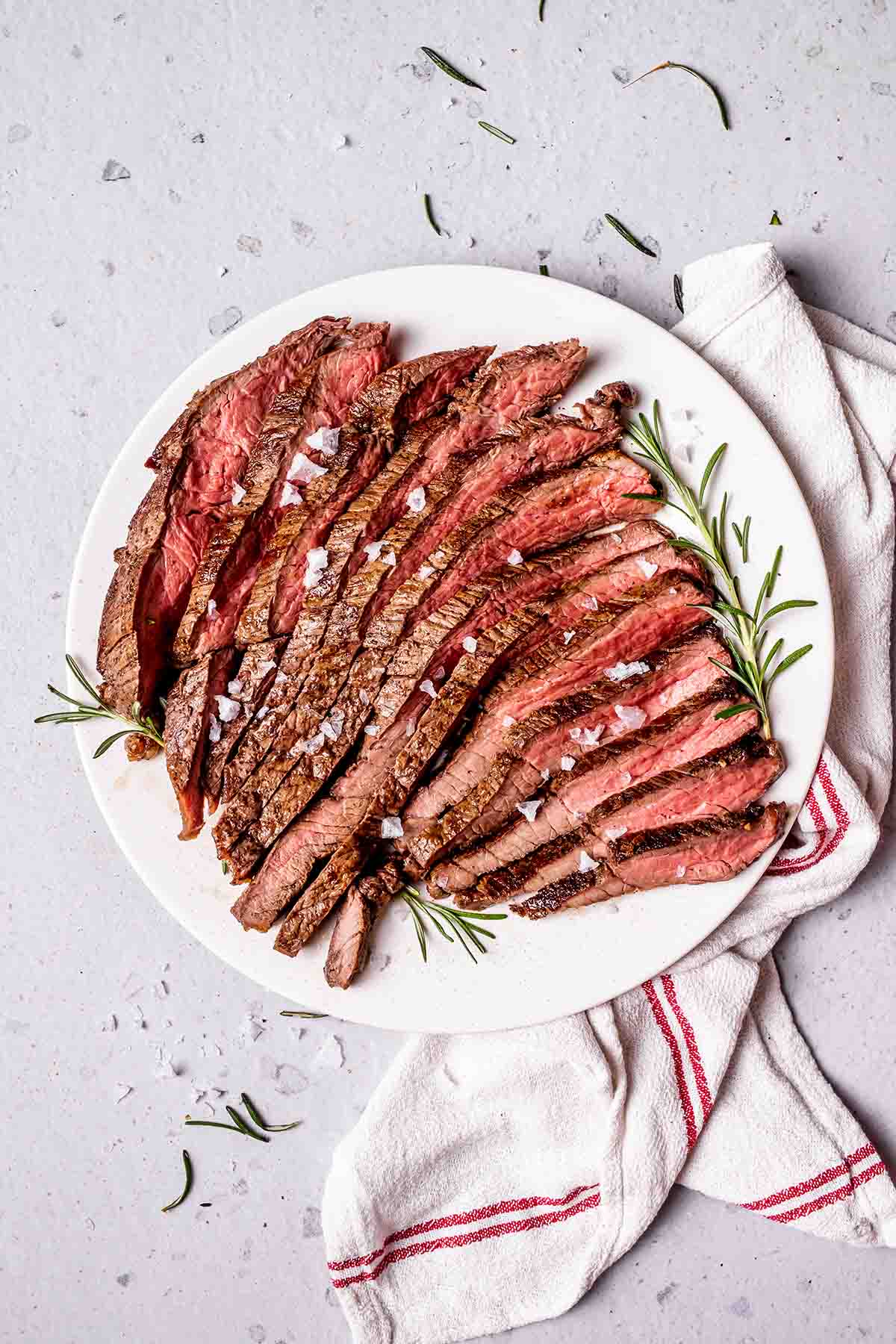 Frequently asked questions 
How long does it take to cook a round steak?
The cooking time will depend on the size and/or thickness of your steak. Generally, a 1-inch thick round steak will take about 5 minutes per side for medium rare. You can also use slow cooking methods for round steak, like braising, oven roasting, or the slow cooker. This can take between 1.5 to 2.5 hours. Like I said, use a meat thermometer to ensure the steak is cooked to your perfect internal temperature.
Is round steak better than sirloin?
Sirloin steak may be more tender and versatile but round steak has a more intense beefy taste, especially when pan-seared or grilled over high heat with butter and herbs.
What is round steak good for?
I love to slice round steak into thin slices and serve it over egg noodles with gravy, just like a classic beef stroganoff. It's also delicious stuffed in tortillas with peppers and onions for steak fajitas! But when I want a simple dish, I'll pair the steak with mashed cauliflower or mashed potatoes and a side of air fryer asparagus and sauteed mushrooms.
More quick and easy steak recipes
Prevent your screen from going dark
Place steak between two pieces of parchment paper and pound with a meat mallet for 20-30 seconds, until tenderized. Season with salt and pepper on both sides.

In a medium cast iron skillet, heat olive oil over medium-high heat. Add steak and cook for 5 minutes total until golden crust starts forming on both sides.

Reduce the temperature and add butter, garlic, and rosemary. Spoon the meat with the butter mixture, flipping the steak occasionally. Cook until the internal temperature of the steak reaches 130F.

Transfer the meat to the cutting board and let it rest for 15 minutes before slicing.
TO STORE: To store the leftover cooked steak, let it cool to room temperature before placing it in an airtight container. Refrigerate for 3 to 4 days.
TO FREEZE: Once the steak is cool, wrap it tightly in plastic or aluminum foil and place it in an airtight container or resealable bag. Freeze for 2 to 3 months. 
Serving: 1servingCalories: 236kcalCarbohydrates: 1gProtein: 26gFat: 14gSodium: 676mgPotassium: 409mgFiber: 0.1gSugar: 0.01gVitamin A: 120IUVitamin C: 0.3mgCalcium: 28mgIron: 2mgNET CARBS: 1g
Disclosure: This post may contain affiliate links. I may earn a small commission for my endorsement, recommendation, testimonial, and/or link to any products or services from this website.
Round Steak