Sometimes a good kale salad is in order. And this is one of those times. I'm home. My suitcase is unpacked. My laundry is done. Fresh flowers are finding their way back into Mason jars, and the avalanche of mail is, quite honestly, being ignored. Travel time from our apartment in Testaccio to our front door in San Francisco: twenty hours. Twenty. Hours. It hurts to even type that. After travel like this I end up craving extra-wholesome food for days after arriving home. This time, my first day back, I turned out a super satisfying lunch inspired by two recipes, including the Raw Tuscan Kale Salad, in Melissa Clark's cookbook – In the Kitchen with A Good Appetite.

This Salad: Simple But So Much More
Let's talk it through. The core of this salad is lots of kale tossed in a vibrant, lemony-pecorino dressing. The recipe calls for just a handful of ingredients, but they all deliver – crunchy, toasted breadcrumbs, red pepper flakes, good olive oil. Simple, but special. If you don't believe me, read the comments. People absolutely love this.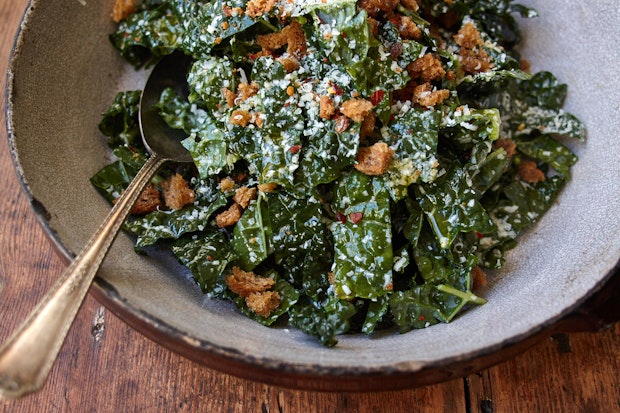 So, it is a salad I threw together for a casual lunch, but can also imagine making for friends or family. I can imagine endless ways you might work it into a one-dish meal. Make a bit of extra dressing, add some farro to the mix, and top with a poached egg, for example. Or, incorporate some roasted winter squash alongside the kale. Or, do a more finely chopped version before folding every thing into a bowl of seasoned quinoa. I ate the salad alongside Melissa's Mustard and Pickle-spiked Tofu Salad served on toasted poppy seed wheat bread. At that moment, few things would have tasted better.
Kale Salad Tips
If you're worried the kale will be too tough to enjoy raw, go ahead and slice it into narrower strips.The recipe calls for 3/4-inch, but you can go with half that, or even try a shaved version – more like slaw.

The recipe has you toss the kale with the dressing, then allow it to sit for five minutes. You can leave it longer, or toss it longer if you want to tenderize the kale leaves more.
Variations
I'm pulling a couple variations from the comments because a number of readers are extremely enthusiastic about the cooked versions they're enjoying.
Lindsey mentioned, "

I sautéed onion slices first, added the kale and wilted it and made it a warm salad (same dressing). It was a HUGE hit and a nice cold weather variation."

Honeybear seconds the idea of trying a cooked version, "

I had some leftover so I placed it on a jelly roll pan and cooked it at 300 degrees for 10-15 min, until it was crispy. YUM!!"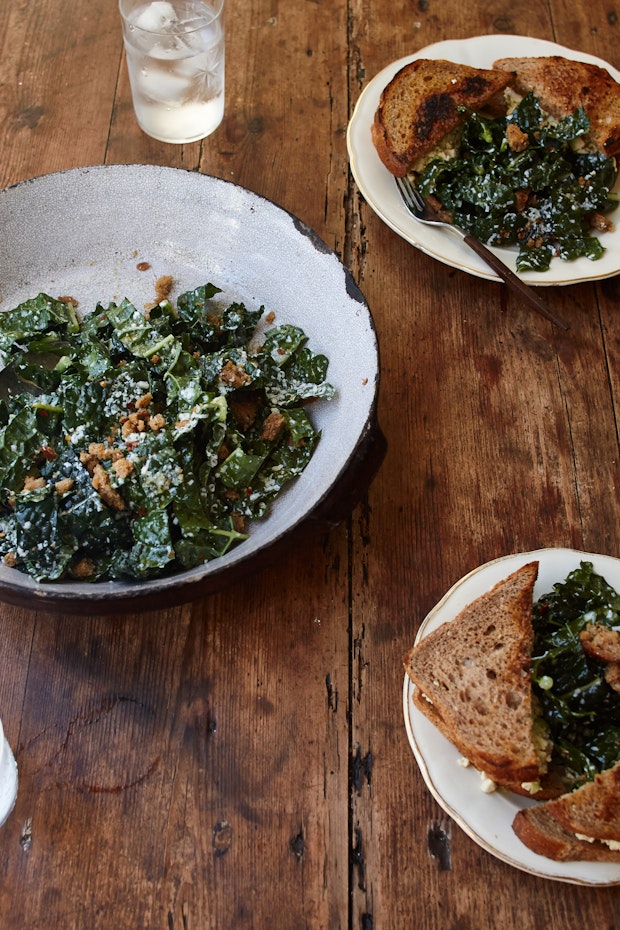 More Kale Salads