Olsa Hudson and son Slash. | Source: Facebook.com/SlashParadise
Ola Hudson was the fashion designer of choice for some of music's greatest stars in the 60s and 70s and is now the mother of a rock star, Guns N' Roses guitarist, Slash.
The turbulent social upheaval of the 60s and the 70s led to an explosion of musical and artistic creativity, and one of the talents revealed was Ola Hudson. A passion for dance led her to Europe, and she fell in love while in Paris.
In the UK, Ola Hudson would make her mark as a fashion designer to some of the most legendary musicians of all time and gave birth to a rock star, som Saul Hudson, AKA Slash, the lead guitarist of Guns N' Roses.
Ola Hudson was born Ola Oliver in Los Angeles on October 12, 1946. Ola's first love was dance, but her talents were wide-ranging. She was a gifted photographer and a brilliant, visionary fashion designer who brought a flair for drama to her creations.
Oda Hudson's contribution to the history of fashion and music has been celebrated by the Metropolitan Museum of Modern Art.
In the early 60s, Ola moved to Europe to pursue her education as a dancer and met a British artist, Anthony Hudson, in London. Ola's exotic beauty was a hit in the UK, and she started modeling. The modeling led her into the fashion world and what would become her work.
Ola Hudson Started Her Career as a Dancer
Ola was an enormously talented dancer, and she studied at the Lester Horton School of Modern Dance in Los Angeles until it closed its doors in 1960. Ola's ability earned her places at the Institute of Dance in Paris, the Le Loft in Switzerland, and the Max Rivers School in London.
In Paris, Ola met British painter Anthony Hudson, and the two fell in love. When Anthony moved back to the UK, Ola went with him, and the two married., an interracial marriage which was unusual for the times and not welcomed by Anthony's family.
London in the 60s was the most culturally vibrant and exciting city in the world, and Ola was swept up in the wave of musical and artistic innovation. Her career as a dancer was curtailed when she married Anthony and gave birth to her first child in 1965.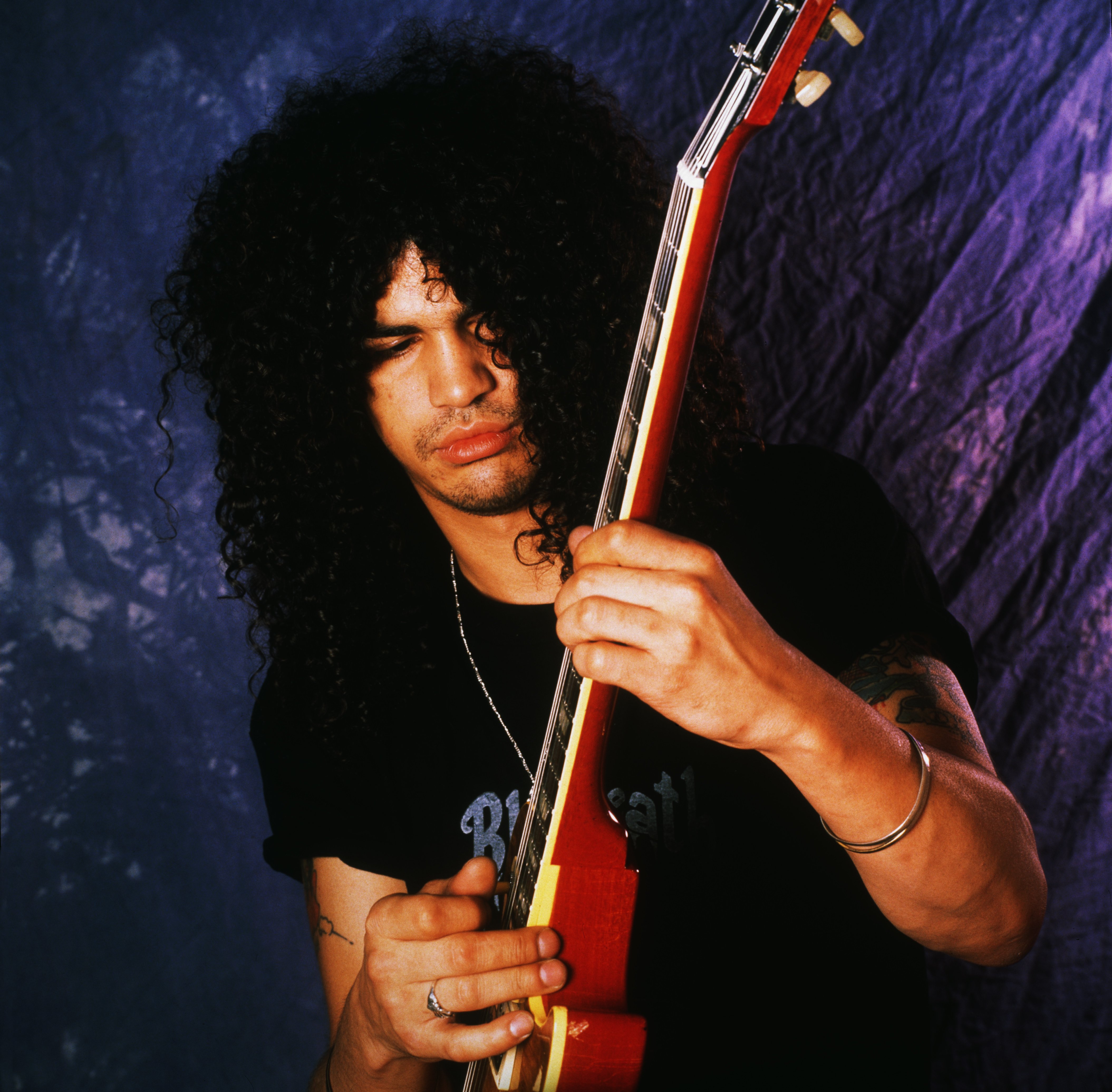 Saul Hutson AKA Slash, guitarist of Guns N' Roses, 1990. | Source: Getty Images
Ola Hudson's Oldest Son Is Slash of Guns N' Roses
Ola's son, Saul Hudson, was born in the United Kingdom on July 23, 1965. In his autobiography, Slash reveals that, at first, the marriage worked. Ola's career started to take off, and soon she was designing for Flip Wilson, Ringo Starr, and John Lennon.
Ola decided to move back to Los Angeles. Anthony and their son moved in with his parents until Saul was five. It was a difficult period for Saul, who was not accepted by his father's side of the family.
Anthony and Saul joined Ola in Los Angeles in 1970, and the couple welcomed their second child, son Albion. The reconciliation was short-lived. Anthony started drinking heavily, and they divorced when Saul was eight.
Ola Hudson Worked with Rock Stars, and One – David Bowie – Became Her Lover
The family struggled financially, and Ola and her sons lived with her mother. She started reestablishing her career as a designer in the United States. She had Helen Reddy, James Taylor, the Pointer Sisters, Carly Simon, Diana Ross, and British rock star David Bowie among her clients. Slash revealed:
"My mum started working with David professionally at first. I'm pretty sure that's how it started. Then it turned into some sort of mysterious romance that went on for a while after that. She did his wardrobe for his whole Thin White Duke period and 'The Man Who Fell To Earth' movie that he did."
Slash would also recall that he had once caught Ola and Bowie naked together, and even though they were lovers, the singer would bring his wife, Angela Bowie, and their son Zowie to visit.
Ola started expanding her work and creating clothing lines for Henri Bendel, Right Bank Clothing, Neiman Marcus, and Maxfield Blu. She also opened a successful clothing store on Sunset Strip called Skitzo.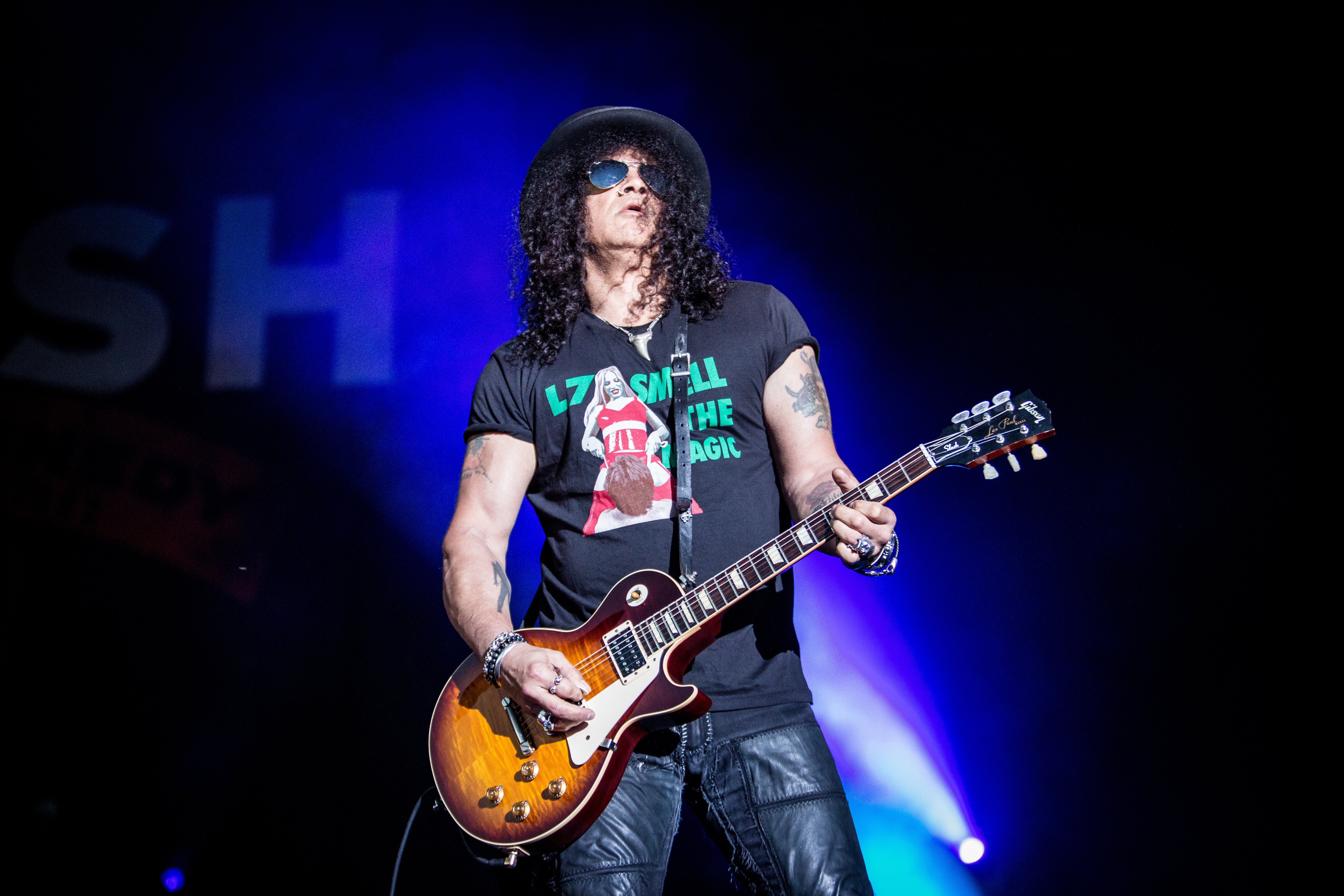 Slash performs live at Assago Summer Arena in 2015. | Source: Getty Images
Ola Hudson Introduced Son Slash to the World of Rock' N' Roll as a Child
Slash, as Saul was known from a young age due to his energetic personality, grew up surrounded by the world of rock-n-roll, met many of his mother's celebrity clients, and attended their concerts.
He attributed his love for music to his mother's influence and revealed that her insight into the music industry and its pitfalls helped him when he became a musician. Sadly, Ola died in 2009, a victim of lung cancer. Slash wrote:
"This is a difficult time, but I have to share with you that she was the sweetest, warmest, most loving human being I've ever known (…) as well as one of the most creative & talented. She was also the coolest Rock & Roll mom a Rock junkie like myself could ever possibly want to have."
Oda Hudson's contribution to the history of fashion and music has been celebrated by the Metropolitan Museum of Modern Art, which displays some of her creations for David Bowie in its permanent exhibits.