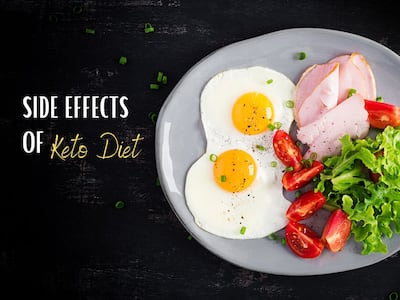 Planning to go on a keto diet? Check the possible side effects it can have on your heart.
In recent years, the ketogenic (keto) diet has gained popularity for its potential to aid weight loss and manage certain medical conditions. However, when considering its effects on heart health, it's essential to weigh both the benefits and potential risks associated with this dietary approach. In this article, Dr V. Rajasekhar, Senior Consultant Interventional Cardiologist & Electrophysiologist, Certified Specialist for TAVR (Percutaneous Trans Aortic Valve Replacement), Yashoda Hospitals Hyderabad, explains the various health benefits and possible side effects of the keto diet that everyone should know.
Understanding the Keto Diet
The keto diet is characterized by a significant reduction in carbohydrate intake, replaced with increased consumption of fats and moderate protein intake. This shift aims to put the body into a state of ketosis, where it burns fat for energy instead of carbohydrates.
Positive Effects on Heart Health
Research suggests that the keto diet may have some positive impacts on heart health. It can lead to weight loss, which is beneficial for overall cardiovascular well-being. Additionally, the diet may help lower triglyceride levels and improve blood sugar control, both of which are important factors in reducing the risk of heart disease.
The ketogenic (keto) diet, while popular for its potential weight loss benefits and management of certain conditions, has raised concerns about its impact on heart health due to several harmful effects:
Elevated LDL Cholesterol
The keto diet is often high in saturated fats from sources like butter, cheese, and fatty meats. These fats can lead to an increase in LDL cholesterol levels, which is associated with an increased risk of heart disease and atherosclerosis.
Risk of Atherosclerosis
The diet's high-fat content, particularly saturated fats, can contribute to the buildup of plaque in arteries, a condition known as atherosclerosis. This narrowing and hardening of arteries can restrict blood flow and lead to heart attacks or strokes.
Increased Risk of Heart Disease
High levels of LDL cholesterol and atherosclerosis contribute to an elevated risk of heart disease. While the diet may offer short-term benefits like weight loss, its potential long-term impact on heart health should be carefully considered.
Imbalanced Nutrient Intake
The restrictive nature of the keto diet can result in an imbalanced intake of essential nutrients. Reduced consumption of fruits, vegetables, and whole grains may lead to deficiencies in vitamins, minerals, and dietary fiber, which are important for heart health.
Impact on Blood Pressure
Some studies suggest that the keto diet can affect blood pressure levels. While it may initially lead to a decrease in blood pressure, the long-term effects on blood pressure regulation are not well understood, and fluctuations could potentially impact heart health.
Increased Risk of Cardiac Arrhythmias
The diet's effects on electrolyte balance and dehydration can potentially lead to cardiac arrhythmias or irregular heartbeats, which can be dangerous for individuals with pre-existing heart conditions.
Lack of Long-term Research
While short-term studies have shown certain benefits, there is a lack of long-term research on the keto diet's effects on heart health. Understanding the diet's potential impact over extended periods is crucial before recommending it as a safe option.
Individual Variability
It's important to note that individual responses to the keto diet can vary widely. Some individuals may experience more adverse effects on heart health than others, depending on factors like genetics, overall health, and adherence to the diet.
In conclusion, the keto diet's potential harmful effects on heart health stem from its high saturated fat content, potential nutrient imbalances, and lack of long-term research. If you're considering the keto diet, especially if you have existing heart health concerns, it's crucial to consult with a healthcare professional who can provide personalized guidance based on your individual needs and health status.
Total Wellness is now just a click away.
Follow us on
Don't Miss Out on the Latest Updates.
Subscribe to Our Newsletter Today!