Pop star Justin Bieber's favorite smoothie is an almond milk-based concoction filled with plant protein, according to his wife, Hailey Bieber. The model took to TikTok recently to share the recipe for her husband's favorite protein smoothie, which was a fully plant-based recipe up until the end. 
The smoothie starts with plenty of ice and then gets a generous pour of Malk's almond milk. Hailey then adds a banana, along with a handful of blueberries and raspberries.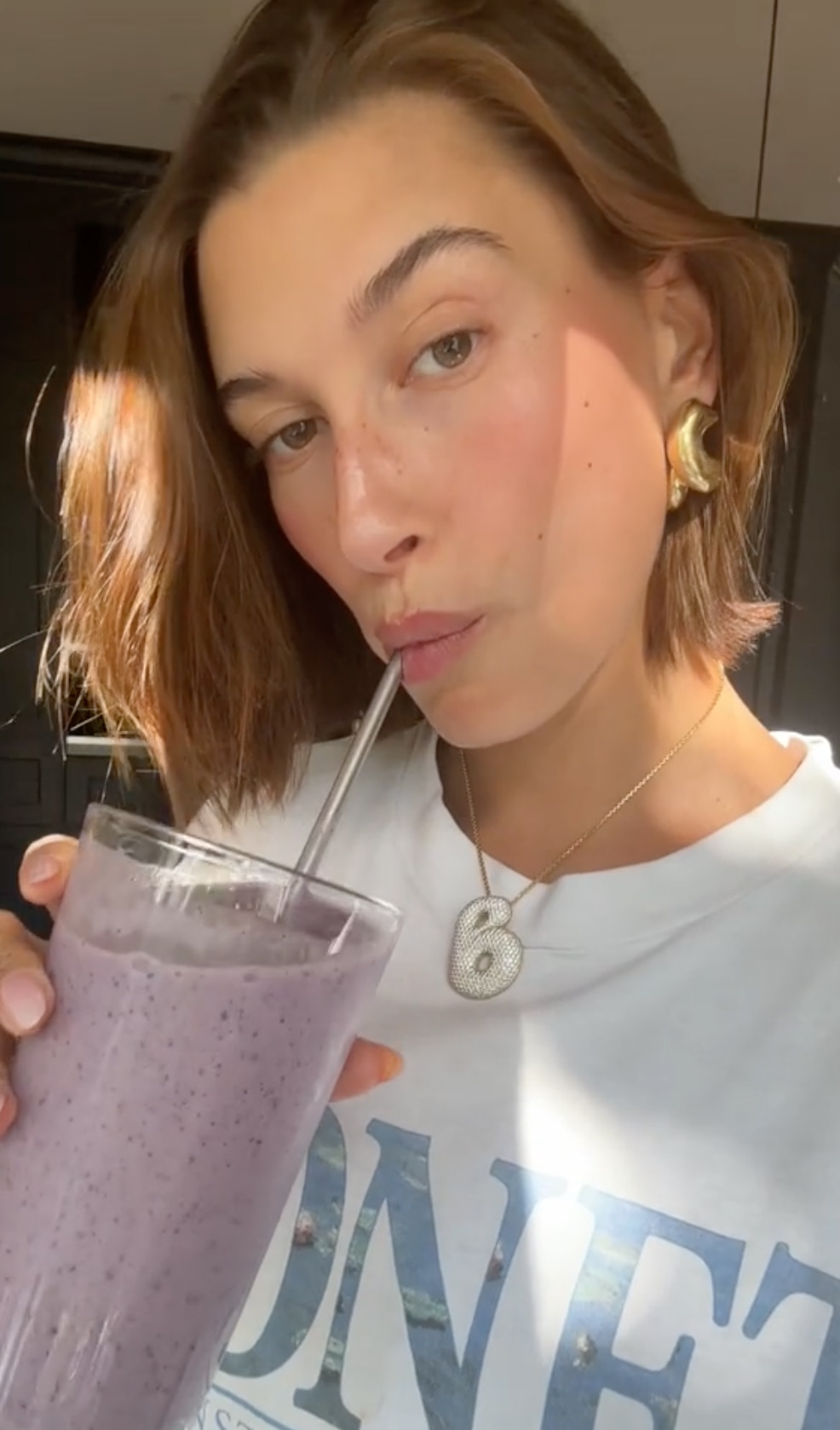 Hailey Bieber/TikTok
Then, she packs in the plant-based protein by adding Ora's So Clean & So Lean vegan protein. This addition contains all essential amino acids and 21 grams of plant protein per serving derived from ingredients such as pea protein, açai, amaranth, and broccoli. 
However, this is where the smoothie takes a non-vegan turn as Hailey adds Orgain's organic nutrition shake as the last ingredient. While the company does offer vegan shakes and milk, this particular product—distinguished by its green-hued tabs on the top—is made with "grass-fed protein," or, more specifically, whey, which is a byproduct of dairy production.
Making this smoothie vegan would only require one swap of Orgain's plant-based protein shake or another source of vegan protein. 
Hailey Bieber's Erewhon smoothie
The near-vegan smoothie Hailey recently shared on TikTok shares some similarities to the smoothie that bears her name at cult-favorite Los Angeles market Erewhon.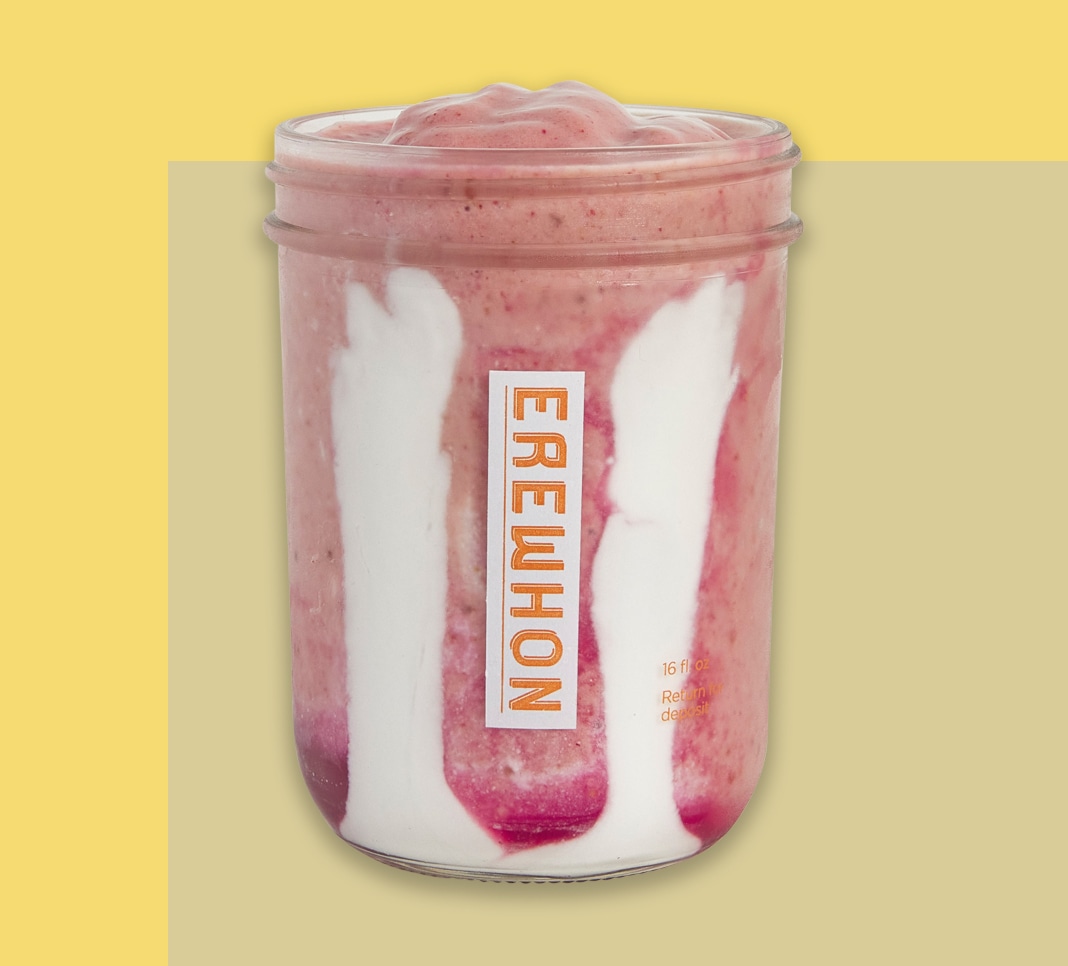 Erewhon
There, the Hailey Bieber's Strawberry Glaze Skin Smoothie also features Malk almond milk and bananas. It is rounded out with strawberries, avocado, dates, maple syrup, vanilla stevia, sea moss, coconut cream, and housemade strawberry sauce. 
Another factor this recipe shares with the homemade smoothie is that it's so close to being vegan but not quite. That's because it contains Vital Proteins' vanilla collagen, which is sourced from beef bones, skin, and cartilage. Luckily, Erewhon allows customizations for the smoothie, which, without modifications, costs a whopping $18 for a 20-ounce serving. 
Rhode
As the vegan lifestyle becomes increasingly more popular, animal-free versions of both the non-vegan items in these two smoothies—whey and collagen—are starting to hit the market, with innovators looking to create these ingredients in a way that does not rely on animal agriculture.
Hailey Bieber explores plant-based eating
Smoothies aside, Hailey has been exploring the realm of plant-based eating for several years. 
"So I'm not vegan or vegetarian. I'm half Brazilian, so trust me, I love a good pichana (a cut of beef)," Hailey posted to an Instagram story in 2019.
"But I will say over the last week or so, I have tried some of the most unbelievable vegan food I've ever had, and I want to keep exploring plant-based [sic]. Send me all your suggestions," she posted.
A catalyst for her diet change? Trying vegan food from Los Angeles' Monty's Good Burger—a local chain that has drawn a long list of celebrity clientele, including Travis Barker and wife Kourtney Kardashian Barker.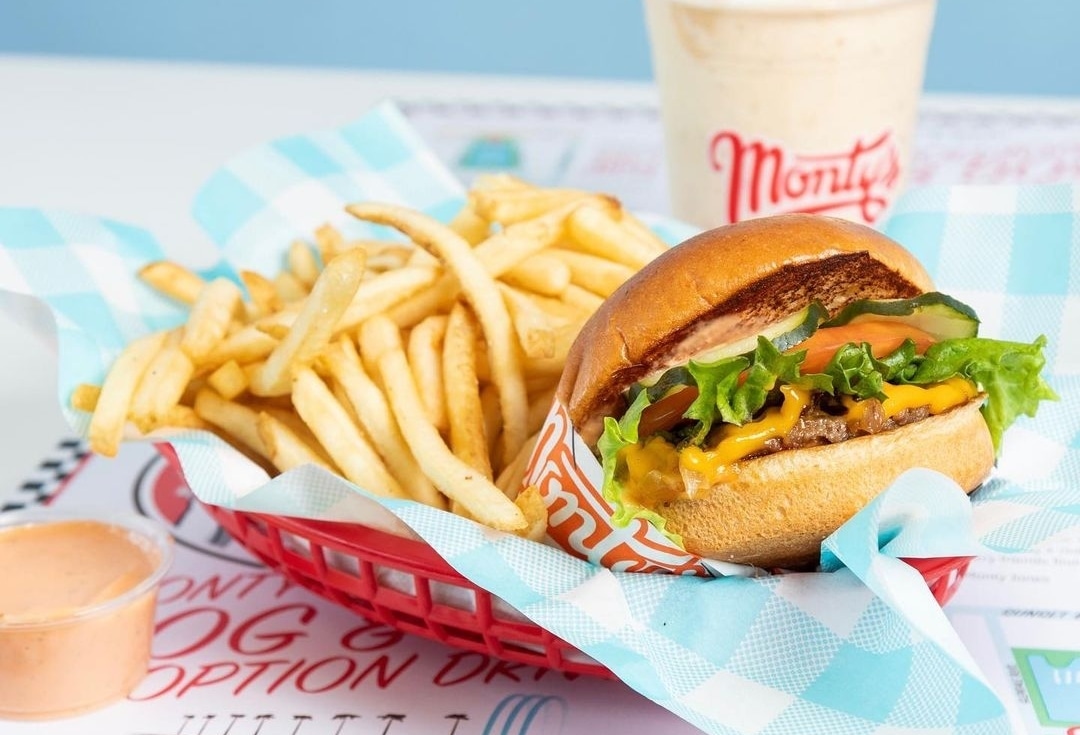 Monty's Good Burger
Hailey Bieber was also inspired to explore plant-based eating after watching Netflix documentary The Game Changers, which centered around elite vegan athletes who debunked myths about the necessity of eating meat and dairy for optimal athletic performance.  
In 2020, the 26-year-old model told her then 36 million Instagram followers that she was "trying to transition over to plant-based" and detailed her experiences of cutting out meat (except fish) and experimenting with vegetarian and vegan dishes.
Is Justin Bieber vegan?
While the pop star enjoys a plant protein-packed shake at home and previously worked with Schmidt's to create a vegan deodorant, it is not confirmed that Justin abstains from animal products. 
In 2017, the pop star was spotted eating a vegan breakfast with Selena Gomez at California's JOi Café. However, last year, Justin Bieber drummed up controversy on Instagram after posting a photo of himself, his wife, and a friend with a severed tuna head in Tokyo. 
Calvin Klein
Fans took to the post to comment about the cruelty of the industrial fishing industry exposed in Seaspiracy, a documentary released one year prior on Netflix. A number of comments asked the pop star to stand up against animal cruelty and go vegan. 
Fellow musical artist Jaden Smith came to the comment section, too. "That looks so good," he wrote in reference to the fish head, sparking debate about Smith's own plant-based diet.
Some fans inquired if Smith's comment was an inside joke. This could be because the 25-year-old is well-known for his I Love You Restaurant, an initiative that brings vegan food to unhoused communities in Los Angeles and beyond.
For the latest vegan news, read: