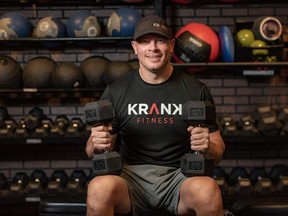 Article content
I'm laying flat on my back trying not to drop a exercise ball on my stomach as I raise and lower opposite arms and legs. It's the dead bug exercise and at almost 40 minutes of continuous exercise, it's also how I feel. I've had a solid workout, one that challenged my muscles, my cardio capacity and my agility. I've just completed a hybrid fitness class.
Hybrid fitness combines different types of exercise and training methods within a single workout.
Article content
"It's like the Swiss army knife of fitness. A hybrid class blends things like strength training, cardio, mobility, flexibility and agility – giving you a little bit of everything within one workout," says Ryan Grant, owner of Krank Fitness in Aspen Landing.
Recently, the #HybridAthlete trend has blown up in TikTok's health and fitness community. But in Calgary, hybrid training isn't just a fad. Several fitness boutique studios such as The Academy and Krank Fitness have been offering hybrid group fitness classes for over a decade.
Article content
"It's always been there, but it never was a popular term until recently when it gained traction online," muses Grant.
Yet, it's easy to confuse hybrid fitness with other training modalities. A HIIT class (High Intensity Interval Training) is different than hybrid fitness though HIIT is a modality that can be incorporated into a hybrid routine. Confused?
Article content
Brittne Pitt, a Calgary-based Orangetheory coach clarifies that in hybrid classes, you can slow things down and add in more mobility.
"In HIIT, it's all about going as hard as you can, taking a break, then repeating that cycle. Hybrid routines have cardio training with highs and lows, but you focus more on functional movements that mimic day-to-day routines," she explains.
Article content
And a hybrid workout isn't like cross-training either. With cross-training, every workout is focused on that one discipline, typically alternating between weight training and cardio days. Hybrid training is a multifaceted approach that encompasses many different disciplines. Key to a hybrid class is getting everything within that one session.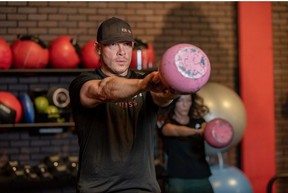 So what can you expect from a hybrid class? That all depends on where you're taking the class. At Krank, you never know what you're doing until you're in the studio, as there's a different approach to every class.
"We keep it fresh and constantly changing, so people never plateau and you're always shocking your body. It's the versatility of training and targeting different muscle groups that leads to a well-balanced workout," affirms Grant.
At Orangetheory, hybrid classes are more structured. After the warm-up, the class is divided into two 23-minutes blocks. Half the class goes on the floor for resistance and functional training, while the other half does cardio. The cardio, on either a treadmill or bike, is heart rate-based interval training. There's also time on the rower for a low-impact calorie burn that targets over 80 per cent of your muscles.
Article content
Part of the appeal, not to mention the recent attention on hybrid training, has to do with its efficiency. Being able to target multiple fitness components within a single 40- to 60-minute class is a huge boon to exercisers.
"It's about efficiency without sacrificing results. There's so much variety, you should never get bored," affirms Grant.
Additionally, when strength training and cardio are combined, the benefits include improved heart health and bone density, plus better stabilization of joints. But let's not forget there's also a multi-disciplinary functional fitness aspect to hybrid training. That's what's going to help you with daily activities outside the gym.
"We're seeing the benefits of mobility and agility as we age. We need a strong structure and muscles throughout the body, but you also need a strong heart and mobility to move through different patterns. Functional strength helps you carry your groceries, do the gardening and go up stairs," notes Grant.
According to Canadian Physical Activity Guidelines, we should be engaging in moderate to vigorous aerobic activity at least 2.5 hours a week, and focusing on strength-building activities at least twice a week. Executing a hybrid fitness routine three times a week ticks all the right boxes.
Article content
To set yourself up for success, search out places where you feel a sense of community and positive energy, advises Pitt. "That makes you excited to go. Connect with a coach or trainer in addition to those around you who'll keep you accountable for coming."
Pitt recommends scheduling yourself for the month in advance, just as you would any other health or wellness appointment.
"Treat your workouts like those appointments so you feel successful and your body craves it more. You'll eventually want to add it more into your life," she avows.
But as with any new fitness regime, it's important to listen to your body and give it proper rest.
"A lot of people do the opposite. They don't want to take the day off, but as you age, things change. We need to be respectful of that and be aware of what we're able to do with our bodies," notes Grant.