Olympian sleep lessons for regular people, like you and I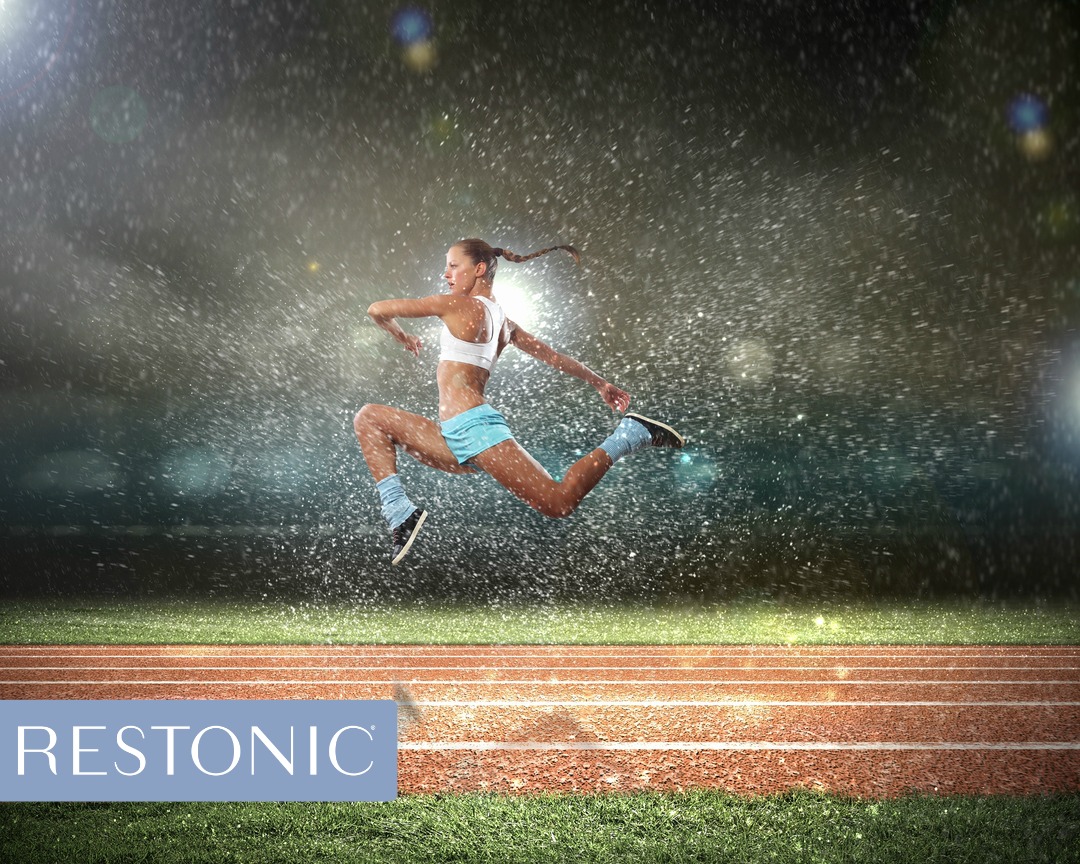 Usain Bolt dashed to the finish line a record of 6 times at the 2008 Olympics, earning the title of fastest man in the world. After the race, Bolt stated the most important part of his intense training regime was sleep.
Wait, what? Sleep? Sprints and squats weren't at the top of his list? "A sleep routine is extremely important to me – I need to rest and recover in order for the training I do to be absorbed by my body," said Bolt.
Yes, sleep is high on the ladder of life. We need it, want it and love it. But sometimes we don't make adequate time for sleep in our busy schedules. Looking at athletes – they eat, breathe and dream competition and training. How much sleep does the average athlete get? Can sleep deprivation affect their performance? We're ready to touchdown on this.
Pro-athlete sleep habits and how you can improve yours!
Many of us participate in non-professional athletic events weekly, whether at the gym or a pickup game of kickball with friends or chasing a toddler around the house. While you probably don't train as hard as Lebron or Serena Williams, you might be shocked to hear they both sleep an average of 10 hours each night. This makes sense. It's hard to perform your best when you feel exhausted and athletes especially know they must take care of their bodies to be successful.
A recent study of the Stanford men's college basketball team showed that extra time sleeping translated into running faster sprints, improved free throws and improved memory when learning new techniques.
The pro-athlete and you are more similar that you think.
Why some athletes don't get enough sleep
Unfortunately, the average athlete only sleeps an average of 6-7 hours per day. Sound similar to your nightly sleep time? Some reasons for poor sleep in athletes could include – early morning training, nocturnal waking (from stress or sleeping disorders), poor hygiene, caffeine usage and excessive worrying. What to do?
When it's time for a professional sleep coach
Many pro teams hire a sleep coach to help athletes conjure an effective sleep routine and offer support for getting enough Zzzzz's. Real Madrid soccer team, works with, Nick Littlehales. Nick takes pride in prescribing specific mattress types and creates a regime for the team. After Nick helped the Real Madrid team with their sleep habits, they clenched the championship title in 2014.
Of course, the average Joe/Josie, doesn't have an extra $100,000 to hire a sleep coach but Nick shares some great tips for us amateurs.
Shower or bathe prior to sleeping to relax muscles and help your body temperature fall, which happens naturally before sleep.
Drink a warm glass of milk before bed. Dairy products are rich in sleep-inducing chemicals such as serotonin and melatonin.
Begin a pre-sleep routine 90 minutes before bed – turn off televisions, cellphones and bright light electronics.
Sleep like an all-star to be an all-star!
You know that staying in shape and eating healthy are the keys to a great lifestyle. You don't need to be a million dollar athlete to appreciate the importance of sleep. Become a pro in sleep and you'll be a champion at life!
Ready to go mattress shopping and start sleeping better? If you're ready for a new mattress, we'd love to help you find the right one for you. Visit our Find a Retailer page and we'll locate a store close by where you can lie on our mattresses and talk to a trained sales professional.
Rest well & wake up ready to go!
Better sleep gives rise to better mornings, bringing your goals into focus and dreams within reach. Hungry for more sleep info? Dig into these posts: