As we age, one thing remains constant – change. Growing older is a natural part of this process, and it comes with its own set of challenges. One of the key aspects of ageing gracefully is maintaining a healthy diet. According to the 'Global Burden of Disease Study' conducted by the Institute for Health Metrics and Evaluations in 2017, poor diet was responsible for 11 million deaths globally. 
Indian culture and traditions often revolve around food, making it crucial to adapt your diet as you age to ensure longevity and optimal health. 
How to maintain a healthy diet as we grow older:
To make the most of your health as you grow older and wiser, you should keep these tips in mind:
Prioritise Nutrient-Rich Foods:
Our nutritional needs change as we age, and it becomes more critical than ever to focus on nutrient-rich foods that are beneficial for overall health. 
Include plenty of fruits, vegetables, whole grains, and lean proteins in your daily meals. Indian cuisine offers a wide variety of options, such as colourful vegetables, legumes, and spices that can enhance both taste and nutrition.
Our metabolism slows down as we grow older, and that makes it easier to gain weight. Obesity is a leading cause of multiple diseases and puts you at a higher risk of a stroke. Controlling your portion sizes leads to better weight management and a healthier lifestyle. 
Use smaller plates, and don't feel compelled to finish everything on your plate.
While staying hydrated at all times is a must for all, dehydration can become more significant as you age. Besides drinking a sufficient amount of water, include hydration options such as buttermilk, coconut water, and herbal teas in your diet to avoid getting dehydrated. 
Reduce salt and sugar intake:
Consuming excessive salt and sugar can contribute to hypertension, diabetes, and other health problems, which become more significant as we age. Stay mindful of processed foods and eating out as they contain high levels of sodium and sugar. Include anti-inflammatory ingredients in your diet like turmeric, cumin, cinnamon, etc., which not only enhance flavour but also offer many health benefits. 
Aim at a protein-rich diet
As we grow older, we tend to lose muscle mass. To avoid this, we should follow a diet high in protein that can help maintain muscle mass and avoid muscle atrophy. Besides this, add exercise to your routine, and you will maintain your strength as you age. However, avoid eating processed meat or red meat products as they increase your risk of heart disease and other health problems. Instead, opt for healthier options like fish, beans, nuts, eggs, etc.
Be mindful of dietary restrictions:
While many people follow dietary restrictions due to cultural or religious beliefs, it is essential to adapt these restrictions to meet your changing nutritional needs. Consult with a nutritionist or dietician to ensure that you are getting all the required nutrients while adhering to your dietary preferences because no one shoe fits all.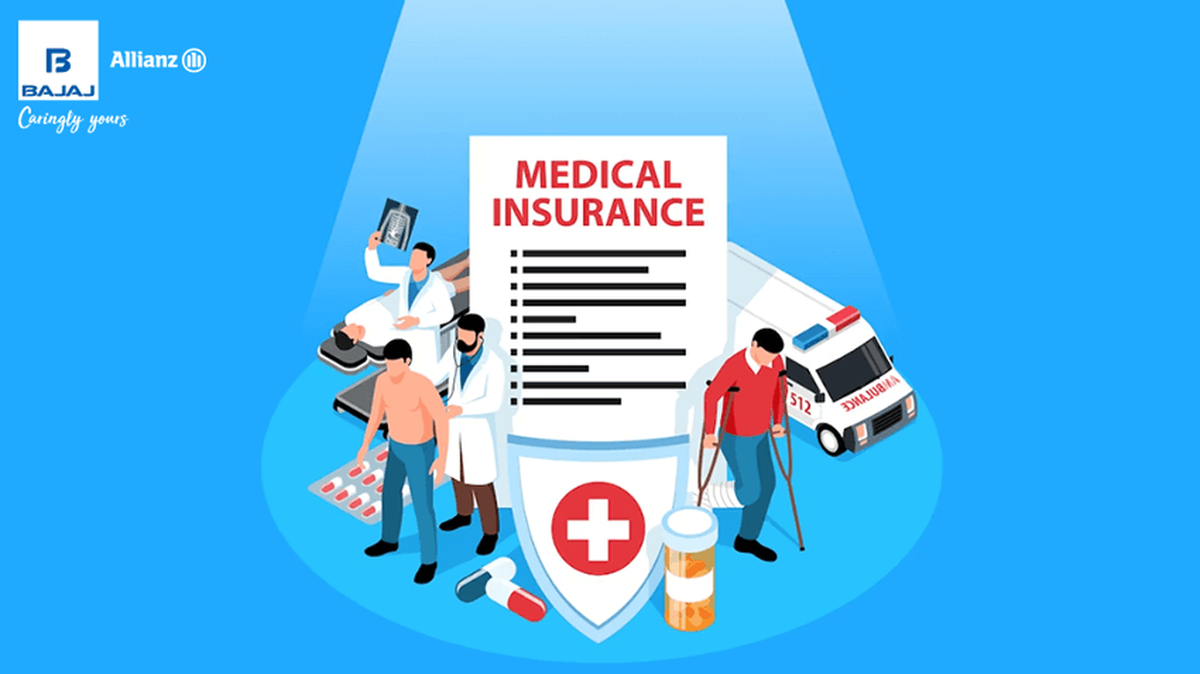 The importance of health insurance as you age:
Now that we have the importance of having a mindful diet covered, another significant decision that should be a part of your ageing process is to buy a health insurance plan.
While focussing on your diet should be a priority, there are other ways to ensure a smoother ageing journey. Ageing makes us more susceptible to diseases and the rising cause of healthcare makes growing old an expensive process. While changes in our diet can prevent many health-related issues, it is wise to opt for a health insurance plan, especially for senior citizens. 
Bajaj Allianz General Insurance's Health insurance for seniors offers a range of healthcare solutions with a variety of features such as pre-existing illness coverage, high entry age, free health check-ups, pre and post-hospitalisation, etc., as specified in the policy wordings. * Claims are subject to terms and conditions set forth under the health insurance policy.
Besides the usual health insurance plan, Bajaj Allianz General Insurance offers an add-on known as Respect Rider, designed for individuals above 50 years of age, which can be availed with a base health insurance plan from Bajaj Allianz General Insurance. *
What is the Respect Rider?
A Respect Rider covers risks that older individuals are susceptible to, and that are otherwise excluded from the base insurance plan, as per conditions specified in the policy document. 
Having a centralised process to undergo additional healthcare benefits is an added bonus and these add-ons can make your lives significantly easier by offering you a range of coverage options to choose from. 
Some of the various features that the Bajaj Allianz General Insurance Rider offers are emergency ambulance services, fall detection technology through a smartwatch, physiotherapy service at home, nursing care at home, unlimited medical teleconsultation services, etc. All the features do have a count limit to it. * Claims are subject to terms and conditions set forth under the health insurance policy.
Having access to these privileges can lead to a more peaceful life where you don't have to worry about how to navigate things in the case of emergencies and unexpected health concerns. 
To sum up, maintaining a healthy diet as you grow older is essential for leading an active life. To live a disease-free life, ensure that your diet remains both nutritious and delicious. By prioritizing nutrient-rich foods, controlling portions, staying hydrated, and being mindful of salt and sugar intake, you can age gracefully and enjoy the golden years of life to the fullest. Always keep in mind that your health is your most valuable possession. By combining a nutritious diet with a reliable health insurance plan, you'll not only lead a healthy life but also enjoy peace of mind. Be sure to use the health insurance calculator, as it assists people in estimating their potential medical expenses and selecting the most suitable insurance plan based on their requirements and financial situation.
*Standard T&C Apply 
Insurance is the subject matter of solicitation. For more details on benefits, exclusions, limitations, terms, and conditions, please read the sales brochure/policy wording carefully before concluding a sale.
'This article is part of sponsored content programme.'