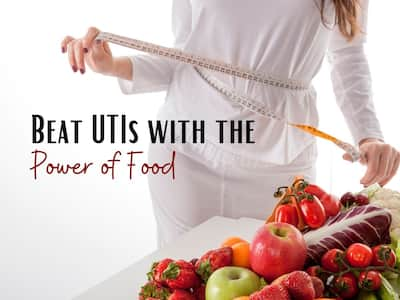 Dr Neeti Sharma speaks on the intricacies of UTI and which food helps reduce symptoms and which could make them worse.
Can diet have any impact on Urinary Tract Infection? Time and again, experts have said that when a person is suffering from this condition, he or she should be careful about what they eat. It is true that some foods may exacerbate the symptoms more than the others. However, the question remains whether or not food may help prevent the condition altogether or not. Dr Neeti Sharma, a Senior Consultant at Nutrition & Dietetics at Marengo Asia Hospitals, Gurugram spoke to TheHealthsite.com and said,
"Even though a diet alone may not be able to totally prevent UTIs, particularly if a person has underlying risk factors or recurrent infections, it can play a significant part in doing so by encouraging overall urinary health and strengthening the body's natural defences."
If you are confused about what may help reduce the symptoms of UTI, do not rely on the internet or a layman's opinion. For queries as serious as this, you must refer to an expert.
Dr Neeti Sharma speaks more on the intricacies of UTI and which food helps reduce symptoms and which could make them worse.
Diet That May Help Reduce Symptoms According To Experts
Here are some dietary tips that may help reduce the risk of UTIs:
Try Staying Hydrated: Drinking lots of water aids in the urinary tract's removal of bacteria. Aim for 8 to 10 glasses of water a day, minimum.
Probiotics: Probiotic-rich meals and supplements can support the maintenance of a healthy balance of urinary tract and gut bacteria. This could prevent the growth of dangerous microorganisms.
Fiber-Rich Foods: By encouraging regular bowel movements, a diet rich in fibre can lower the risk of constipation. Pressure from constipation can increase the risk of infection by placing stress on the bladder and urinary system.
Beverages: Some people may be sensitive to particular foods and beverages, such as coffee, alcohol, spicy meals, and artificial sweeteners, which can irritate the urinary system. Keep track of how your body responds to these substances and try limiting such foods
Balanced Diet: In order to promote the general health and function of the immune system, it is important to maintain a well-balanced diet that contains a variety of nutrients, vitamins, and minerals.
Bottom Line
Several studies have pointed out the fact that vegetarian foods may also help reduce symptoms of UTI, especially in women. But why? Experts say that, foods like pork and poultry contain bacterial strains of E. coli called extraintestinal pathogenic E. coli (ExPEC), which could worsen symptoms of UTI. This is why you may be asked to avoid such foods. Plant-based diet on the other hand do not contain this particular bacteria. A vegetarian diet is also recommended because it increases the amount of fluid intake in the body, helping the symptoms. However, more research is required to really understand the association between the two.
Total Wellness is now just a click away.
Follow us on
Don't Miss Out on the Latest Updates.
Subscribe to Our Newsletter Today!