Deadlift shoes are specialized shoes that provide stability, grip, and ground feedback while deadlifting.
Before you jump into purchasing shoes for deadlifts, it's vital to choose a pair that aligns with your preferences and goals.
In this guide, you'll learn the best shoes for deadlifting, including the best high-top deadlift shoes, deadlift slippers, barefoot deadlift shoes, and more.
(Affiliate Disclosure: All products we review reflect the research and opinion of our editors. We sometimes receive the products we review for free, and when you make a purchase using the links in this article, we may earn an affiliate commission at no extra cost to you.) 
The Best Deadlifting Shoes
Best Deadlift Shoes Overall: SABO Deadlift PRO Shoes ($110)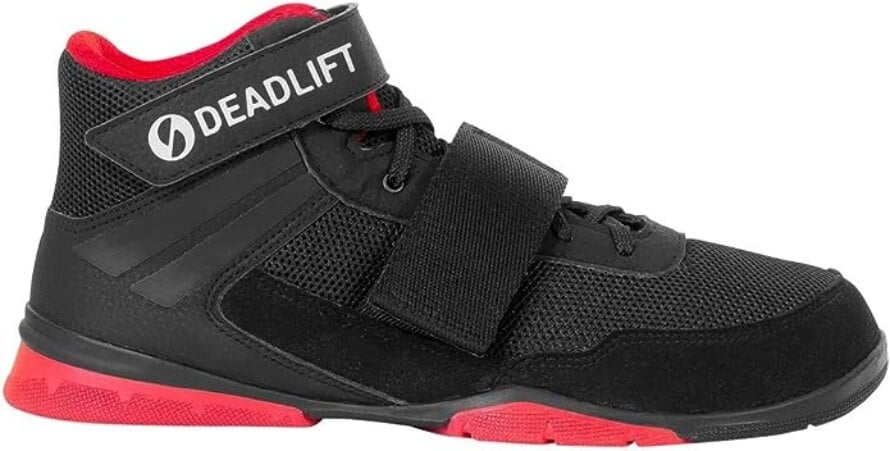 SABO's deadlift shoes are our top pick overall because they're near perfect for deadlifting. 
The soles are made of a non-compressible yet flexible material that maximizes force transfer into the floor and allows for plenty of sensory feedback.
The soles are also very slim at only 2-to-5 mm thick (with a 1 mm drop). Finding shoes for deadlifting with minimal "stack height" (the amount of material between your foot and the floor) is crucial because a thin sole positions the barbell higher up from the floor relative to your body, which shortens the range of motion and helps you to lift more weight.
You'll notice that the sole doesn't turn up near the toes (a feature referred to as "toe spring" that's common in running shoes). This adds to the grounded, barefoot feeling by allowing you to grip the floor with the big toe, pinky toe, and heel and ensures your weight doesn't shift forward and throw off your balance as you drive upward.
Additionally, the soles offer excellent traction, making you feel as though you're glued to the floor. Solid traction is especially beneficial for sumo deadlifters since your feet can sometimes slip when using a wide stance.
The uppers are lightweight, so they don't feel clunky, and with a spacious toe box, the SABO Deadlift shoes give your toes room to splay, ensuring comfort during heavy lifting sessions.
Some people say the high-top design offers support and stability to your ankle. Personally, I don't think it adds much, but it gives you some tactile feedback around your ankle that's comfortable. 
More importantly, from a support and stability standpoint, the metatarsal (midfoot) strap locks your foot in place, preventing your foot from moving inside your shoe. The ankle strap is less necessary. You can't tighten it enough to offer extra support, though it adds to the shoes' aesthetic appeal, and it's handy for strapping your laces down and keeping them out of the way.
The heel construction is another major benefit of the SABO deadlift shoes. The sole splays slightly at the heel, offering greater stability at the back of your foot, and the insole is curved to better accommodate your heel. 
The shoes have some lateral support (a small "lip" where the sole and the upper connect) that prevents your foot from rolling as you drive your legs outward, something that's particularly useful for sumo deadlifters.
While the SABO deadlift shoes excel in most areas, they have a few downsides. They're slightly pricey, given that they're really only appropriate for one exercise (you could use them for squatting, though weightlifting shoes are a better option for most), and given the current political climate, sourcing them can be challenging (SABO is a Russian company).
Nevertheless, there are stockists in the US and across the world that can make getting your hands on these lifting shoes easier. I got mine from MAX Barbell, a US company that carries an extensive range of powerlifting gear, including the entire range of SABO deadlift shoes.
They also stock plenty of sizes and colors and provide prompt shipping and excellent customer service. That's why I'd recommend checking out maxbarbell.com if you're interested in getting these SABO deadlift shoes.
Pros
Excellent traction

Non-compressible sole that maximizes force transfer into the floor

Offer good under-foot feedback

Spacious toe box

Unparalleled stability
Cons
Slightly expensive

Can be hard to source
Find the Perfect Supplements for You in Just 60 Seconds
You don't need supplements to build muscle, lose fat, and get healthy. But the right ones can help. Take this quiz to learn which ones are best for you.
Take the Quiz
Best Deadlift Slippers: Strength Shop Riot Deadlift Slippers ($25)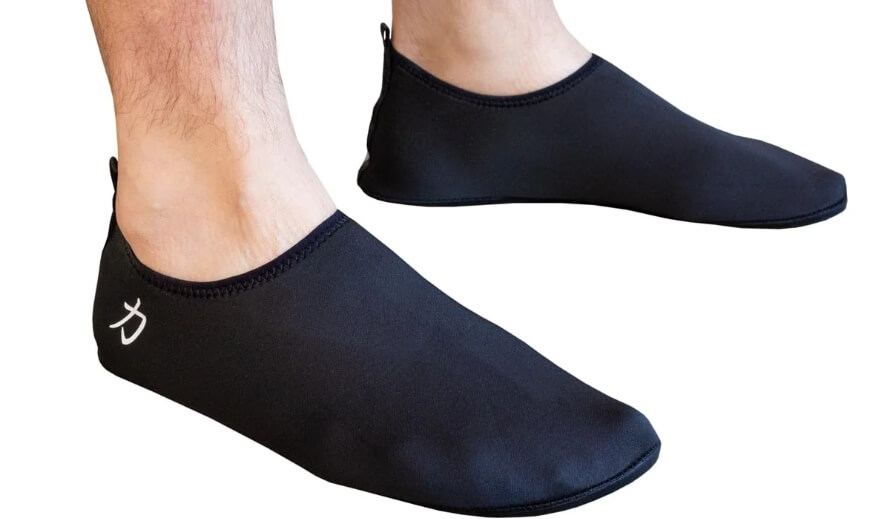 Many weightlifters prefer the sensation of deadlifting barefoot. However, most competitions don't allow you to lift "unshod."
This is where deadlift slippers come in. 
Deadlift slippers are minimalist footwear, usually comprising lightweight material that covers your foot and a wafer-thin sole. Deadlift slippers mimic the experience of deadlifting barefoot. The bonus is they're usually allowed in competition. 
The best deadlift slippers we tested were the Strength Shop Riot deadlift slippers.
Their minimalistic design closely emulates the feeling of lifting without shoes. They're also exceptionally lightweight and breathable, which adds to the barefoot feeling. However, unlike deadlifting in socks, these slippers provide solid traction, so your feet feel fixed to the floor. 
Another advantage is their ultra-light uppers, which are flexible enough to accommodate wide feet, and are so light and breathable that you almost forget you're wearing shoes. 
There are a few downsides to the Riot deadlift slippers, however.
While they tend not to split during deadlifts, your foot may move around a little during other, more dynamic exercises like lunges. In other words, these slippers are great for deadlifting, but you'll have to change your footwear to do different exercises. 
And although the elastic upper is comfortable and flexible, I'm not entirely sure about its long-term durability. That said, mine have held up well so far. Plus, at just around $25 for a pair, replacing them occasionally isn't a big deal.
Pros
Light, breathable, and flexible

Feel similar to deadlifting barefoot

Cheap
Cons
Probably not as hard wearing as other options

Only suitable for deadlifting
Best Barefoot Deadlift Shoes: Vivobarefoot Primus Lite III ($170)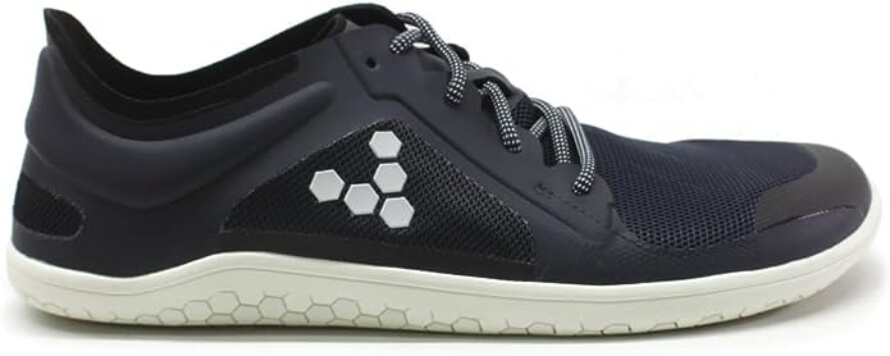 The Vivobarefoot Primus Lite III is a top-tier barefoot deadlift shoe option.
With a 5 mm stack height, these flat-soled shoes give you superb feedback and place you close to the floor, minimizing the distance you have to lift the bar. If you want to increase the barefoot feeling, you can remove the sock liner, too.
This barefoot deadlift shoe's tox box is another highlight. It provides ample room for your toes to splay, letting you engage your big toe, pinky, and heel for optimal floor grip—a necessity when you're pulling heavy weights.
The Primus Lite III isn't a one-trick pony, either. It's a versatile flat shoe suitable for various training forms, not just deadlifting.
It's not without drawbacks, however.
At $170, the Primus Lite III isn't cheap. Since it's not specifically a "deadlift shoe," it also lacks the specialized features of dedicated deadlift shoes, like the midfoot strap or splayed heel on the SABO deadlift shoes above. And if ankle support ranks high on your list of priorities, these might fall short.
Pros
Excellent feedback from the floor

Wide toe box

Can be used for various forms of training
Cons
Expensive

Lacking specialized features

No ankle support
Find the Best Diet for You in Just 60 Seconds
How many calories should you eat? What about "macros?" What foods should you eat? Take our 60-second quiz to get science-based answers to these questions and more.
Take the Quiz
Best High-Top Deadlift Shoes: Converse Chuck Taylor All-Star ($65)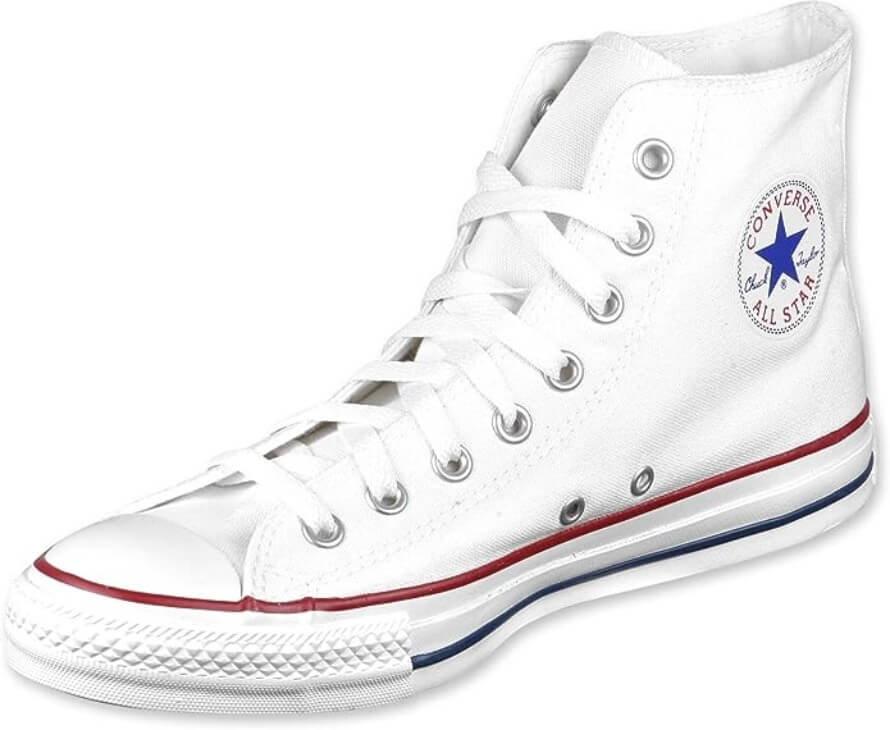 Many weightlifters prefer high-top or wrestling shoes for deadlifting, given the extra ankle support they provide.
And while numerous specialized options exist, many are overly expensive and don't offer any discernible advantages over Chuck Taylors. 
For example, Chuck Taylors feel similar to costlier choices like the NOBULL high-top trainer and Otomix Stingray but are much more budget-friendly. 
And that's why Converse Chuck Taylor All-Stars are our pick for the best high-top deadlift shoe. 
What makes Chuck Taylors such a good deadlift shoe?
First, the zero-drop sole helps you distribute your weight evenly. Many training shoes (especially weightlifting shoes) have a raised heel, which shifts your weight forward and puts you in a weakened position.
Second, the non-compressive sole of the Chuck Taylors effectively transfers the force from your legs into the floor, so you don't leak power. 
Lastly, they're budget-friendly, costing just $65 for the high tops and slightly less for the low-top version.
There are a few shortcomings to consider.
The chunky sole means you have to lift the bar a little further to complete each rep, potentially decreasing performance. Additionally, since they aren't athletic footwear, they lack the features you'd expect on training shoes, such as ventilation and lateral support. 
They're also narrow-fitting, which prevents you from splaying your toes and may be uncomfortable for those with wide feet.
Pros
Non-compressible sole

Inexpensive 

Some ankle support
Cons
Chunky sole

Lacking specialized features

Narrow fit and toe box
Best Deadlift Shoes for Beginners: Adidas The Total ($120)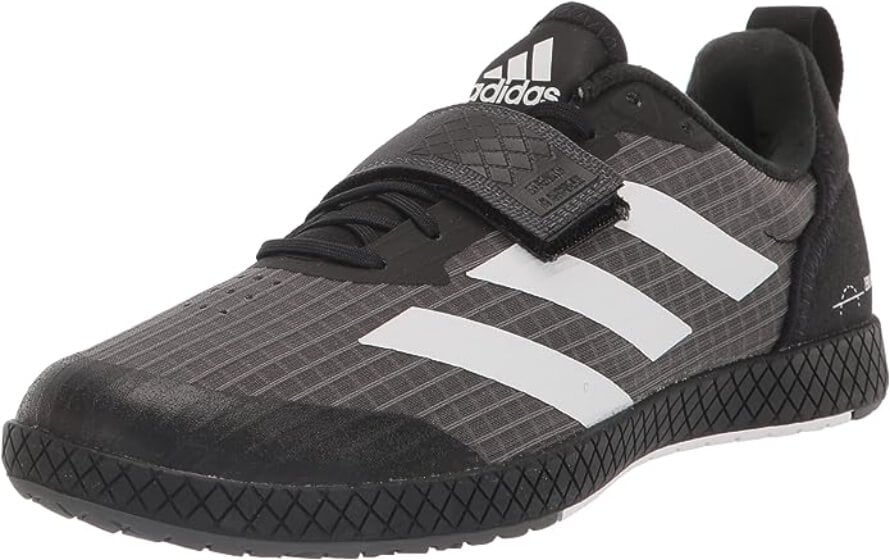 Beginner weightlifters typically don't want to commit to buying a shoe they can only wear for one exercise. They'd rather invest in a shoe suitable for numerous types of training that also works well for deadlifting.
Introducing the Adidas "The Total" shoes.
This Adidas model aligns with most beginner's needs. While not specifically an Adidas deadlift shoe, it boasts features ideal for the task and performs well during other types of training, too.
One of the standout features of The Total is its wide toe box, which allows your feet ample space to grip the floor.
The midfoot strap is a welcome design feature, too, because it locks your foot in place and ensures your foot doesn't shift around inside your shoe during your workout. 
These Adidas deadlift shoes also have a zero-drop sole, so they won't make you tip forward while deadlifting. Complementing this is the rubber sole, which offers excellent traction and flexibility, ensuring you get good feedback from the ground and stay rooted.
The Total has its limitations, though.
For one, it isn't cheap. However, a heftier price tag is justifiable, given the shoe's versatility. And while the shoe's stack height isn't excessively high, it's far from the thinnest on this list, a detail some will dislike. 
Pros
Wide toe box

Zero-drop sole

Midfoot strap for stability

Versatile
Cons
Stack height is slightly high

Fairly expensive
Some Nutritionists Charge Hundreds of Dollars for This Diet "Hack" . . .
. . . and it's yours for free. Take our 60-second quiz and learn exactly how many calories you should eat, what your "macros" should be, what foods are best for you, and more.
Take the Quiz
Best Cross-Training Shoes for Deadlifts: Nike Metcon 8 ($130)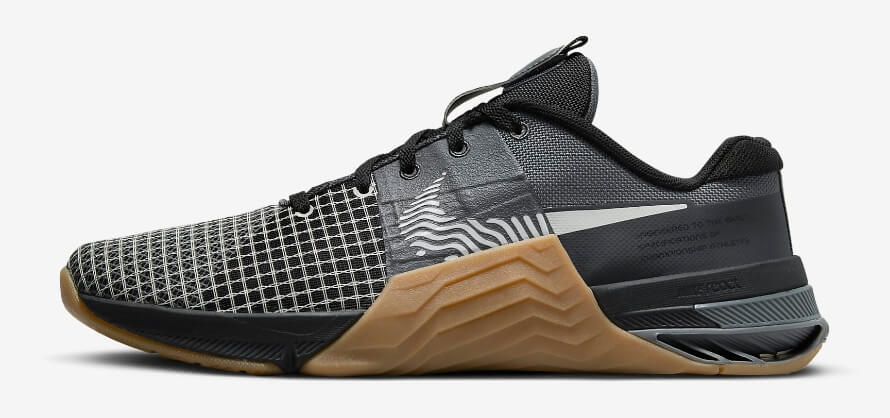 Finding the ideal cross-training shoe for deadlifting is a balance.
The shoe's sole should be thin enough to ensure excellent floor feedback and stability and minimize the deadlift's range of motion. 
However, it shouldn't be so paper-thin that the shoe becomes unsuitable for other activities like running or plyometrics. Traction is crucial, and stability is non-negotiable. Still, these shouldn't come at the cost of making cardio or dynamic exercises a chore. 
The Nike Metcon 8 masterfully strikes this balance.
Its sole is thin enough to offer a barefoot feeling, especially when you remove the insole, and the 4-mm heel-to-toe drop means it's incredibly stable. 
Unfortunately, as is often the case with Nike's training shoes (the Nike Romaleos are $200, placing them among the most expensive weightlifting shoes on the market), these impressive features come at a premium. 
Priced at $130, Nike's deadlift shoes are a pricey proposition. However, the cost is justifiable, given their quality, durability, and versatility.
Pros
Thin, stable sole

Suitable for various types of training

Good build quality
Cons
Expensive

Not as perfect for deadlifting as a deadlift shoe