Skip the deli counter and this quick and easy homemade pastrami. By slow cooking corned beef with simple spices, the meat turns super juicy and flavorful. No smoker needed.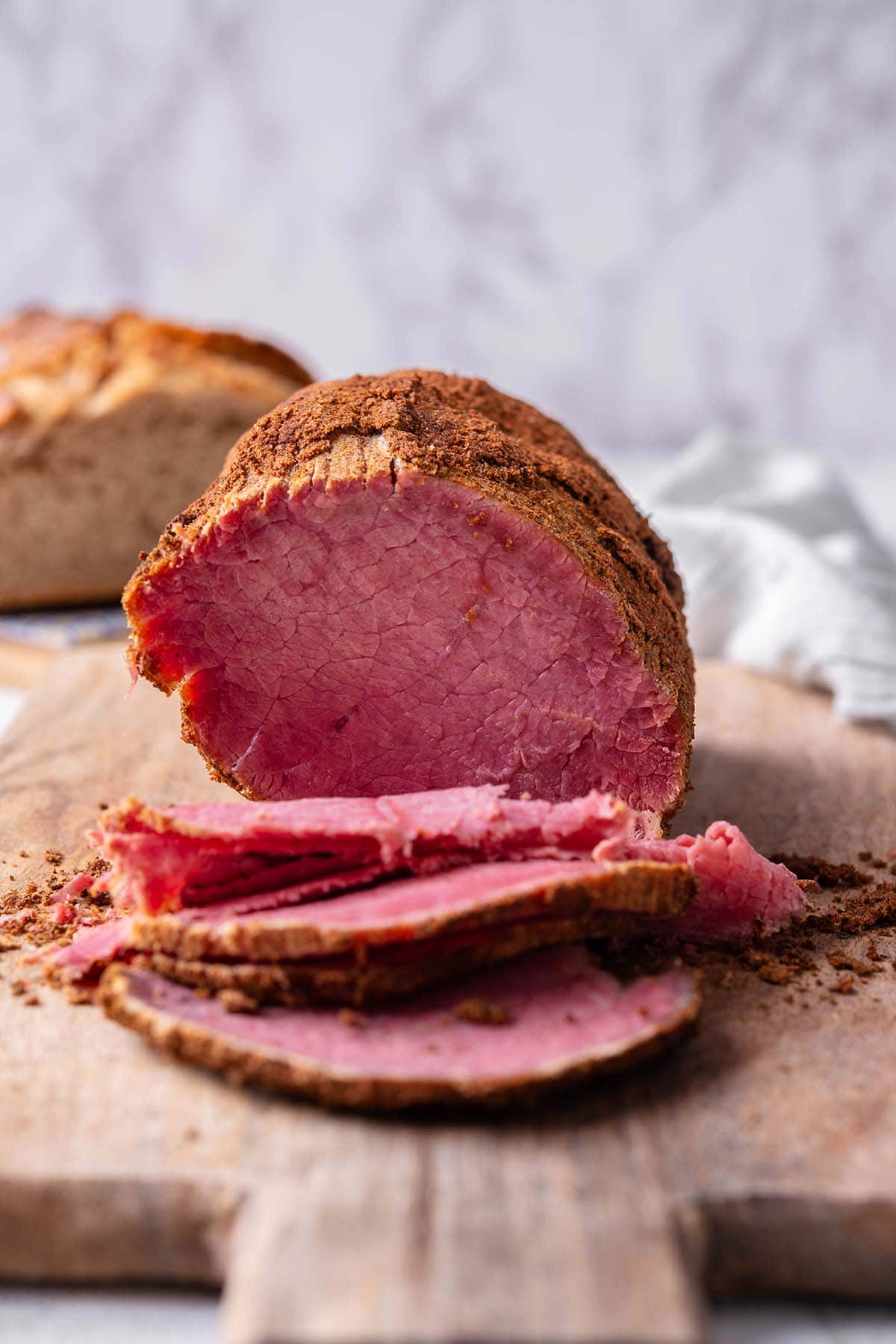 If the cost of deli meat makes you shudder, have no fear! The budget-friendly solution is to learn how to make it yourself using this homemade pastrami recipe.
All you need is corned beef, a spice rub, and a slow cooker. 
Table of Contents

Why this recipe works
What is pastrami?
Ingredients needed
How to make pastrami
Pastrami VS corned beef
Tips to make the best recipe 
Storage instructions
More delicious smoked meats
Frequently asked questions
Easy Homemade Pastrami
Why this recipe works
Making pastrami may look intimidating, but it's actually relatively hands-off and yields perfect results.
No smoker needed. While pastrami is typically smoked, I've cracked the code on making this in the slow cooker and oven instead. 
Easy to make. You'll never overpay for deli meat again after making your own homemade version. Just follow the simple steps, and you'll have mouth-watering cold cuts before you know it!
Endless serving options. Whether you're craving a Reuben, Rachel, hoagie, or creative cold-cut sandwich, this slow cooker pastrami recipe can make it happen in the comfort of your own kitchen. 
What is pastrami?
Pastrami or "pastrama" (meaning "preserved meat" in Romanian) is a type of sliced deli meat. It's often made by slow cooking or smoking spice-rubbed brisket to achieve juicy meat in the middle and a crisped, peppery crust around the outside. Once it's ready, the flavorful and salty beef is sliced and traditionally layered between rye bread for Reuben sandwiches.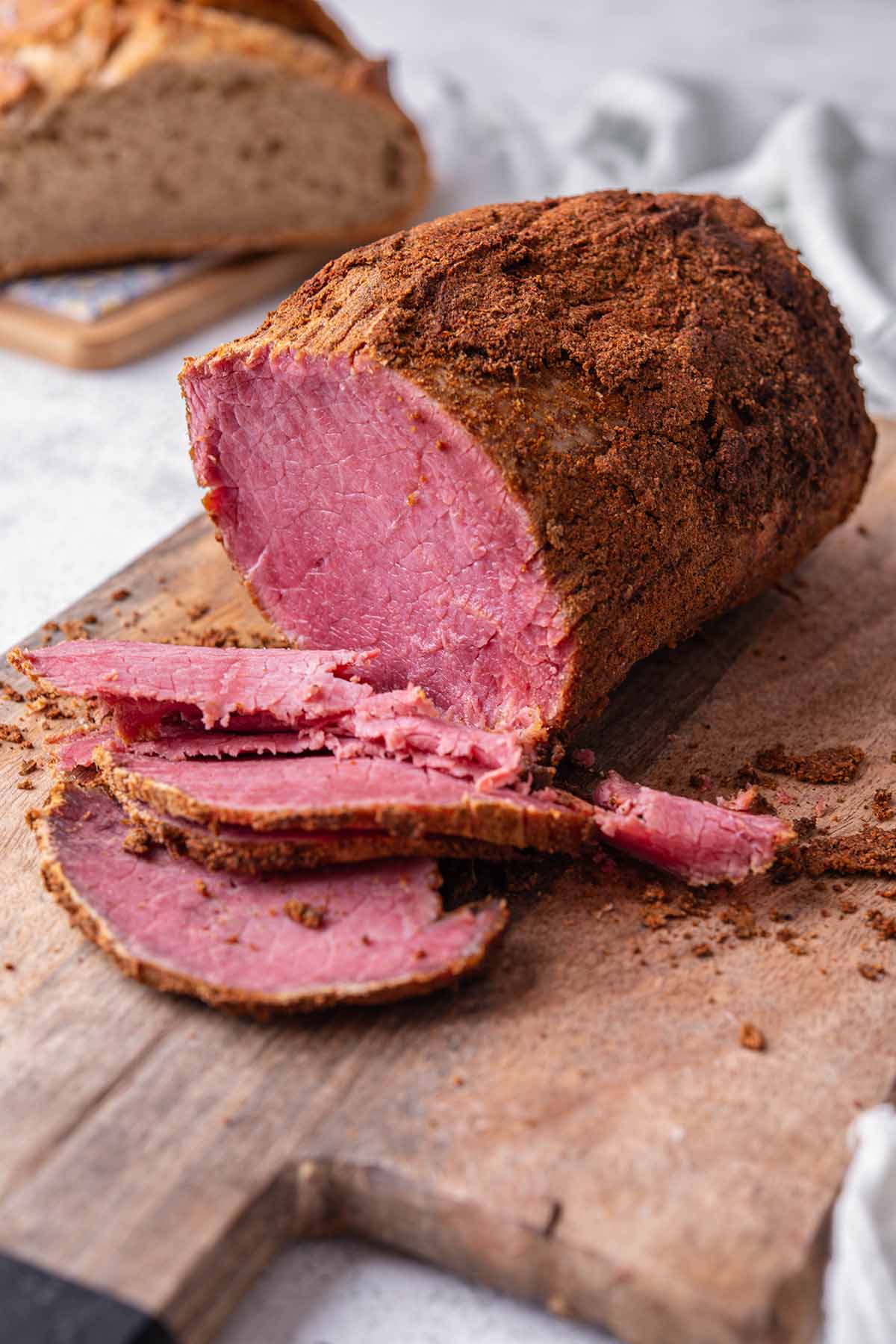 Ingredients needed
This beef pastrami is so easy, and besides the beef and the spice rub, there isn't much that is needed to make. Here is what you'll need:
Corned beef. The fastest way to make this is to start with corned beef. This way, the pastrami is ready in a matter of hours rather than days. If you can't find corned beef, you can use well-marbled beef brisket with a nice fat cap.
Pastrami rub
Black pepper. It gives the cold cut its signature pungent, peppery, and spicy flavor.  
Coriander powder. For a warm, citrusy, and slightly nutty flavor. 
Brown sugar. It adds a rich, caramel-like sweetness to balance the savory spice mix.
Smoked paprika. This gives the pastrami its classic red-orange color.
Onion and garlic powder. This aromatic duo ensures that the smoked meat is deliciously savory.
How to make pastrami
Slow cooked pastrami is easy to make: just remember to make space in your fridge to chill.
Make the spice rub. Stir the pastrami seasonings in a bowl, then spread the spice mixture in an even layer on a baking sheet.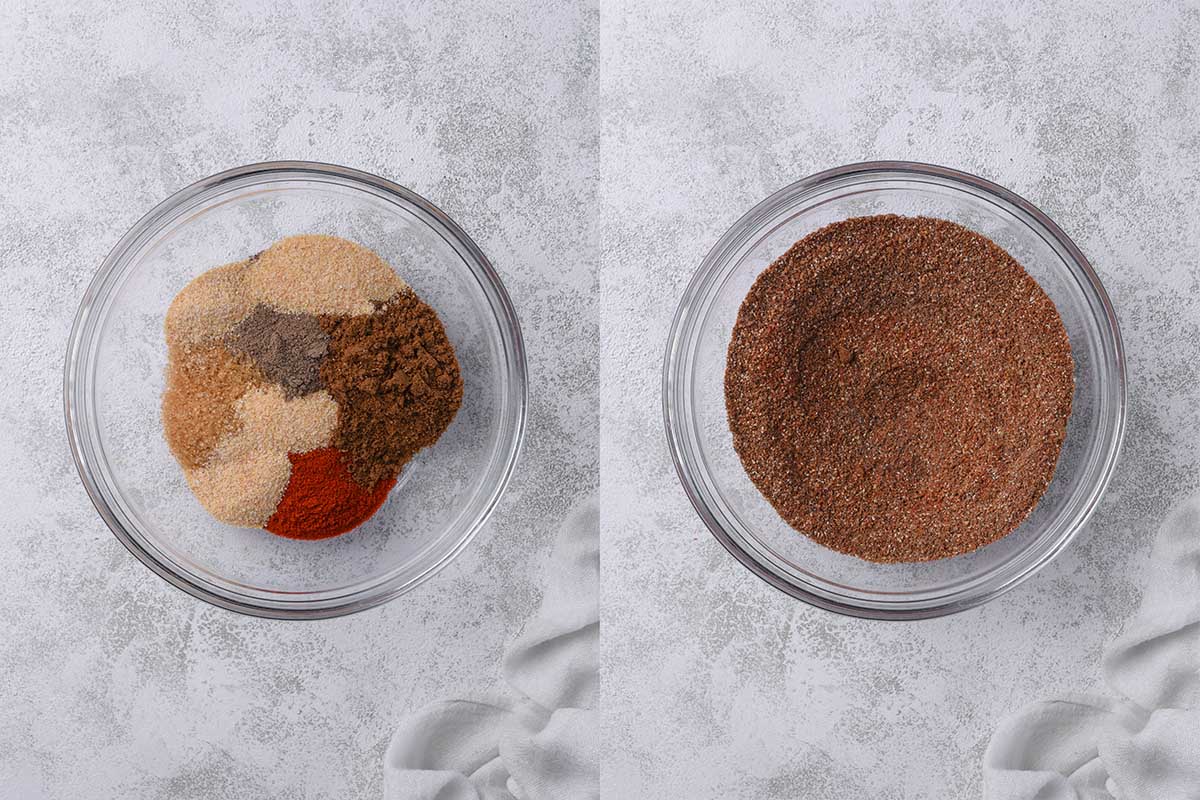 Season the beef. Roll the corned beef in the spice mix.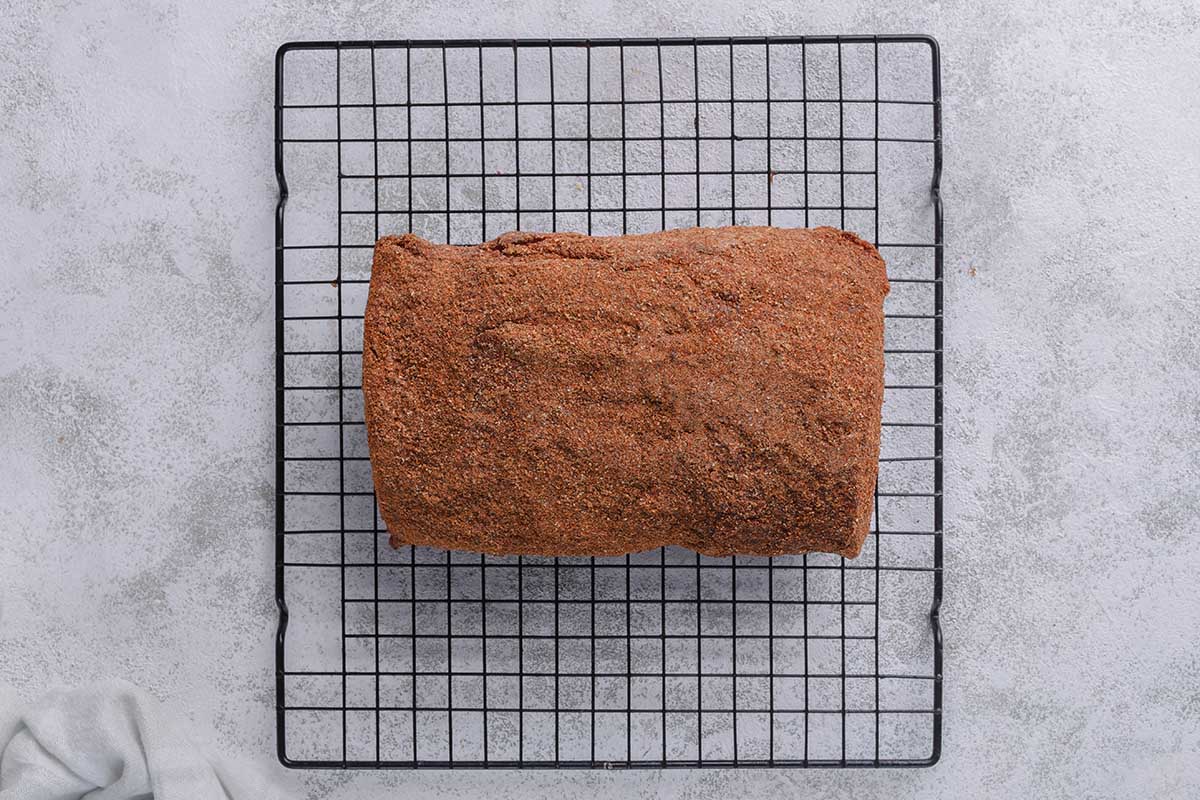 Slow cook. Wrap the beef in aluminum foil and cook it in the slow cooker.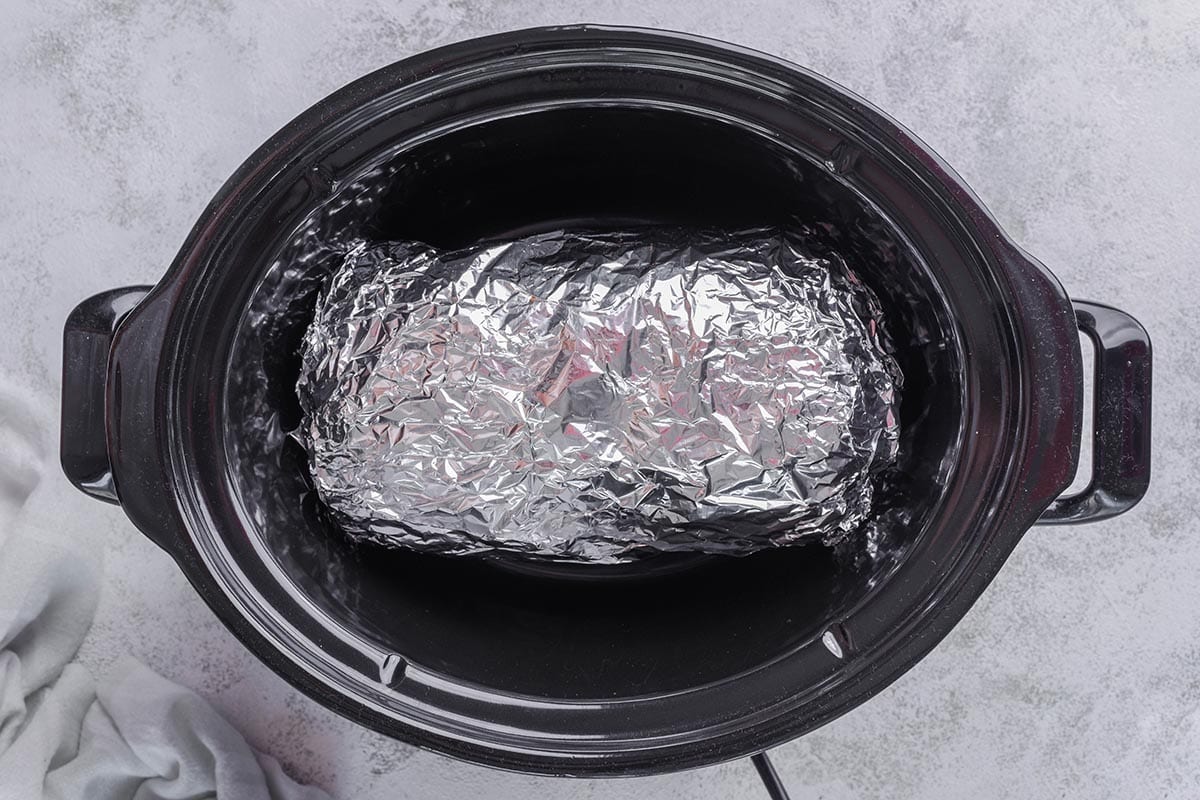 Chill. Afterward, transfer the beef to the fridge.
Bake. Once it's done chilling, place the beef on a wire rack on top of a baking sheet and bake in the oven until a crust forms. 
Cool, then slice. Let the beef cool completely before slicing and serving. Enjoy!
Pastrami VS corned beef
While both are popular deli meats, they differ in several ways.
Pastrami is marinated and then baked or smoked, whereas corned beef is cured and slow-cooked.
While pastrami is typically smoky and peppery, corned beef is more savory and salty.
The texture of pastrami is typically thin and chewy and appears darker in color. Corned beef, on the other hand, is either shredded or sliced and has a pale color.
Tips to make the best recipe 
Use a meat thermometer. It's the best tool to use when checking the meat's doneness. The pastrami is ready when the meat thermometer measures the internal temperature at 195°F.
Rest before slicing. Once cooked, allow the pastrami to rest for about 30 minutes off of the heat. This helps redistribute the juices and keeps the meat moist.
Slice into thin slices. Slice the pastrami against the grain into very thin slices before serving.
Storage instructions
To store: This deli meat will stay fresh for 3 to 4 days when stored in an airtight container in the fridge. 
To freeze: If you don't plan on eating the pastrami right away, wrap it tightly in plastic or aluminum foil and freeze for 1 to 2 months.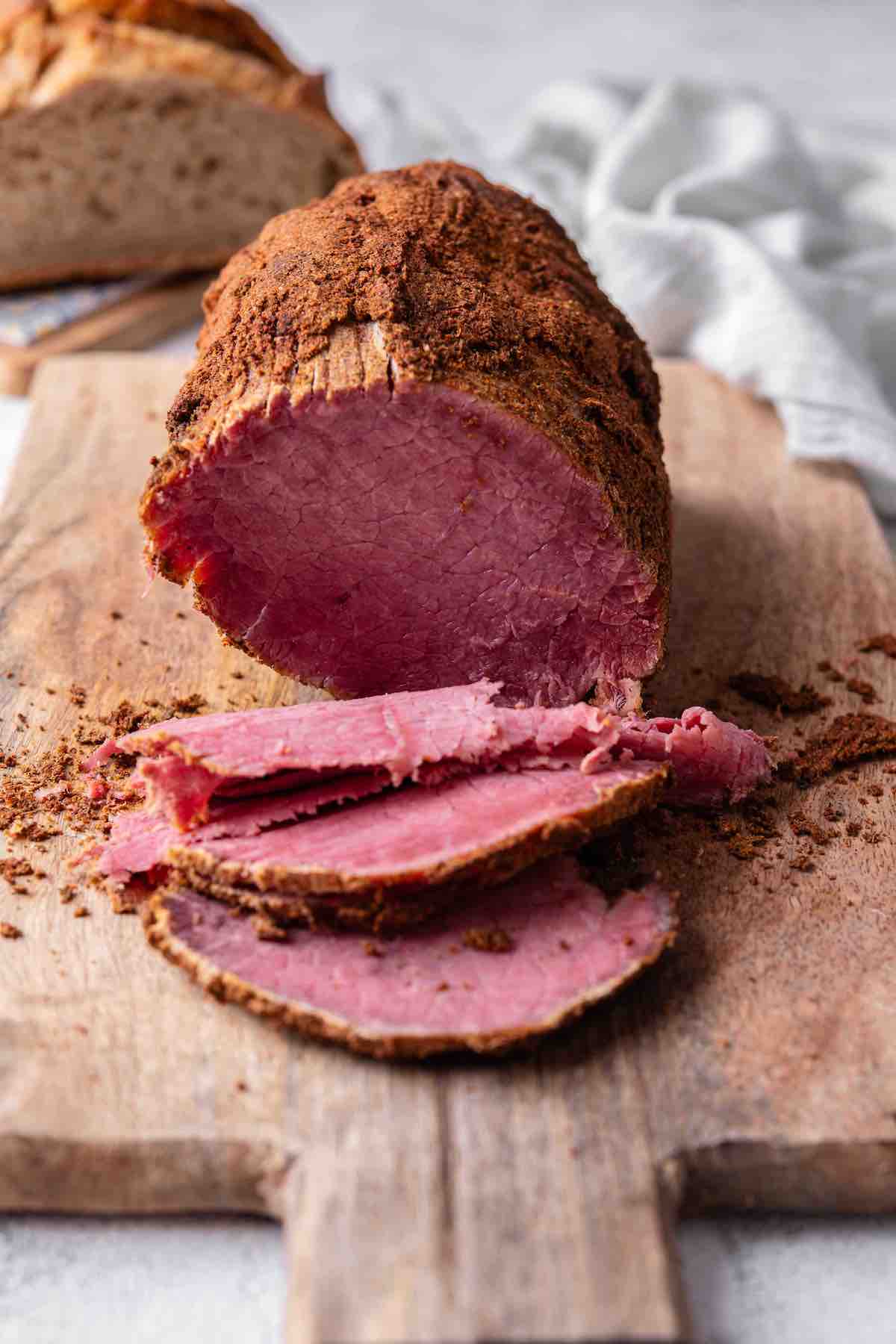 More delicious smoked meats
Frequently asked questions
Can corned beef be turned into pastrami?
Yes, corned beef can easily be turned into pastrami. In fact, pastrami often starts as corned beef. This is because the two cuts are so similar in that both undergo a dry curing process. 
What is the best cut of meat to use?
For the classic and most authentic pastrami experience, corned beef or beef brisket is the best choice.
Prevent your screen from going dark
Pat dry the corned beef.

Combine black pepper, coriander, sugar, smoked paprika, onion, and garlic powder in a bowl.

Spread the spice mixture onto the baking tray and distribute evenly. Roll the corned beef through the mixture so the beef is evenly coated.

Place a rack in a slow cooker. Wrap the beef with one layer of aluminum foil, then wrap it with a second piece of the foil. Place the corned beef on top of the wire rack, making sure any fatty parts are on top.

Slow-cook the beef for 10 hours. 

Remove the beef from the slow cooker and refrigerate for 6 hours. 

Preheat oven to 180C/350F.

Place a wire rack on a baking sheet and bake the unwrapped beef for 30 minutes to form the crust.

Cool the beef completely before slicing
TO STORE. This deli meat will stay fresh for 3 to 4 days when stored in an airtight container in the fridge. 
TO FREEZE. If you don't plan on eating the pastrami right away, wrap it tightly in plastic or aluminum foil and freeze for 1 to 2 months. 
Serving: 1servingCalories: 130kcalCarbohydrates: 4gProtein: 21gFat: 4gSodium: 609mgPotassium: 44mgFiber: 1gSugar: 1gVitamin A: 296IUVitamin C: 0.1mgCalcium: 45mgIron: 2mgNET CARBS: 3g
Disclosure: This post may contain affiliate links. I may earn a small commission for my endorsement, recommendation, testimonial, and/or link to any products or services from this website.
Pastrami