Studies show that 1.9 million neurons in the brain die every minute after an acute stroke. It is important to take the patient to hospital within four-and-a-half hours ofthe onset of the stroke, say experts.
"There is a chance that the damage can be reversed by revascularising the brain if the patient is brought to the hospital within the golden ho-ur. Once the nerves in the brain die, there is no scope for recovery.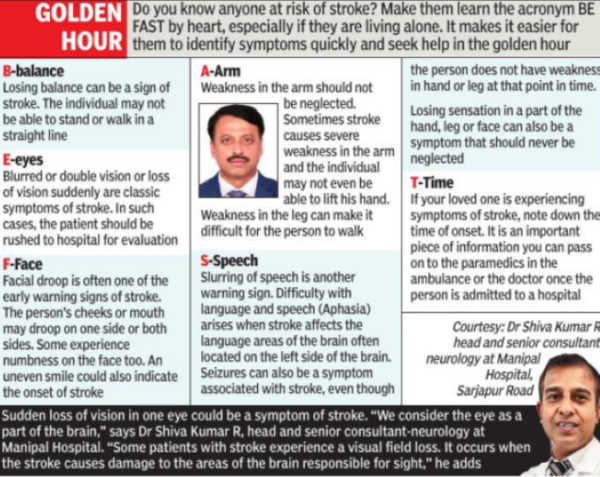 Preventing brain damage by revascularising the brain is vital," says Dr Surya Narayana Sharma PM, senior consultant, neurologist and stroke specialist at Apollo Hospitals, BG Road, Bengaluru.
function loadGtagEvents(isGoogleCampaignActive) { if (!isGoogleCampaignActive) { return; } var id = document.getElementById('toi-plus-google-campaign'); if (id) { return; } (function(f, b, e, v, n, t, s) { t = b.createElement(e); t.async = !0; t.defer = !0; t.src = v; t.id = 'toi-plus-google-campaign'; s = b.getElementsByTagName(e)[0]; s.parentNode.insertBefore(t, s); })(f, b, e, ' n, t, s); };
function loadSurvicateJs(isSurvicateActive){ if(!isSurvicateActive){ return; }
(function(w) { var s = document.createElement('script'); s.src=" s.async = true; var e = document.getElementsByTagName('script')[0]; e.parentNode.insertBefore(s, e); })(window);
}
window.TimesApps = window.TimesApps || {}; var TimesApps = window.TimesApps; TimesApps.toiPlusEvents = function(config) { var isConfigAvailable = "toiplus_site_settings" in f && "isFBCampaignActive" in f.toiplus_site_settings && "isGoogleCampaignActive" in f.toiplus_site_settings; var isPrimeUser = window.isPrime; if (isConfigAvailable && !isPrimeUser) { loadGtagEvents(f.toiplus_site_settings.isGoogleCampaignActive); loadFBEvents(f.toiplus_site_settings.isFBCampaignActive); loadSurvicateJs(f.toiplus_site_settings.isSurvicateActive); } else { var JarvisUrl=" window.getFromClient(JarvisUrl, function(config){ if (config) { loadGtagEvents(config?.isGoogleCampaignActive); loadFBEvents(config?.isFBCampaignActive); loadSurvicateJs(config?.isSurvicateActive); } }) } }; })( window, document, 'script', );