Humble bok choy is the star of the show in this bok choy stir fry recipe! It's an easy 15-minute, one-pan stir fry that dresses tender vegetables in an umami-forward Chinese stir fry sauce.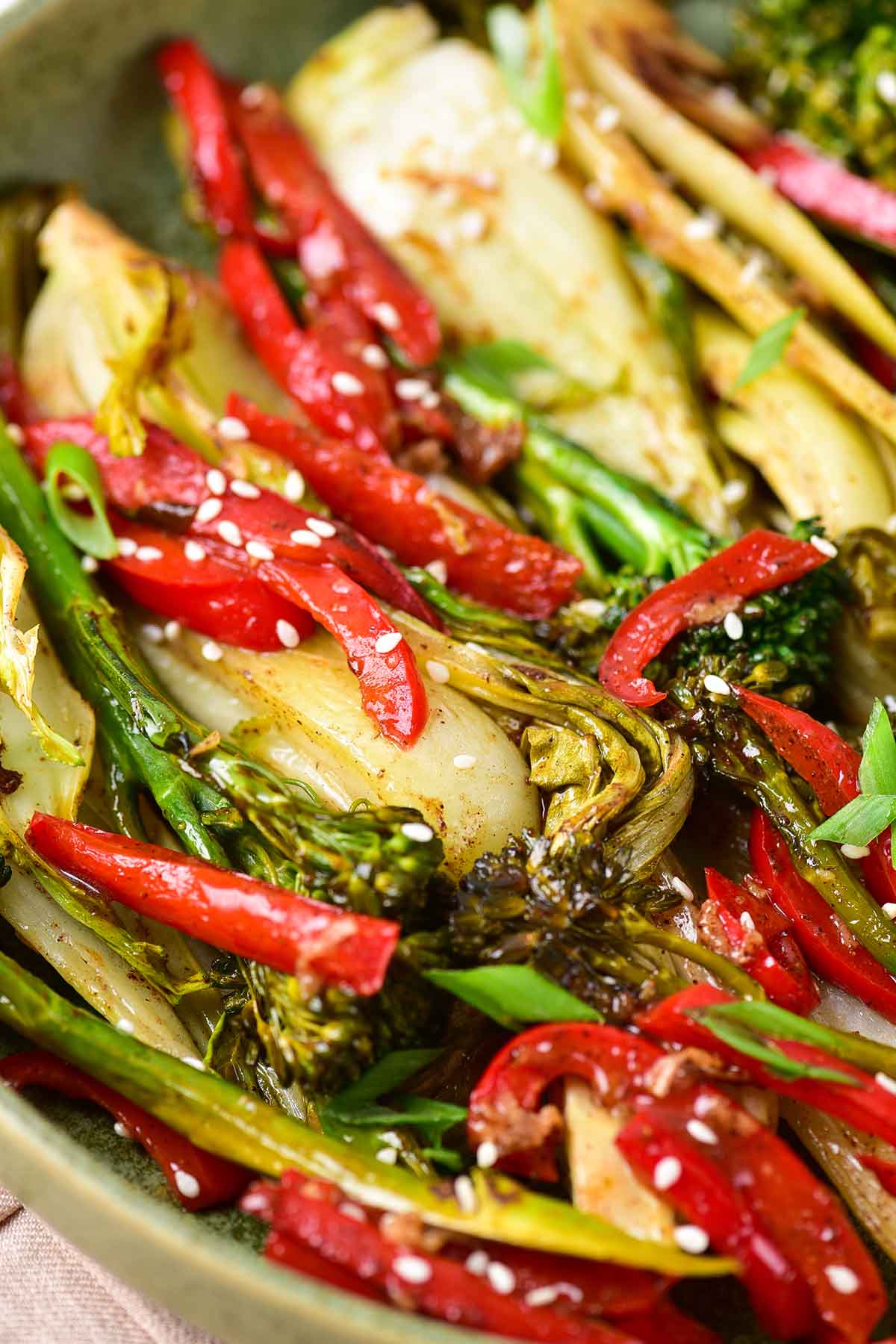 Table of Contents

Why this recipe works
Ingredients (with substitutions)
How to make bok choy stir fry
Recipe tips and tricks
Recipe variations
Storage instructions
More delicious stir fries to try
Frequently asked questions 
Bok Choy Stir Fry
Change up your usual weeknight stir-fry with something a little different but just as tasty with this bok choy stir fry.
This easy stir fry recipe makes humble vegetables, like bok choy, broccolini, and red bell pepper, the stars of the show. As they cook, the veggies soak in the rich, umami-forward stir fry sauce to transform into a hearty meal with impeccable restaurant-quality flavors.
Why this recipe works
Layers of flavor. You don't need much to make this bok choy recipe taste like it came from your favorite Chinese restaurant. A 3-ingredient stir fry sauce works its magic and adds layers of umami, nutty, tangy, and zesty flavors to every bite.
The easiest stir fry! Just like my asparagus stir fry, this recipe doesn't call for any complicated methods or ingredients, helping you put it on the table in 15 minutes or less!
A go-to dinner or lunch. Quickly throw this stir fry together when you're craving a light and healthy, yet flavor-rich dish for easy dinners or lunches. It's also perfect for meal prep because it stays fresh for days and can be bulked up with protein, noodles, or rice.
One-pan recipe. It's a no-stress recipe that is cooked entirely in one skillet.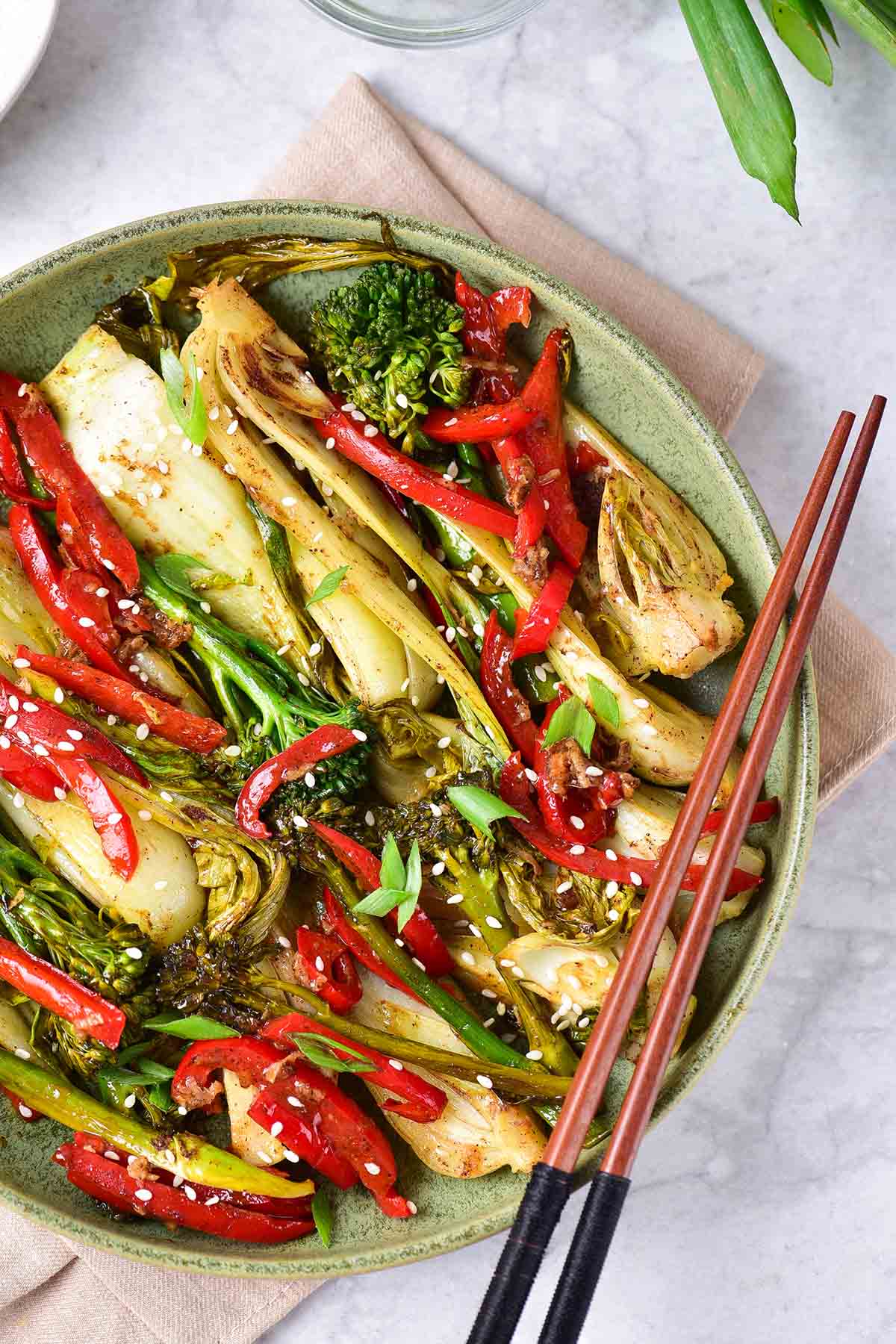 Ingredients (with substitutions)
Sesame oil. For sauteeing the vegetables and infusing the stir fry with a nutty flavor. Feel free to use vegetable oil or olive oil if you don't have sesame oil.
Ginger. Fresh ginger has a delightful punchy flavor but you can use ground ginger if that's all you have at home.
Broccolini. Think of broccolini as the taller, skinnier version of broccoli. It's just as easy to cook but has a sweeter and earthier flavor.
Baby bok choy. The star ingredient! You can find bundles of baby bok choy in the produce section of your local grocery store or Asian grocery store. Check out the FAQs section to learn how to prepare bok choy for stir fry.
Red bell pepper. Or use any color of bell pepper you already have on hand.
Chinese five spice. This warm, licorice-flavored spice blend is made from a mix of star anise, fennel seeds, cloves, cinnamon, and Sichuan peppercorns.
Chinese rice wine. AKA shaoxing wine. It's a staple ingredient in Chinese cuisine and adds an almost irreplaceable flavor to the stir fry. Therefore, I don't recommend replacing it with anything else. 
Oyster sauce. Or you can use soy sauce or tamari for a vegan/vegetarian and/or gluten-free substitute.
Toppings. Garnish the finished stir fry with sliced green onions and black and white sesame seeds.
How to make bok choy stir fry
Cook the vegetables. Cook the ginger, broccolini, bell pepper, and bok choy in a hot oiled skillet (or wok).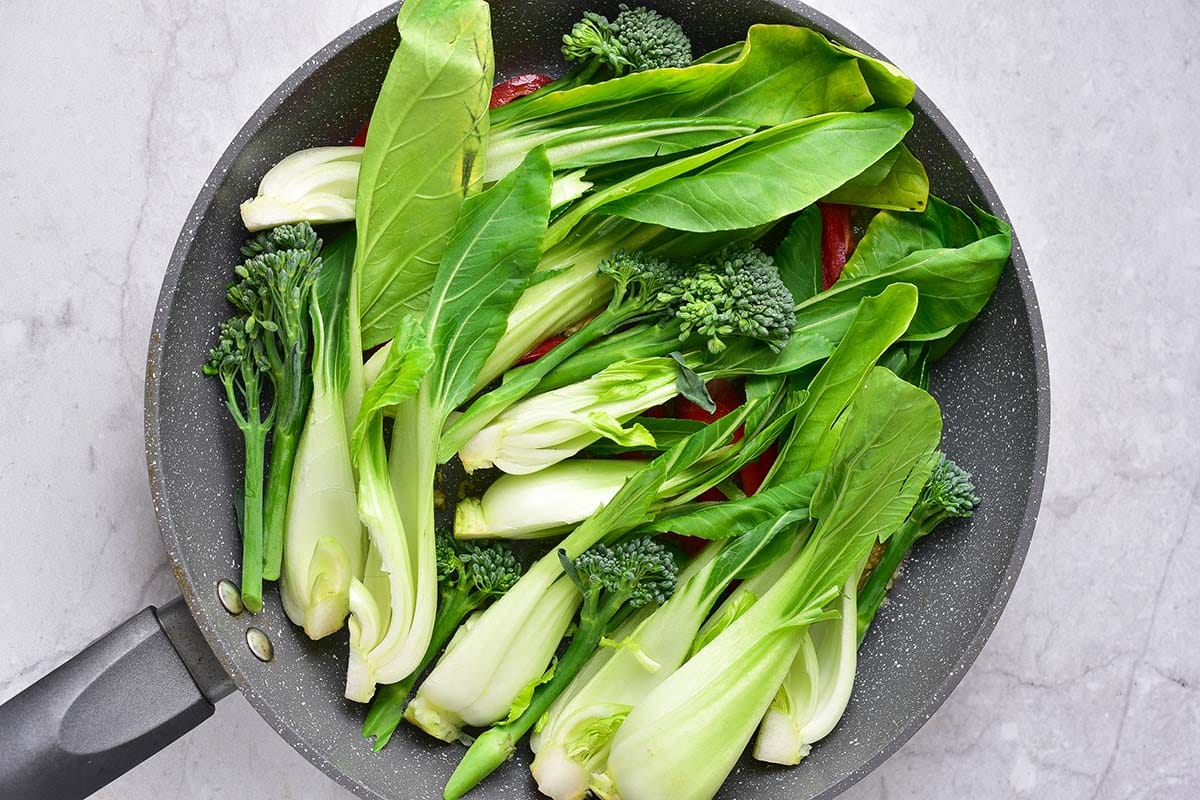 Add the sauce. Stir the Chinese five spice, rice wine, and oyster sauce in with the vegetables.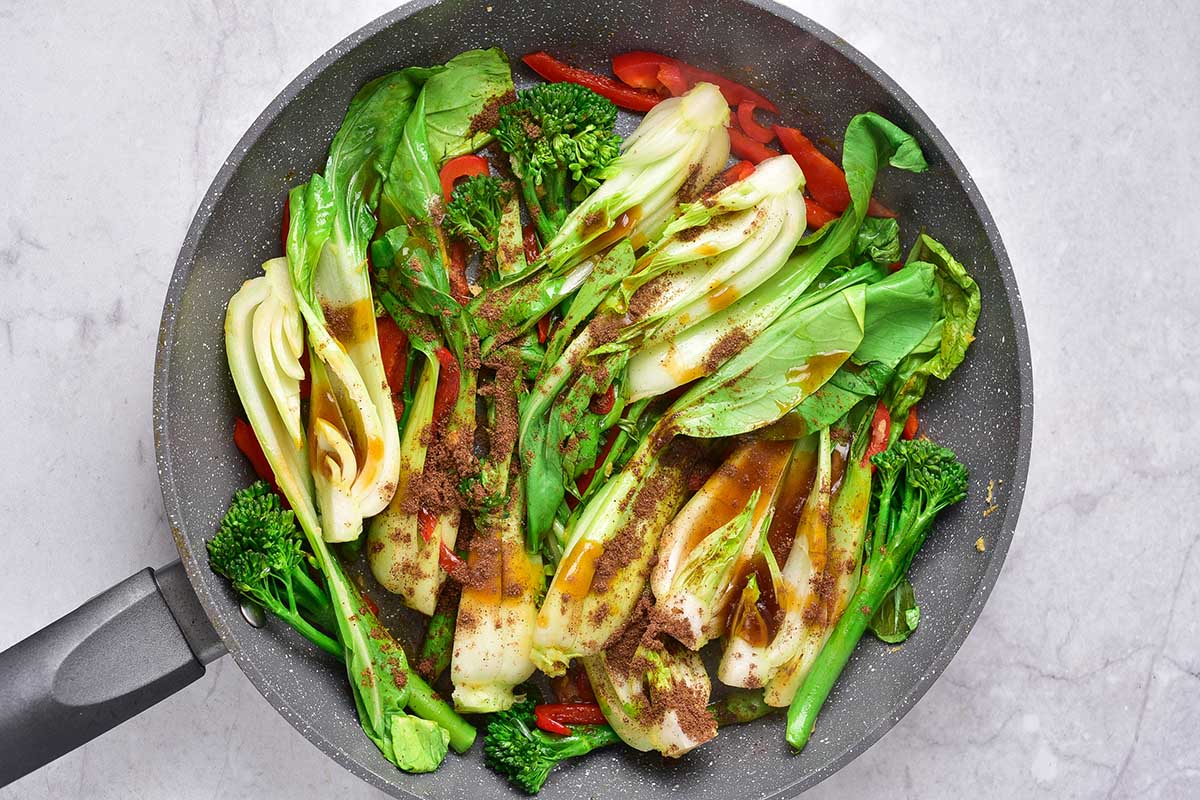 Finish cooking, then serve. Continue cooking until the vegetables wilt. Garnish with scallions and sesame seeds, then enjoy!
Recipe tips and tricks
Wash the bok choy very well before cooking. The bundles of leaves trap dirt and sand, which you don't want in your stir fry.
Time-saving tips. Chop the vegetables and stir the sauce together up to 1 day ahead of making this recipe to save yourself even more time. Just keep them in separate airtight containers in the fridge, then cook when you're ready!
If the stir fry sauce isn't thick enough, make a cornstarch slurry (1 teaspoon cornstarch + 2 teaspoons water) and pour it into the skillet with the sauce and vegetables. It should thicken and look glossy after a few minutes.
Avoid overcooking the veggies. You'll know the veggies are perfectly cooked when they're soft on the inside but have a slight bite on the outside and have taken on a darker color. You don't want them to be too soft or soggy (AKA overcooked).
Recipe variations
Add protein. You can turn bok choy stir fry into a more substantial meal by tossing it with sliced chicken, steak, shrimp, tofu, tempeh, soy curls, or your favorite protein.
Use your favorite vegetables. Use any vegetables you like here. Edamame, zucchini, mushrooms, carrots, onions, bamboo shoots, asparagus, eggplant, and mini corn are all easy-to-cook options.
Vegetarian stir fry. This stir fry recipe is not inherently vegetarian or vegan because it's made with oyster sauce. Simply replace the oyster sauce with soy sauce or teriyaki sauce if you want the recipe to be vegetarian/vegan.
Gluten-free. Oyster sauce is commonly made with soy sauce, which means it isn't always gluten-free. Remember to check the label for certified gluten-free oyster sauce to keep this recipe gluten-free.
Add noodles or rice. Bulk up the stir fry by tossing the cooked vegetables and sauce with rice noodles, soba noodles, udon noodles, ramen noodles, vermicelli, or white rice.
More garnish ideas. Dress up your finished stir fry by sprinkling slivered almonds, toasted peanuts, or red chili flakes.
Storage instructions
To store: Once cooled, store the leftover stir fry in an airtight container in the fridge. It'll stay fresh and flavorful for up to 4 days.
To reheat: Quickly reheat the leftover stir fry in the microwave or warm it in a skillet over medium heat.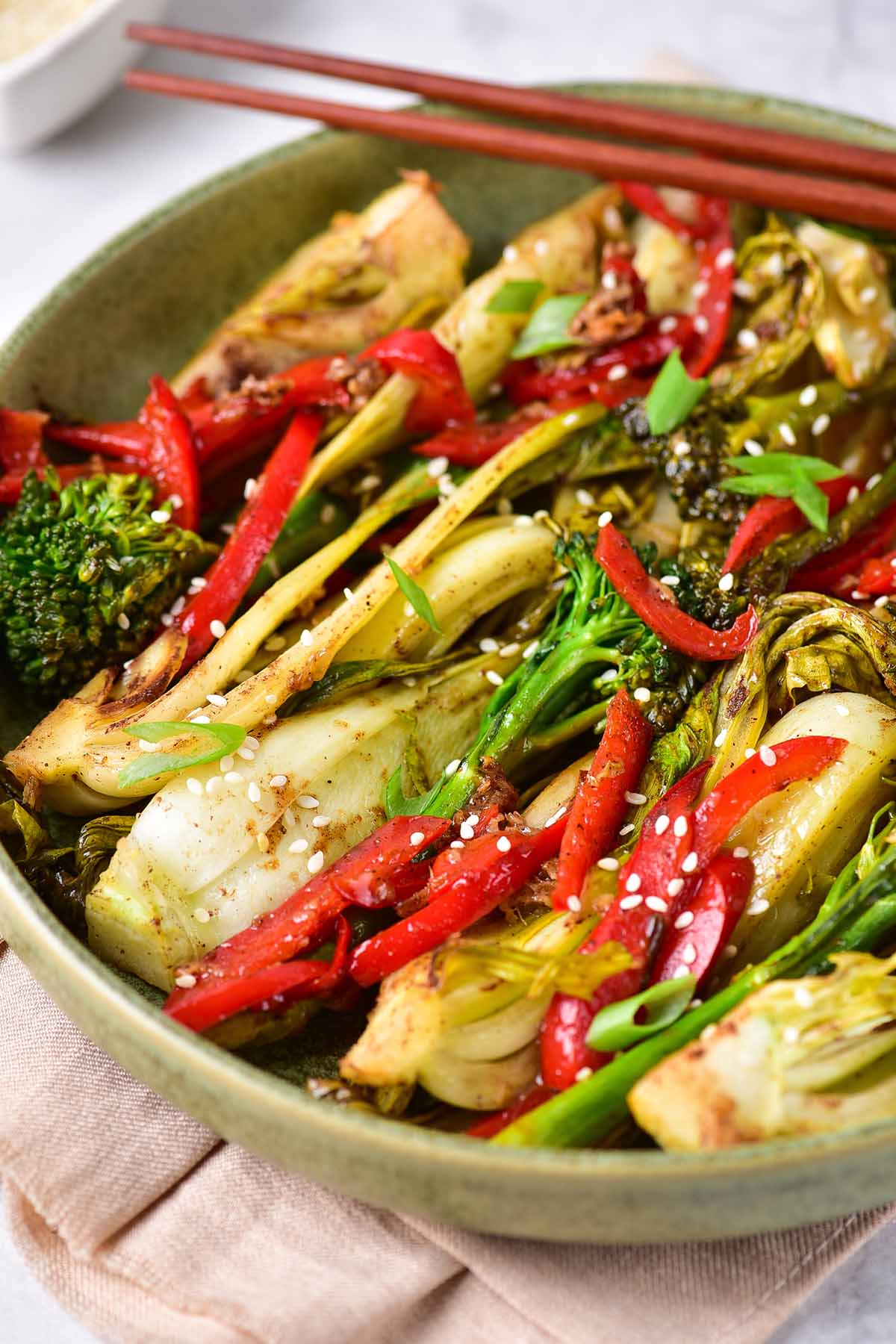 More delicious stir fries to try
Frequently asked questions 
How do you cut bok choy for stir fry?
Slice off and discard the base of the bundle of bok choy (the bottom half-inch or so). Slice the bundle in half lengthwise, then slice the halves in half.
What part of bok choy are you supposed to eat?
Almost all of it! Both the firm white stocks and green leaves on bok choy are edible and taste fantastic in this stir fry. The only part that should be discarded is the root.
Prevent your screen from going dark
Heat the oil in a wok or large wok over high heat. Once hot, add the ginger and cook until fragrant.

Add the Chinese broccoli, red bell pepper, and baby bok choy. Add the spice mix, rice wine, and oyster sauce, and cook until the vegetables wilt.

Season with sesame seeds and green onions, and serve immediately.
TO STORE. Once cooled, store the leftover stir fry in an airtight container in the fridge. It'll stay fresh and flavorful for up to 4 days.
TO REHEAT. Quickly reheat the leftover stir fry in the microwave or warm it in a skillet over medium heat.
Serving: 1servingCalories: 93kcalCarbohydrates: 10gProtein: 3gFat: 4gSodium: 484mgPotassium: 94mgFiber: 2gSugar: 3gVitamin A: 6713IUVitamin C: 128mgCalcium: 168mgIron: 2mgNET CARBS: 8g
Disclosure: This post may contain affiliate links. I may earn a small commission for my endorsement, recommendation, testimonial, and/or link to any products or services from this website.
https://thebigmansworld.com/bok-choy-stir-fry/