Bhagyashree might have made our hearts beat and heads swoon with her debut performance in Maine Pyaar Kiya, however, today she is known for the informative health and fitness content that she shares on her social media. She can be seen promoting a healthy lifestyle and sharing tips on various facets of overall well-being.
As such, the 54-year-old recently took to Instagram to share the benefits of tej patta, also known as bay leaves. In the video, Bhagyashree shared that we all know about Tej patta or bay leaf, which is often used for adding tadka (tempering) to foods and takes the flavour and aroma of the foods to a whole new level. "However, today we are not going to be talking about food, rather we will be concentrating on its fragrance," she said.

Have a look.
The actor shared that burning Tej patta releases a special chemical, which is called linalool. "A unique floral essence is also released, the fragrance of which gives you relief from anxiety, stress and fatigue," she said. "So, burn a few bay leaves, and get stress relief."
Bhavisha Khuman, Nutritionist & Dietician, Jaslok Hospital & Research Centre said that bay leaves are aromatic leaves that come from the bay laurel tree. "These leaves are commonly used as a culinary herb and are known for their distinctive flavour and fragrance. Bay leaves have a long history of culinary use and are native to the Mediterranean region."
The expert elucidated that these leaves have a complex flavour profile, which is often described as herbal, slightly floral and with hints of bitterness. "The aroma of bay leaves is pungent and fragrant, reminiscent of eucalyptus and pine. These leaves are often added to dishes during cooking to infuse their flavours into soups, stews, stocks and sauces. Bay leaves are known for their ability to enhance the taste of various dishes, such as braised meats, bean dishes, and marinades."
In addition to their culinary use, Bhavisha said that bay leaves have also been used for their medicinal properties in traditional herbal medicine. "They are believed to have anti-inflammatory, digestive, wound healing and antioxidant properties, although scientific evidence supporting these claims is limited."
As for the benefits of burning bay leaves, she pointed out that there is a popular belief in some cultures and alternative medicine practices that burning bay leaves is a method to reduce anxiety and stress. "The practice involves lighting dried bay leaves and allowing them to produce smoke, which is then inhaled or wafted around a person."
However, Bhavisha stressed that no scientific evidence to support the claim that burning bay leaves can effectively reduce anxiety or stress. The belief is based on traditional and anecdotal practices rather than empirical research.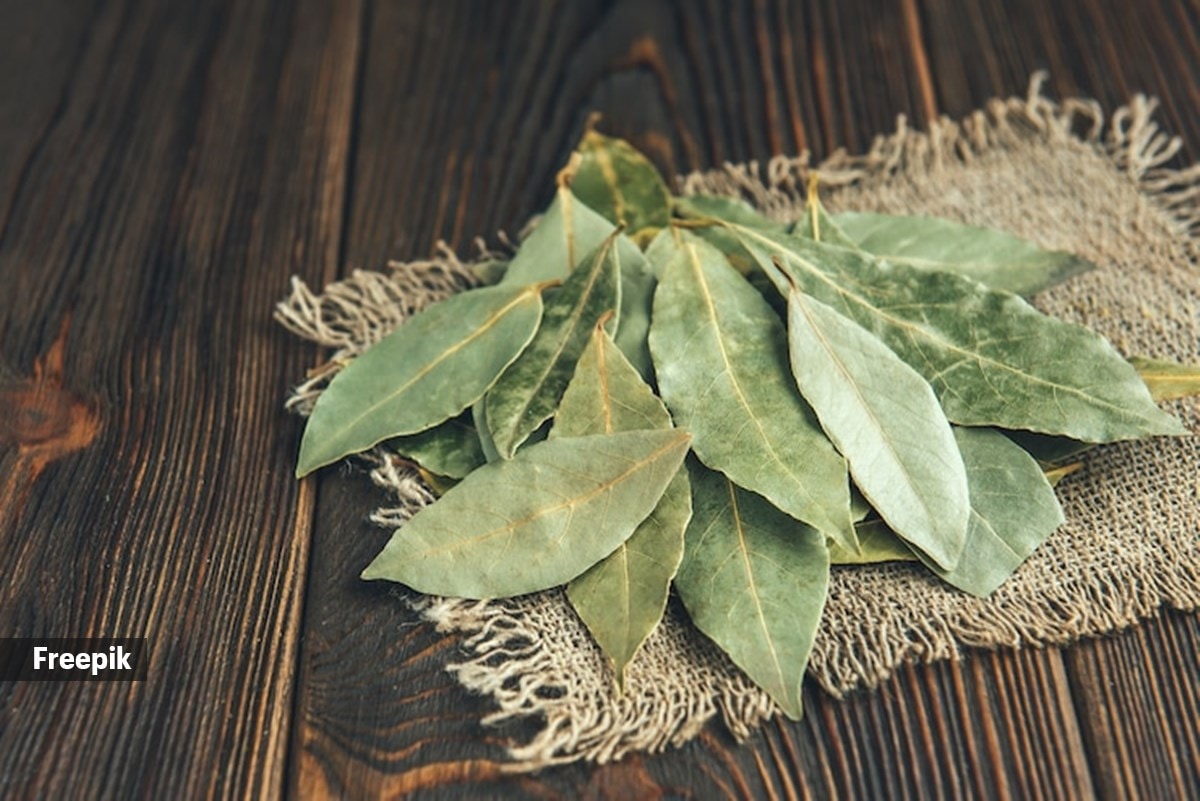 The aroma of bay leaves is pungent and fragrant, reminiscent of eucalyptus and pine. (Source: Freepik)
Nonetheless, she mentioned that the aroma of burning bay leaves may have a calming effect on some individuals due to the pleasant fragrance it emits, which can create a soothing environment, while the act of engaging in a calming ritual, such as lighting and inhaling the smoke, can also have psychological benefits for relaxation and stress relief.
Most Read
1
Chandrayaan-3 landing live updates: Rover to come out soon
2
Chess World Cup 2023 Final LIVE: Praggnanandhaa and Magnus Carlsen agree to draw after 30 moves
Similarly, N Lakshmi, Senior Dietician, Kamineni Hospitals, Hyderabad said that burning bay leaves to reduce anxiety and stress has gained popularity, with proponents citing compounds like linalool and eucalyptol for their calming properties. "However, scientific evidence is limited. The soothing environment created by the aroma of burning bay leaves is more likely due to the relaxation induced by engaging in a sensory experience, rather than the direct effects of the leaves."
Concluding, Bhavisha shared that it's essential to approach such practices with an understanding that individual experiences can vary, and what works for one person may not work for another. "If you're experiencing anxiety or stress, it's always advisable to seek evidence-based treatments and therapies that have been proven effective, such as cognitive-behavioural therapy, relaxation techniques, exercise, and seeking support from healthcare professionals."
📣 For more lifestyle news, follow us on Instagram | Twitter | Facebook and don't miss out on the latest updates!