Vegan leather hasn't always had the best reputation. Synonymous with fast fashion, it's been known for falling apart, scuffing easily, and just not standing up to the durability of the real thing. But, in recent years, vegan leather's quality has skyrocketed and fashion brands from Gucci to Ganni have embraced it. But, what is vegan leather?
What is vegan leather?
Vegan leather is a material with a leather-like appearance that's not made from any animal products. There are a few reasons why it exists. 
First, vegan leather is made without the skin of an animal. Strictly speaking through the lens of vegan ethics, this is probably one of the most important points.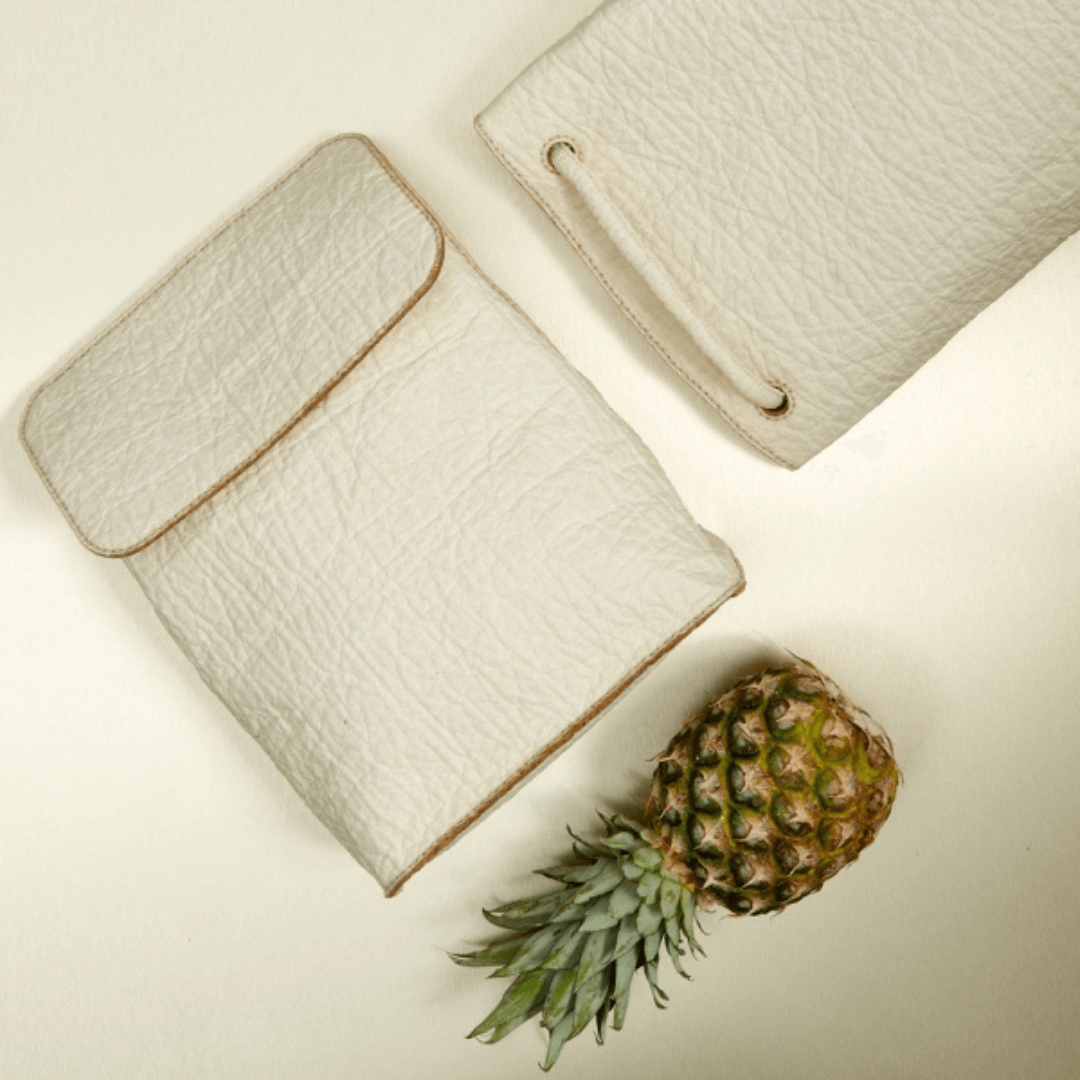 Piñatex
The vast majority of leather is a co-product of the industrial beef industry, meaning that it's a valuable commodity that's produced alongside the main product. A by-product, on the other hand, is something that is incidentally produced. Some vegan leathers are made from byproducts, or they're co-products themselves.
Is vegan leather better for the environment?
Multiple studies have definitively stated that a plant-based diet is better for the planet than an omnivorous one. But, is it the same with vegan leather? 
Research shows that vegan leather isn't as bad for the environment. According to a 2018 sustainability report from luxury goods giant Kering, its impact may be up to a third less than the real thing. The level of impact depends on what the vegan leather is made from.
Cattle production is one of the most environmentally destructive sectors in the global animal agriculture industry, responsible for about 65 percent of emissions. In Brazil, cattle ranching is a driving force behind Amazon rainforest deforestation.
Fossil
Overall, the meat, dairy, and egg industries are responsible for 14.5 percent of global human-caused greenhouse gas emissions, according to UN data. 
In addition to this, the leather is manufactured with chromium, formaldehyde, and arsenic, which are used in the tanning process. These toxic chemicals are known to leak into water streams, promoting algae growth that causes death by hypoxia (lack of oxygen) in marine life, sending ecosystems into disarray. 
The workers who tan the leather are also exposed to health risks ranging from skin conditions to cancer. According to Collective Fashion Justice, a nonprofit that promotes a more ethical fashion system, this impact is an example of environmental racism—95 percent of US-operated tanneries are overseas. 
What is vegan leather made from?
If all of the above sounds like a good reason to try vegan leather, you'll be glad to know that it has evolved far beyond the pleathers of the past.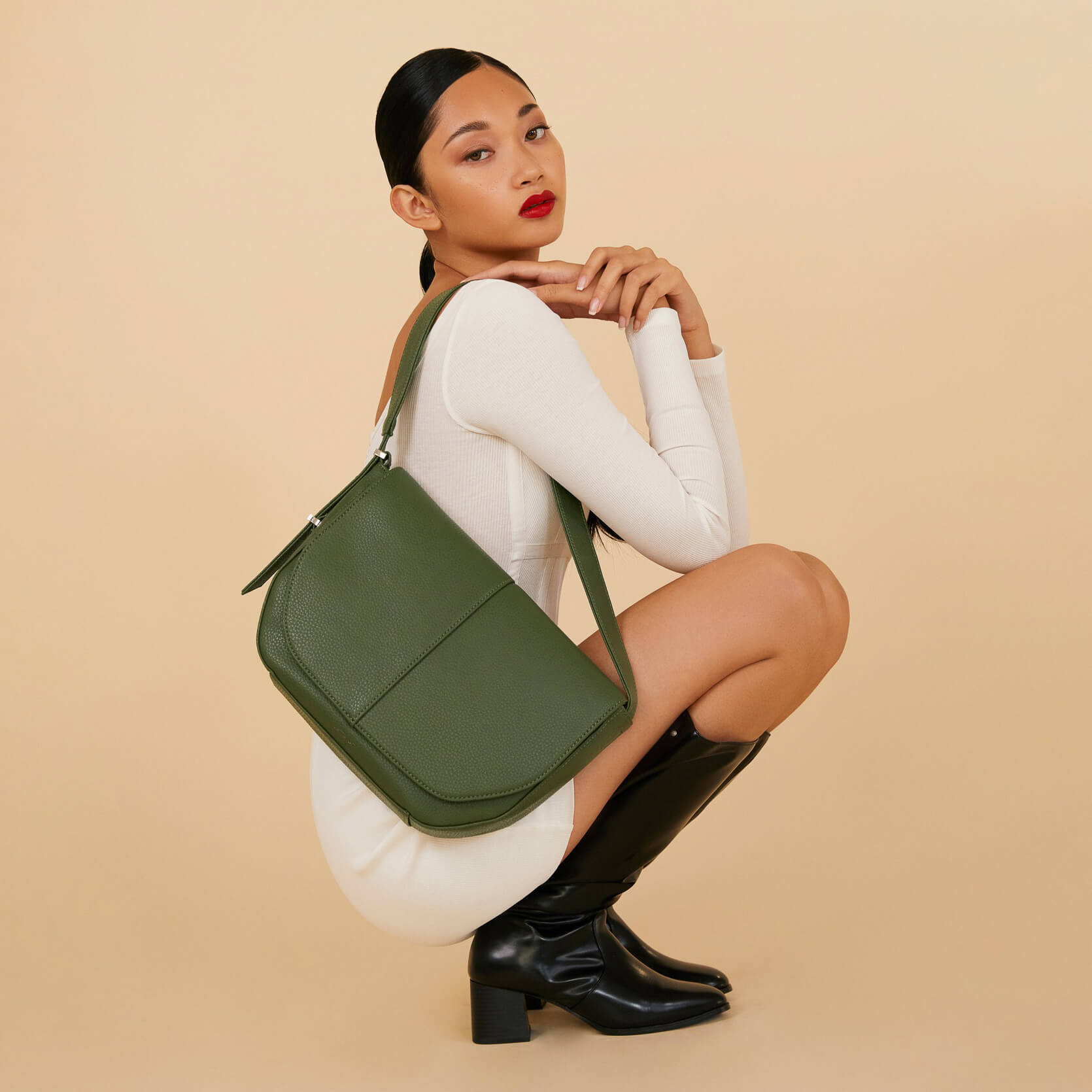 Matt and Nat
1 PU and PVC leather
Classic vegan leather is most often made from polyurethane (PU) or polyvinyl chloride (PVC). They're often used interchangeably, but they're different in terms of breathability and durability. PU leather is more breathable while PVC is more durable. 
Although both of these leathers are animal-free and use fewer resources than cowhide leather, both are made from fossil fuel-derived plastics. This means that they're not as sustainable as other types of vegan leather, because plastic doesn't ever decompose. However, it's worth noting that vegan leather's impact is still up to a third less than that of conventional leather. Plus, it's free from animal products.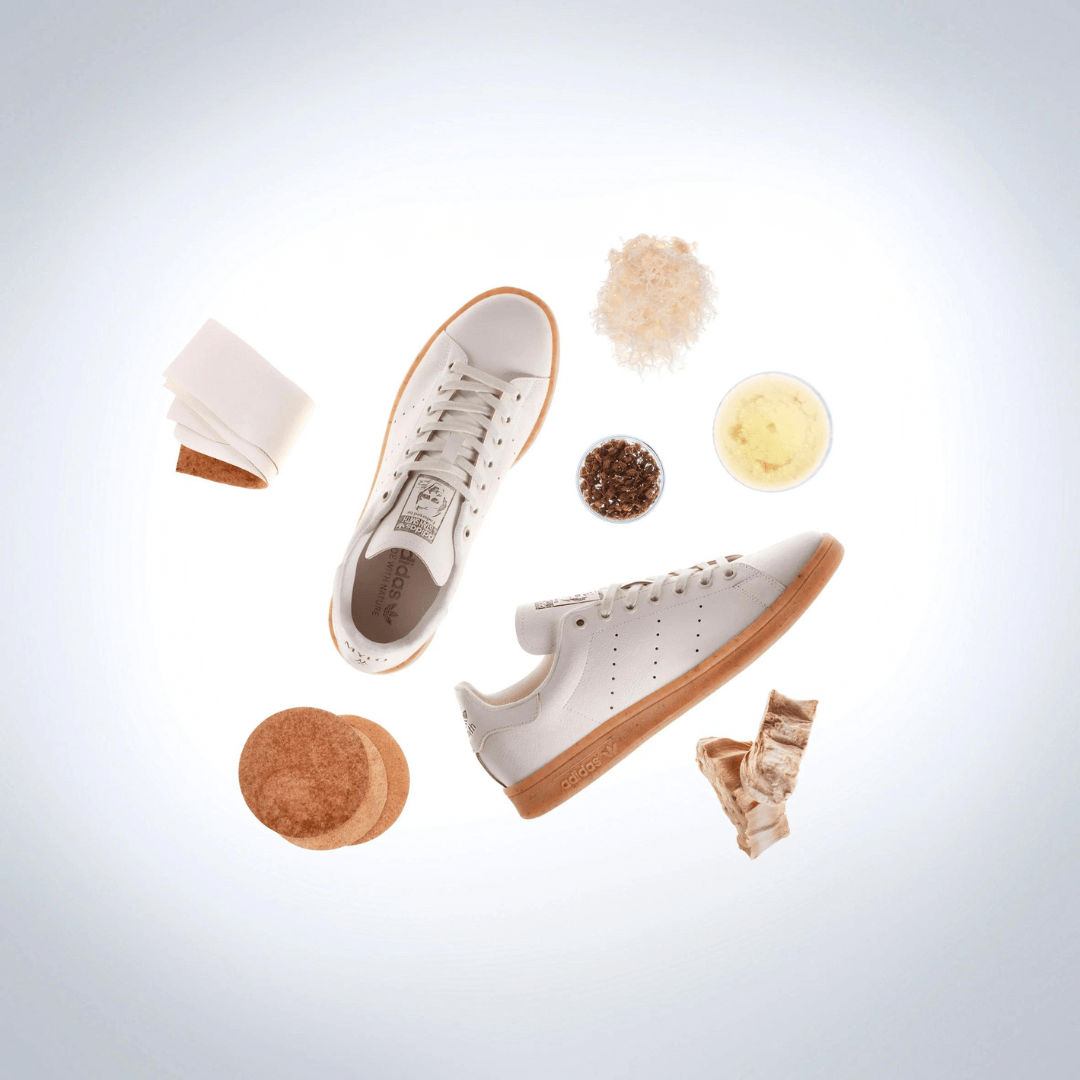 Adidas
2 Mycelium
Also known as "mushroom leather," mycelium leather is made from the eponymous web-like root structure of mushrooms and fungi. In the wild, mycelium is a vital part of forest ecosystems, soaking up nutrients and aiding in the decomposition of organic matter. It can also be used to make meatless meat and vegan leather.
Generally, it has a leather-like feel, is durable, and can be used in clothing, bags, shoes, accessories, and more. It also won't linger like plastic-based leather will—though, it may be used in goods that include leather, plastic, and other non-biodegradable materials. For example, French luxury fashion house Hermès developed a prototype bag made from mycelium leather and animal hide.
Mycelium leather is making the rounds in high-fashion and streetwear. Brands such as Stella McCartney, Adidas, Ganni, Calvin Klein, and Lululemon are among those that are dabbling with mycelium leather. There are currently a few main players in the space: Ecovative, MycoWorks, and Bolt Threads.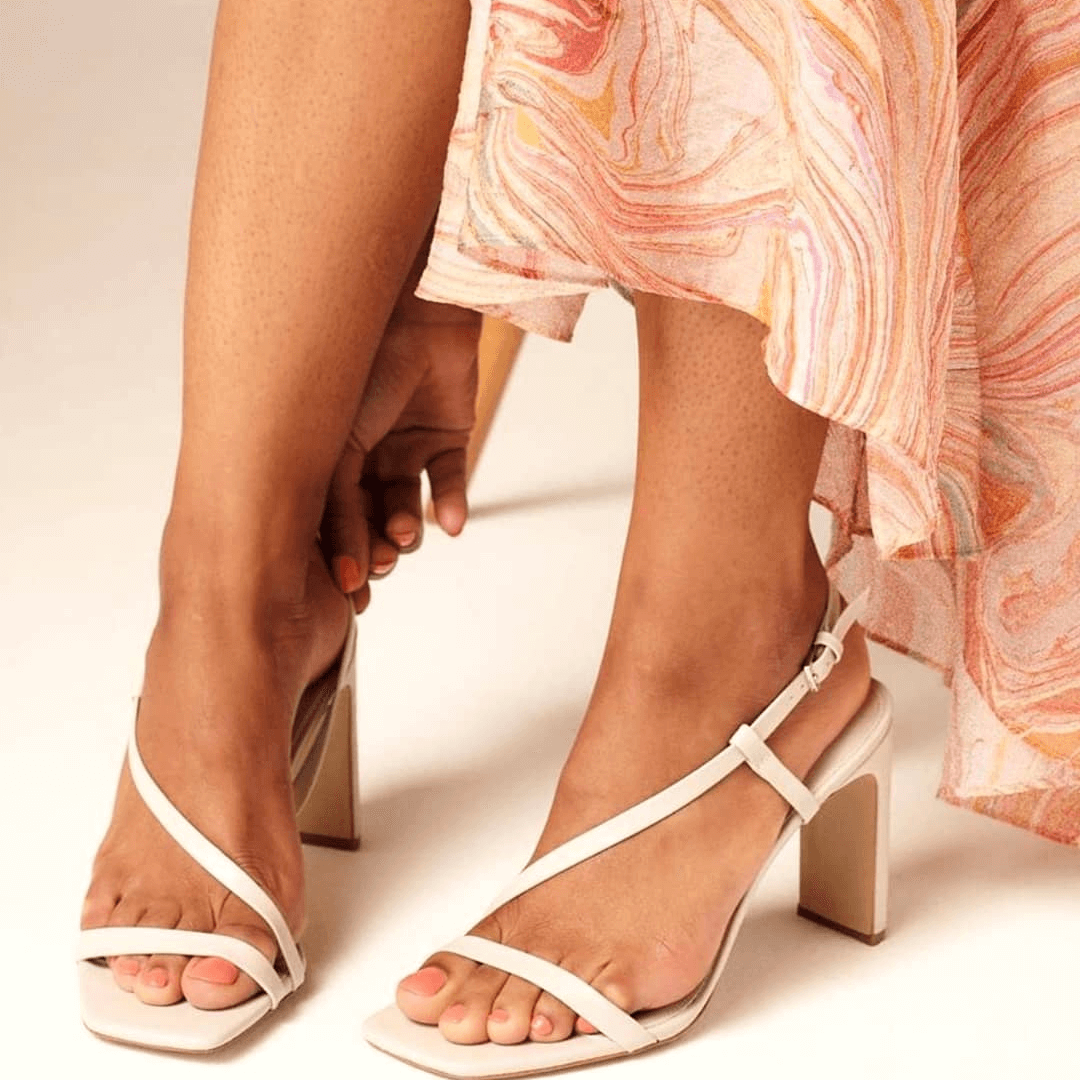 Vegea
3 Grape skins
Made from the wine industry's unwanted grape skins, this vegan leather is made by an Italian textile company called Vegea. According to the company's website, it can be used to make bags, shoes, belts, wallets, car interiors, and furniture.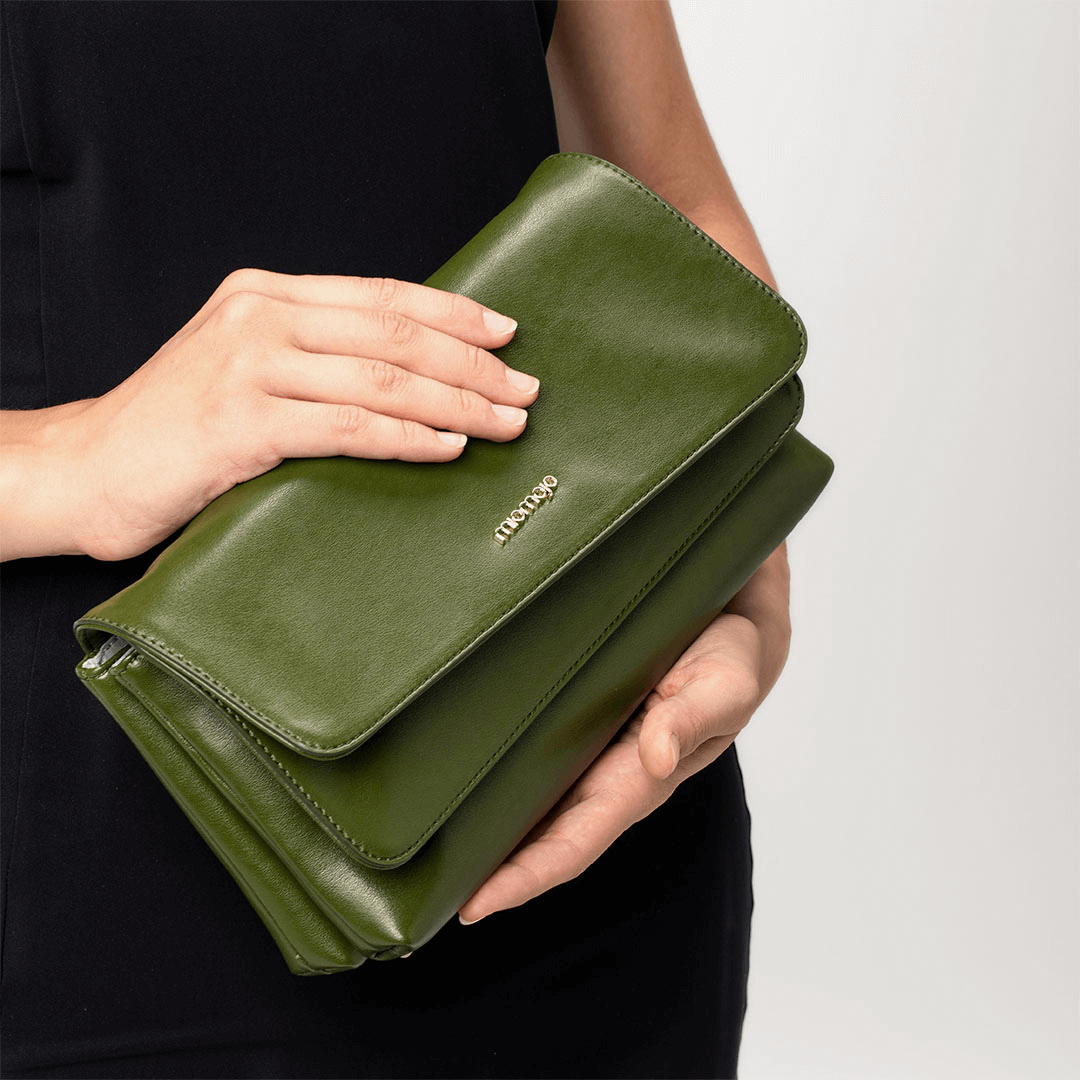 Miomoji
4 Cactus leaves
Deserto, a cactus leather company, was founded by Mexican entrepreneurs, Adrián López Velarde and Marte Cázarez. This leather-like material is made from the leaves of the nopal cactus, a drought-resistant plant that thrives in arid regions. 
The company takes sustainability very seriously. The plant is left intact when the leaves are harvested, so the nopal can continue to grow. It's also native to the region where it's grown, so it blends in with the ecosystem. In addition to that, the nopal cactus absorbs carbon dioxide and requires very little water to survive.
It's flexible and breathable like cowhide leather and its uses are many. The brand has collaborated with a wide range of fashion brands and car makers, including H&M, Fossil, Givenchy, Adidas, Karl Lagerfeld, Mercedes-Benz, and BMW.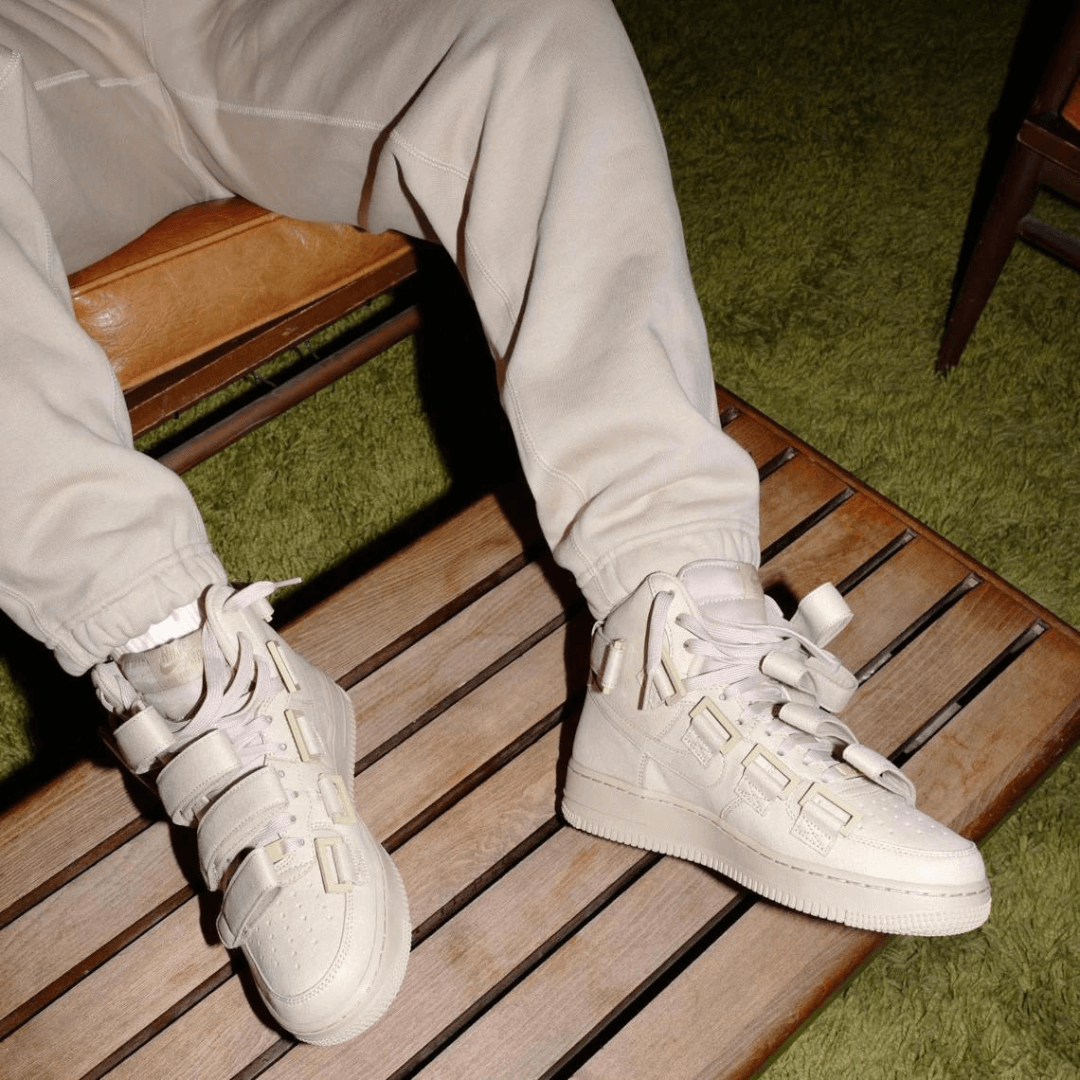 Nike
5 Pineapple leaves
Pineapple leaf leather, or just pineapple leather, is made from the tough cellulose fibers from the tropical fruit's foliage. Piñatex, which is made by London-based company Ananas Anam, is the only "pineapple leather" on the market. It is not completely biodegradable, as its base is made from PLA, a type of thermoplastic, but it is still more sustainable than conventional leather. Thanks to a partnership with Dole, a major pineapple producer, Piñatex is made from leftover leaves—in other words, it's considered a co-product.
Piñatex is flexible, breathable, and durable enough for a wide range of uses. Nike launched summer colorways of its Air Force Ones in June 2021, featuring pineapple leather details. It's also been used by Hugo Boss, H&M, and No Saint.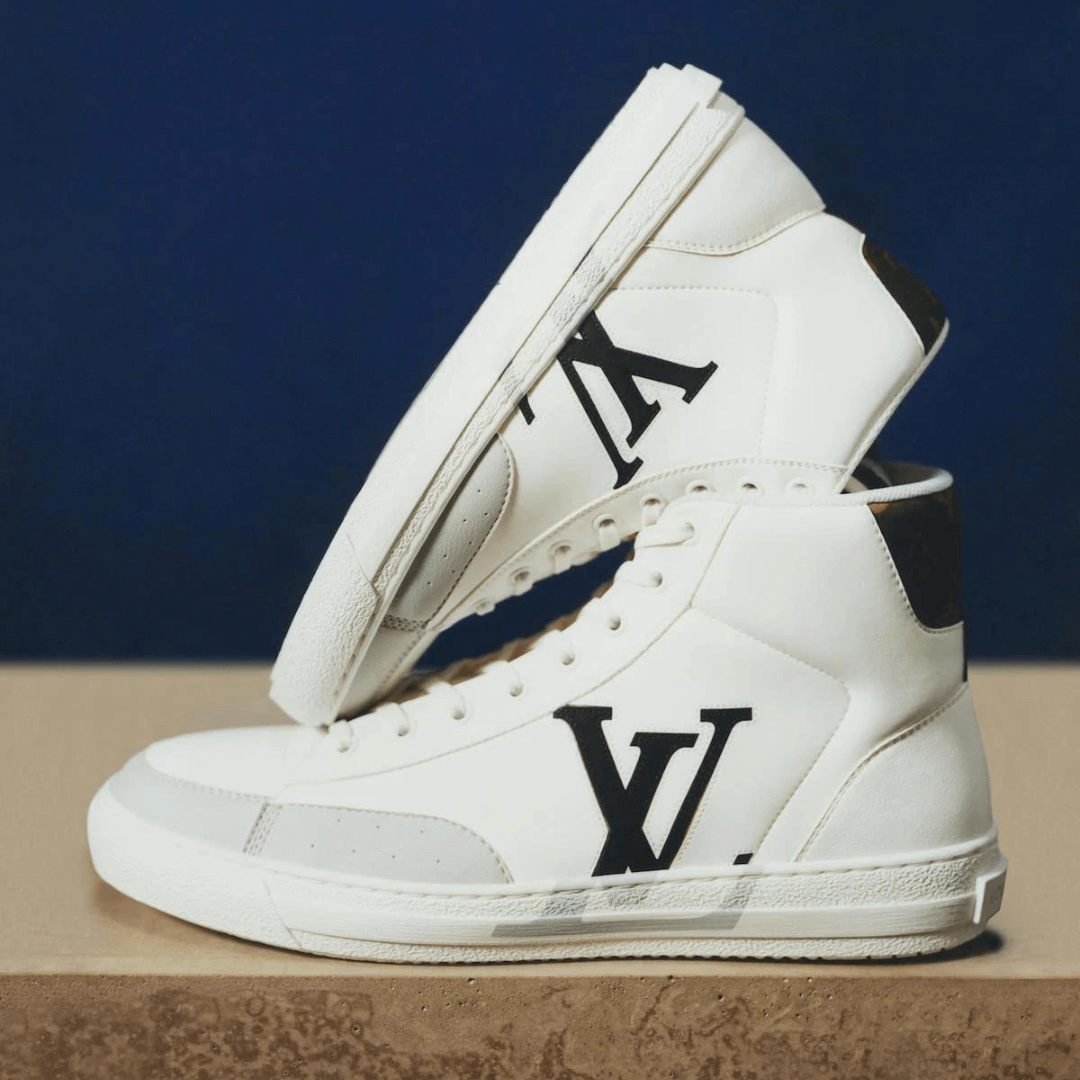 Louis Vuitton
6 Corn
Corn leather is another animal-free leather alternative. Made from corn and PU, it's not completely biodegradable, but it is kinder and more eco-friendly than cowhide. It's durable and high-quality enough to catch the attention of the luxury fashion world, from Louis Vuitton to independent vegan brands, like Luxtra—which has also worked with the next item on the list.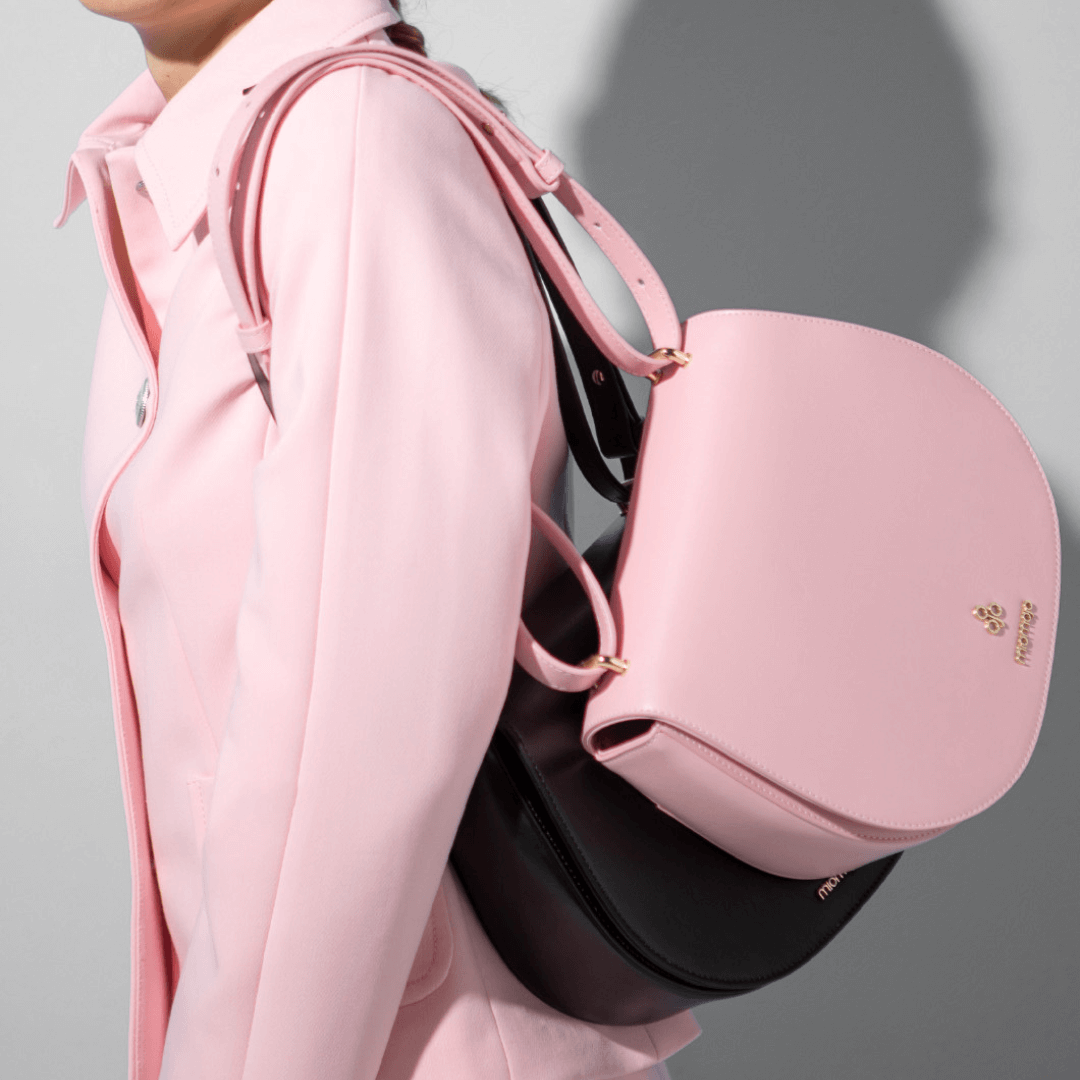 Miomoji
7 Apple leather
Made from the leftover pulp and peel of the juice industry, apple leather—often referred to by its brand name, AppleSkin—is perfect for purses, shoes, and other fashion accessories. This vegan leather is made from 50-percent apple waste and 50-percent PU, meaning that it's not biodegradable.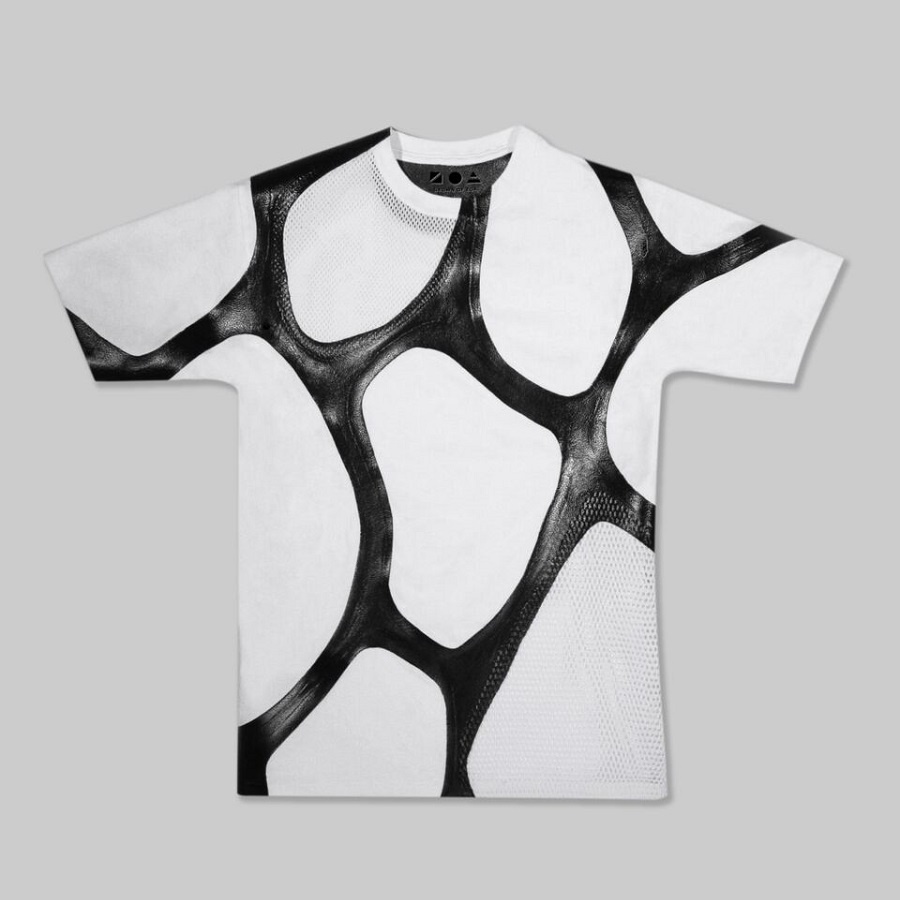 Modern Meadow
8 Yeast
As with mycelium, yeast is everywhere these days, from our food to our textiles. Modern Meadow, a New Jersey-based biotechnology company, makes its leather from animal-free collagen produced by yeast via fermentation. This is still a new space, so there are no collaborations to show for it, but yeast is proving itself to be a strong contender in terms of sustainably replacing all kinds of animal products.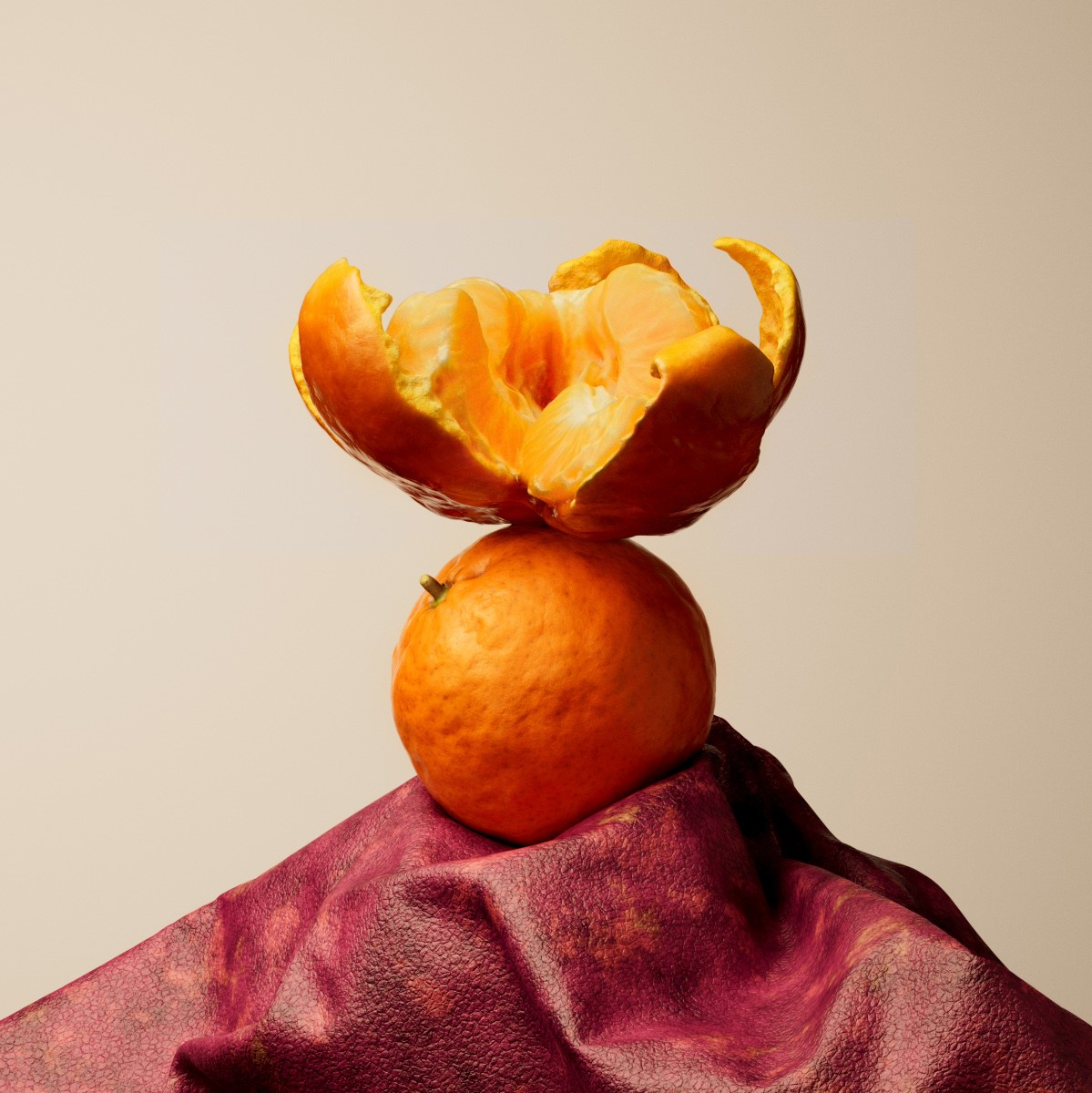 Polybion
9 Cultivated
Known as lab-grown, cultivated, cell-based, and more, this leather isn't quite vegan, but it's made without slaughtering animals. Cultivated leather is made from real bovine cells that are grown in a bioreactor. These cells are given nutrients until eventually, they can be used to mimic the structure of cowhide leather. In May 2022, longtime environmentalist Leonardo DiCaprio invested in VitroLabs, a biotechnology startup that's developing cultivated leather. Celium, a biotechnology startup based in Mexico, aims to use a combination of food waste and cellular agriculture.
The vegan leathers listed above aren't the only examples of textile innovation. There's also leather made from upcycled coffee grounds, recycled plastic, wood, agricultural waste, cork, grains, leaves, and more. Just like with all of the variety you'll find in the plant-based meat industry, there are multiple ways to make leather without the animal.
For more on vegan fashion innovation, read: