Apart from medication, lifestyle changes, diet plays an important role in managing hypothyroidism. Here are few essentials to always include in your diet.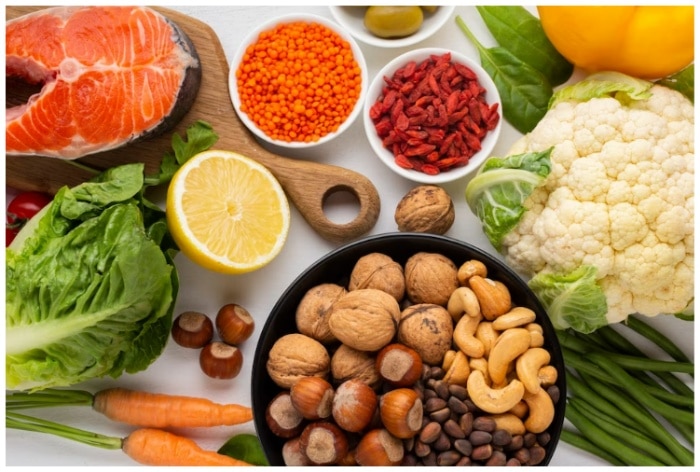 Thyroid is a butterfly shaped gland that is responsible for controlling the speed of metabolism. It can slow it down or just increase the rate depending on the production of the thyroid hormones. When the thyroid gland does not produce enough hormones, it may lead to a condition called hypothyroidism. The symptoms can be very covert in the early stage however, it may make the body vulnerable to other health issues like heart problems, high cholesterol, BP etc.
Apart from lifestyle changes and medication, there are certain nutrients that should be a must ibn every day diet for people with thyroid condition. While iodine is on top of the list, it is not the only micronutrient affecting the thyroid gland, here are some of the most important nutrients for thyroid health:
HYPOTHYROIDISM: 5 ESSENTIAL NUTRIENTS FOR THYROID
Iodine: Iodine is critical for thyroid function. Currently, the only known role of iodine is to support thyroid hormone production. Triiodothyronine (T3) and thyroxine (T4) are thyroid hormones that contain iodine, and iodine deficiency causes thyroid disease.
Vitamin D: Hashimoto thyroiditis and Grave's disease are associated with lower Vitamin D levels.
Selenium: Selenium, a mineral needed for thyroid hormone production, helps protect the thyroid from possible damage caused by oxidative stress.
Zinc: The mineral zinc is required for thyroid hormone production. It is also responsible for maintaining proper serum levels of T3, T4, and thyroid-stimulating hormone (TSH).
Iron: The thyroid needs iron to convert T4 into T3, the active form of thyroid hormone, and Iron deficiency is associated with thyroid dysfunction.
Other nutrients including Vitamin B, copper, and Vitamins A and E, are also needed for optimal thyroid function. Being deficient in one or more nutrients can negatively affect thyroid health and increase your risk of thyroid disease.